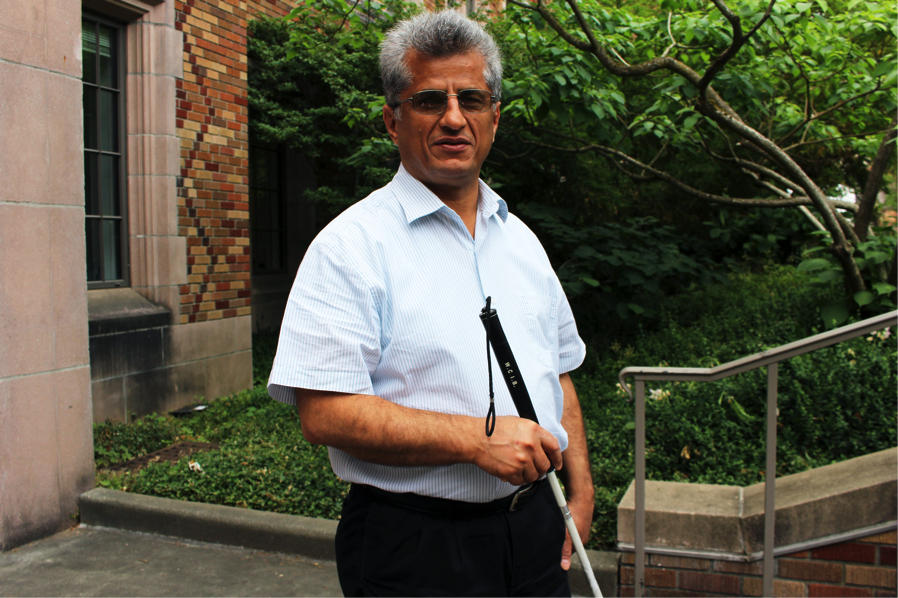 Do you create websites, videos, or digital documents such as PDFs or Word? Have you ever wondered what it's like to access these materials if you're unable to see, hear, or use a mouse? Expand your notion of "everyone" at an Oct. 22 seminar for learning simple techniques for creating digital content that is accessible to all, co-hosted by Hadi. Register here.
---
Hadi Rangin went blind three decades ago, but to this day maintains he's still a visual learner.
It might be that commitment to honoring his own learning style that serves him so well as information technology accessibility specialist at the University of Washington's Accessible Technology Services (ATS) and Accessibility Technology Center (ATC), where he's worked since 2014 ensuring the UW's software and technology is accessible for all who seek to use it.
"If people with disabilities can't use an application effectively, it will impact their performance in doing their job," says Rangin, who keeps a packed calendar and can be working to assess as many as 35 software applications at a time. "Accessibility is best addressed when caught at the beginning of the design stage—before you start coding an application."
Rangin says accessibility-minded design approach is still not taught in most university settings. While UW departments such as Computer Science, Informatics, and Human-Centered Design and Engineering have worked to integrate accessibility-aligned instruction into their curriculums, he says designers, developers, and quality assurance testers in the wider industry have yet to fully grasp and act upon the important role accessibility plays in today's technology landscape.
"We help them understand the concept of accessibility and hope to get them to consider accessibility right at the design stage," Rangin says. "If you don't do it at that design stage, you'll end up fixing a lot later and it will be very expensive, cumbersome, and incomplete."
The UW develops many software applications locally, but also purchases them from third-party vendors. Before the University invests in a software product or application, Rangin and the ATC team discuss potential accessibility problems and solutions with developers and the kinds of technology they need to implement to ensure all users have equal access.
Recent collaborations have encompassed vendors such as Workday, Google, ServiceNow, Canvas Instructure, Microsoft, Zoom, and Interfolio.
"You don't see our names with these applications, but you see our fingerprints in many of them," Rangin says. "When we make a product accessible, we are making it more usable so everyone can benefit from it."
When Rangin encounters an accessibility hurdle, he marks it a "deployment blocker" that gets added to the software contract as a must-address item before the purchase of the software or application can be made.
"We are analyzing, scrutinizing the application, but at the same time, we use our expertise to engage [the designers] in the process to make those changes," he says, adding the ATC provides its accessibility consulting service completely free to campus, nor does it charge third-party vendors.
"Our goal is to provide an environment in which all the IT solutions at UW are accessible and usable to the entire UW community from beginning," Rangin says. "Instead of being reactive and providing accommodations when it is requested, we try to be proactive by providing an inclusive environment, making sure that all of our services are accessible and usable to all, including those of us with disabilities."
Rangin's own background is in computer science. He uses a screen reader with a refreshable Braille display that provides audio information about what appears on his computer's display interface to navigate what is otherwise a standard desk set-up consisting of several monitors.
"We are creating an accessibility expert machine here," Rangin says of the ATC's work and the "army" of students who work there—most of whom are drawn from Informatics, Human Centered Design and Engineering, and Computer Science majors, while others have come with backgrounds in Philosophy and Linguistics. By the time they graduate, Rangin says they are usually experts in the field, courted by employers for their skill set in accessibility tech.
Finding a way forward.
Rangin's own path to a career as an information technology accessibility specialist and educator began in Iran in the early 1980s and would eventually weave through Germany, Oregon, New Mexico, and Illinois, before leading him to Washington.
"I experienced accessibility as a student, as a faculty researcher, as a staff member—with different hats," Rangin says. "I was sighted for a big chunk of my life, so I know how things look like; I think I know the problem and my computer science background helps me a lot."
Rangin's ability to fuse forms and functionalities as a person who experienced the transition from being sighted to living with a visual impairment has allowed him to excel as a purveyor of accessible tech and in crafting pedagogy around the same. "The combination between the visual experience and now, where I have to work as a screen-reader user, helps me to come up with ideas as to how we make interfaces or interactions more accessible to everyone," he says.
Rangin began losing his eyesight as a 22-year-old living in Teheran, Iran. An accident during a soccer game led to a retina detachment, exacerbating what he describes as "already weak eyes." He opted not to have surgery in Iran and instead sought government permission to travel to Germany to see a specialist. It took two months for approval to come through. When he eventually had the operation, doctors cautioned it might already be too late.
Over the next several years, he traveled to Germany three more times for follow-up surgery. On his fourth trip to Germany, he decided to stay to start a new life. He has not returned to Iran since. Newly settled in Germany, Rangin was ready to begin life again in more ways than one. As his vision deteriorated further (12 subsequent eye surgeries—16 total—did not save his sight), he was finding it increasingly difficult to read printed material—let alone navigate a new country and culture.
"I was losing my hope," he recalls of himself at the time. In Iran, blindness had carried a stigma—what Rangin calls an aura of taboo. "I had a real problem with becoming blind. I knew I was going to lose my eyesight, but I had a difficult time identifying with it."
In 1988, he learned about pilot project by the German government in the city of Karlsruhe that offered people with certain disabilities a chance study in the mainstream education system. Already interested in the burgeoning field of computer science, Rangin decided to enroll—a decision that would not only recast his perspective on living with visual impairment, but also set him on course to helping countless others living and working with disabilities do the same.
"Once I lost my vision, I caught myself," Rangin says, invoking the German expression, ich habe mich abgefunden, for finding one's way. He says the German government's project at the University of Karlsruhe provided everything he needed to begin anew: a computer, Braille display, and the conversion of course material.
"I was so pleased that I had the opportunity to be in the mainstream again," he says. "I owe that country a lot. They helped me find myself again and identify the abilities I didn't know about, such as learning Braille and studying math and physics as a blind person."
When the time came, Rangin says he was able to "proudly take the cane," but recalls his first day of mobility training as one filled with conflicting emotions.
"A lady was teaching me how to use the cane and find my way and I was crying," he says. "It was a mix of joy and sadness—joy because I was able to function again and be semi-independent and at the same time had to accept that that is going to be my future: I am blind now."
While transition proved a difficult one, Rangin kept his focus on the future. As part of a University of Karlsruhe exchange program, he traveled to Oregon State University to work with Dr. John Gardner, a physics professor who lost his eyes in an operation. He had only planned to study at Oregon for six months, but ended up stayed for two years, earning a second degree before the University offered him a job specializing in human-computer interfaces.
Four years later, he joined New Mexico State University, but later left university life to work in telecommunications. After three years, he returned to the accessibility field, working alongside accessibility expert Jon Gunderson at University of Illinois – Urbana-Champaign for the next decade. In 2014, he accepted a job at the UW.
Over the past four years, he credits the work of his colleagues at ATC for their integral part in establishing the University as an institution "well-recognized for its accessibility efforts."
"We are helping people," he says. "A lot of the time, accessibility has a lot of intersection with usability. When we make a product accessible, we are making it more usable so everyone can benefit."
Rangin seeks to help others beyond the immediate UW community as well, serving on two Seattle Metro work groups that seek to address and improve accessibility services throughout the city. He also volunteers helping new immigrants and their children navigate local school systems.
"Of course, I'm not happy I became blind," he says, "but I'm very pleased when I see the work that we do that everybody will benefit from it. You do not see our names, but when you go to use Outlook or Microsoft Word or Canvas—all these products we use on campus—our contribution to the community is that everybody can use them."
"I really need to emphasize that I am so delighted with my life."