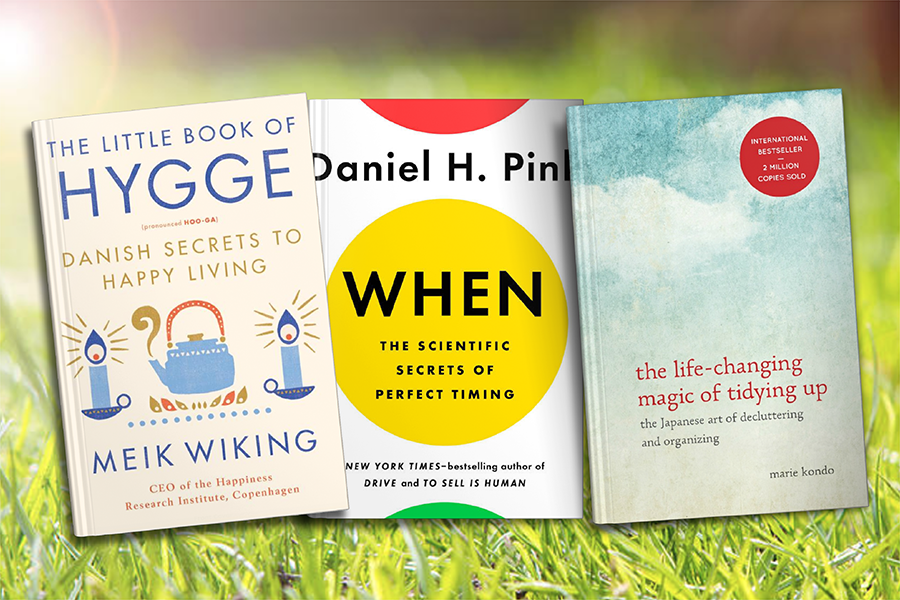 Clean Comfort: 3 Books for Living Well
This month, as we wrap up Dare to Improve and switch gears to Dare to Fuel, we finish strong with three books on how to improve, prioritize, and draw more satisfaction from life. Whether you're looking to optimize your routine to fit more of what you enjoy into life or to enhance your everyday environment, these titles from the University Book Store will help you on your way.
Choose your moment.
By Daniel Pink
It's not just what you do—it's when you do it. This New York Times bestseller just came out in January and we can't stop thinking about it. Written by Daniel Pink (Drive, To Sell is Human), it investigates the importance and impact of good timing and how you utilize its power.
When is the best time to change careers, get married, or take a class? Why should you schedule your surgery or court appearance for the morning? Using research from psychology, biology, and economics, Pink shows readers how to choose their moment and achieve better outcomes in this fascinating new title.
Check out the author's recent NPR interview here.
---
Spring clean better.
By Marie Kondo
Have you ever looked around your living space and wished for more room? Wondered how you can spend so much time cleaning only to find your place looking messy the next week? Or tried to organize only to become overwhelmed? Japanese organizational guru Marie Kondo understands.
The Life-Changing Magic of Tidying up is an easy and enjoyable read that will change the way you think about your living space, your possessions, and maybe even your life with a deceptively simple philosophy of keeping only the things that bring you joy. Her signature decluttering and organizing method is paired with anecdotes and tips in this petite title with a cult following.
---
Enjoy the present.
By Meik Wiking
With Seattle having been recently named the most hygge (pronounced Hue-gah) city in the United States, it's the perfect time to snuggle up with The Little Book of Hygge.
What is hygge? It's a Danish term without an English equivalent that roughly means something like coziness and togetherness and is how Danes enjoy the cold and dark winter months. Wiking, CEO of the Happiness Research Institute in Copenhagen, believes it is the secret to happiness.
This beautifully designed little book encourages you to enjoy simple pleasures and create welcoming, comforting spaces. Grab a soft blanket and curl up in your favorite nook with the delightful, on-trend read.
---
Make the most of 2018 from weekday to weekend with clever tips from these inspiring titles. Happy reading!