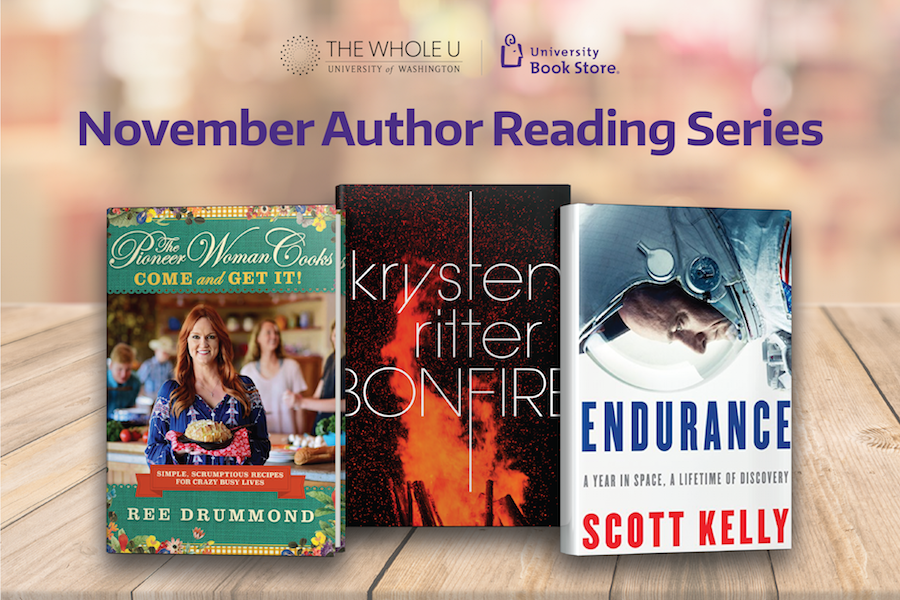 U Book Store Welcomes November Guests
The Thanksgiving season is a time for welcoming guests and, over the next several days, the University Book Store will host several in the U District. From Wednesday through Sunday, astronauts, actresses, animal behaviorists, and intrepid food bloggers will crack the spines of new books as part of the ongoing Reading Allowed series. We've read their books in anticipation of their arrival and offer a sneak peek below.
---
Bonfire by Krysten Ritter
Wednesday • November 15 • 6pm • U District store (Book Signing)
What happens when a critically acclaimed actress sets out to write a fast-paced legal thriller? Krysten Ritter, star of Netflix's Jessica Jones and Don't Trust the B— in Apartment 23, introduces Bonfire, a gritty debut novel about a young environmental lawyer and a small town that won't let her go.
Ten years ago, Abby Williams left Barrens, Indiana behind and built a life and career for herself in Chicago. But now a case is bringing her back home. Is the company called Optimal Plastics keeping the town alive or slowly poisoning it? And why do connections to a scandal from the past—the disappearance of a popular young woman named Kaycee—keep popping up? Abby finds herself digging up secrets that the people of Barrens would rather stay buried.
---
The Pioneer Woman Cooks: Come and Get It! by Ree Drummond
Wednesday • November 15 • 6pm (Book Signing)
University Temple United Methodist Church The Sanctuary, 1415 NE 43rd Street
Break free from you weekday dinner rut with Ree Drummond (a.k.a. The Pioneer Woman). In her new book, The Pioneer Woman Cooks: Come and Get It!, the beloved Food Network star gives you a peek inside her recipe box with tried and tested dishes are tasty, nutritious, and easy enough for a real world routine.
With over 125 simple, yet scrumptious recipes, this collection is a great resource for everyday culinary inspiration. Feeling hungry? Check the section for recipes under 40 minutes. Getting hangry? Try one that takes less than 20.
---
Endurance by Scott Kelly
Thursday • November 16 • 7pm (Reading & Book Signing)
University Temple United Methodist Church, 1415 NE 43rd Street
Astronaut and two-time commander of the International Space Station, Scott Kelly takes us to the stars with his memoir, Endurance. In this fascinating read, Kelly—the record holder for consecutive days spent in space—offers a uniquely intimate portrait of what it's like to live off-planet.
From the strange adjustments of living without gravity to the psychological strain of close quarters and separation from loved ones, he strikingly documents a life like no other. The surprising details he includes and his genuine passion for spaceflight combine to create a vivid reading experience for all who've ever looked to the stars in wonder. Younger dreamers will be sure to enjoy his picture book, My Journey to the Stars and Back.
---
Total Cat Mojo by Jackson Galaxy
Friday • November 17 • 7pm (Reading & Book Signing)
University Temple United Methodist Church The Sanctuary, 1415 NE 43rd Street
A cat behaviorist and host of Animal Planet's My Cat from Hell, Jackson Galaxy can answer all our cat questions—and help pets harness their "mojo"—with his comprehensive guide, Total Cat Mojo. What is "Cat Mojo," exactly? It's how your cat acts and feels when they're comfortable with their environment and living up to their natural instincts.
Galaxy traces many common behavioral issues to imbalances in it and with this book he'll help you navigate them. Learn to address the physical and emotional needs of animal companions at any age with his insights into their behavior. Covering everything from grooming and nutrition to vet visits and play, this fantastic reference is filled with helpful tips and small epiphanies about our four-legged housemates.
---
Diary of a Wimpy Kid: The Getaway by Jeff Kinney
Sunday • November 19 • 1pm • U District store (Reading & Book Signing)
#1 New York Times best-selling author and six-time Nickelodeon Kids' Choice Award winner Jeff Kinney presents the newest installment of his popular series with Diary of a Wimpy Kid: The Getaway.
In this new title, everyone's favorite wimpy kid is going on vacation! Spending Christmas at a resort may sound like a dream getaway, but it soon turns into a nightmare. Humorous, relatable, and filled with doodles, this book will keep even the most reluctant readers engaged.
---
See a full listing of Reading Allowed Events here.
Whether you're looking to get some holiday shopping done in advance of the Thanksgiving rush or just looking to get out for a spirited night of seriously good readings, this is a slate of events you won't want to miss.