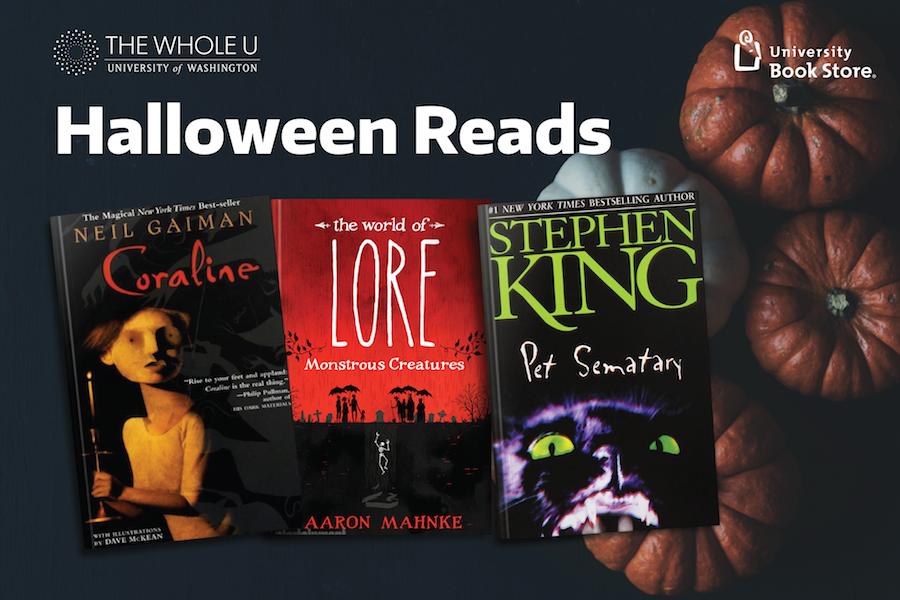 6 Books for October Evenings
Do you feel that chill in the air? Is that just autumn creeping in or something a little spookier? Find a cozy blanket, make a fresh cup of tea, and curl up with a wickedly delightful title that will get you in the Halloween spirit.
Once you close the back cover, continue to channel the spirit of the season at Ovations, October 29. There is nothing more terrifying this Halloween than missing out on the performance event of the season!
---
The Witches by Roald Dahl
Introduce young readers to a deliciously scary Halloween classic! Written by kid lit icon Roald Dahl, The Witches is a title that takes us back to those pre-Harry Potter days when witches were actually pretty terrifying.
Witches are not fairy-tale creations in this Whitbread Award-winning book, they're absolutely real. They don't wear pointed black hats or ride broomsticks—they disguise themselves as nice, ordinary ladies, while they pursue their ultimate goal: to rid the world of children!
A seven-year-old boy and his grandmother happen upon a whole convention of these cunning creatures in a tale that is at once imaginative, funny, and frightening.
---
Coraline by Neil Gaiman
You may have seen the movie, but have you read the book? Master storyteller Neil Gaiman enchants and unsettles with this #1 New York Times bestseller about old houses, alternate universes, and choices.
A boring rainy day becomes quite the opposite when young Coraline discovers a strange door in the big old house where she lives. This door—which sometimes appears to be bricked up—opens into another world much like her own, but better. Here, her bedroom is brightly colored, people say her name correctly, the food is delicious, and her other parents—unlike her preoccupied parents back home—are extremely attentive. However, they do have shiny black buttons where their eyes should be….
---
Cirque Du Freak: A Living Nightmare by Darren Shan
The first book in a deliciously creepy series, Cirque Du Freak: A Living Nightmare is a fast-paced, pulse-pounding story that will grab the interest of even reluctant readers.
Darren Shan (note the author name) is a young man who loves spiders and other spooky things, but has otherwise been living a pretty ordinary life. At least until the Cirque Du Freak comes to town. When he and his best friend, Steve, get tickets to the curious event, Darren thinks they're in for something strange and thrilling.
The exciting excursion turns dangerous when Darren becomes entranced by one of the acts—a giant spider that does tricks—and Steve recognizes one of the performers.
---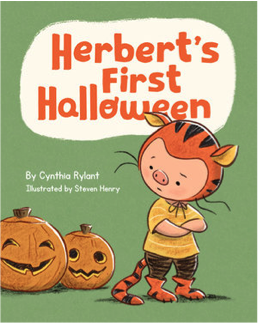 Herbert's First Halloween by Cynthia Rylant, illustrated by Steven Henry
Looking for something sweet instead of scary? Join us for a well-timed reading of Herbert's First Halloween on October 28 with award-winning illustrator Steven Henry. A charming introduction to both the holiday and being brave, this Special StoryTime is perfect for young trick-or-treaters. Herbert is nervous about his first Halloween, but that doesn't mean it won't be amazing. With a little help from his dad and a special tiger costume, he just might find his confidence in time for Halloween night. Feel free to come in costume for this festive event!
---
The World of Lore: Monstrous Creatures by Aaron Mahnke
Do you love myths and monsters? Check out this new release from writer, host, and producer of the hit podcast Lore, Aaron Mahnke. The World of Lore: Monstrous Creatures is a beautifully illustrated exploration of mythical creatures featuring both favorite and rare stories.
There's no denying that monsters have long held a fascination for mankind: they live in shadows—deep in the forest, late in the night, in the dark recesses of our minds. With stories passed down through generations and told around campfires they are fuel for the imagination.
As in his podcast, Mahnke delves not only into the legends, but also what the things we fear tell us about ourselves.
---
Pet Sematary by Stephen King
Treat yourself to a frightening classic from the "King of Horror," Stephen King. Pet Sematary is one of the most well-known titles by this beloved author and if you haven't read it yet, October is the perfect time.
It's all almost too perfect, when the Creed family trades the city for a beautiful new life in rural Maine. The fact that their house is located near a pet cemetery is initially more funny than alarming. Skillfully slipping over the edge of the mundane and into something more, this book is grounded in reality just enough to make it feel especially unsettling and suspenseful.
Leave the lights on when you read it!
---
To get your fill of Halloween beyond the bookshelf, remember to join The Whole U at Ovations—UW's annual arts and performance showcase. Round up your family and friends for this FREE event featuring artwork and performances by faculty, staff, and students on October 29 from 2-4 pm in the Meany Hall Theater. Register to save your spots now!