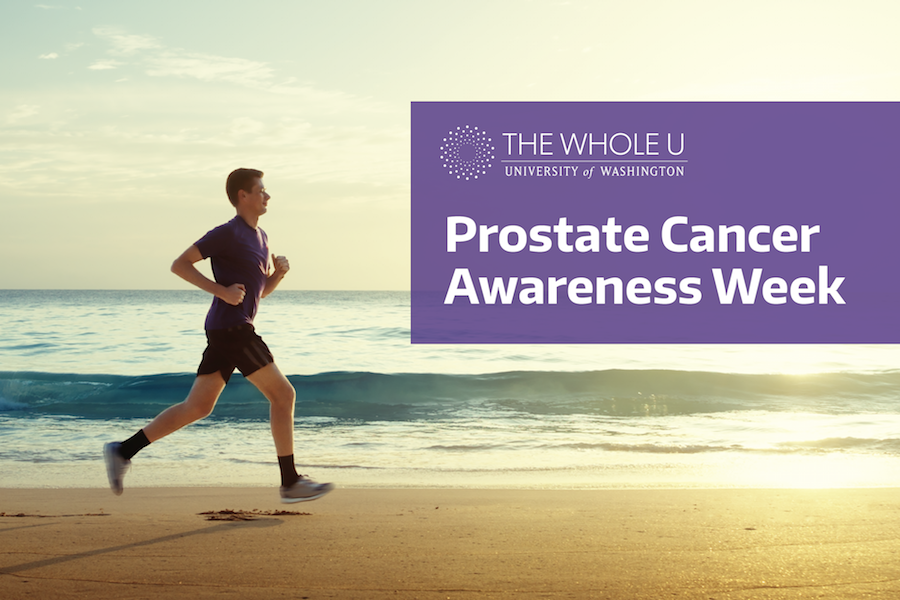 Whole U Health Series: Prostate Cancer Awareness
"Prostate cancer is the most common cancer diagnosis in men today, and it's the third leading cause of cancer related death in men."

— Dr. Jonathan Wright
Medical Director of the UWMC Urology Clinic
UW associate professor of urology.
The numbers are staggering. In their lifetimes, one in seven men will be diagnosed with prostate cancer, a cancer that starts in the prostate, a small, walnut-shaped gland in the male reproductive system. This statistic alone illustrates the importance of designating a whole month, the month of September, as Prostate Cancer Awareness Month.
Because there are no symptoms during the early stages of prostate cancer, screenings and yearly check-ups are critically important to catching cancer early, before it spreads outside the prostate.
In honor of Prostate Cancer Awareness Month, we asked Dr. Wright, who specializes in urologic oncology with a specific focus on bladder, prostate, and penile cancers, a few questions about causes, available prevention measures, treatment, and current research on this cancer that will have affected 161,360 men in 2017 alone.
What causes prostate cancer?
Although we don't know specifically what causes most prostate cancer, we do know that the main risk factors are age, family history of prostate cancer, and ethnicity with African-American men having the highest risk of prostate cancer.
What are the stages of prostate cancer?
Most prostate cancers are localized, which means they are contained in the prostate with no spread. When prostate cancer spreads to the bone or to other organs, it is considered metastatic.
What prevention measures are out there for men?
With PSA testing (a blood test), most men are diagnosed before symptoms develop. There is a class of medications called 5 alpha reductase inhibitors, which has been shown to reduce the risk of prostate cancer, however there are other risks and side effects associated with the medication which prohibited its widespread use as a preventative measure.
One of the best things that men can do to reduce the risk of prostate cancer, as well as other cancers, is to maintain a healthy lifestyle, get regular exercise, and eat a healthy diet.
What is the treatment for prostate cancer patients?
For patients with localized prostate cancer, the standard curative therapies are surgical removal (robotic or open prostatectomy), radiation therapy (brachytherapy/seeds or external beam radiation), or cryotherapy (freezing of the prostate). Increasingly, for men with low-risk prostate cancer that grow very slowly and may never cause signs or symptoms, we do "active surveillance" of the cancer. This means we do regular blood work, exams and a biopsy every one to two years to monitor for changes in the cancer.
If there is a significant change in the cancer, we intervene with curative intent. The goal of active surveillance is to avoid treatment, and the associated side effects, in men least likely to have the prostate cancer be a problem for them. For men with metastatic prostate cancer, the standard therapy is hormonal therapy. Additionally, chemotherapy can be used.
What would you say to someone who is reticent or doubtful about getting screened?
Screening detects prostate cancer early, at which point it is most curable. Also, many men with slow-growing, early prostate cancer can be safely monitored with active surveillance, rather than undergoing treatment.
Are there any studies going on at UW regarding prostate cancer?
For men with localized prostate cancer, we have the Prostate Cancer Active Lifestyle Study (PALS). This is a randomized study of a Diet and Exercise Program in Promoting Weight Loss and Improving Health in men with low risk prostate cancer on active surveillance. The goal of the study is to understand the mechanisms between excess body weight and prostate cancer progression while improving the health of men at the same time.
We also have a program called the Prostate Cancer Active Surveillance Study (PASS), a study in which we monitor men on active surveillance with a goal of identifying future markers of prostate cancer progression. For men with more aggressive prostate cancer undergoing surgical removal, we have clinical trials of hormonal treatment prior to surgery in an attempt to improve cancer-specific outcomes.
For men with advanced prostate cancer, we have several clinical trials of novel therapeutics.  All these and more studies can be found here, which is updated regularly.
Additionally, we have teamed up with the Movember Foundation to conduct clinical studies of survivorship, pre-clinical studies, and exercise in advanced prostate cancer. Each year the MoDawgs-powered by the SCCA' team, raises money to support the Movember fight against prostate cancer (Movember is an annual event involving the growing of moustaches during the month of November to raise awareness of men's health issues).
Are there recent screenings or treatment advances that give you and others hope about addressing prostate health?
We recently recognized that there is an association between BRCA mutations (the gene known best for increasing risk of breast and ovarian cancer) and aggressive prostate cancer. This has altered the screening, and in some cases the treatment, on men with prostate cancer. We continue to seek new treatments, new markers, and improvements in health related quality of life for men with prostate cancer in our work at the UW/SCCA/Fred Hutch.
What resources exist for prostate cancer patients and for families?
Here are ways to learn more about prostate cancer and help support research, education and awareness:
Join patients and friends of the Men's Health Center at UW Medicine and participate in the Puget Sound ZERO Prostate Cancer 5K Run/Walk. The event, which will take take place on Saturday, October 7, 2017 at 9:00 a.m. at the Willis Tucker Park in Snohomish, helps raise awareness and funds to put an end to prostate cancer. Join as a runner, walker, kid dasher, and volunteer to help the Men's Health Center at UW Medicine's team make this inaugural event a huge success.You can also support their efforts by making a tax-deductible contribution. Your donation provides much needed funds for research, education and awareness, and patient assistance for prostate cancer patients in our local community. Join the team or make your donation here.
Don't miss Dr. Jonathan Wright's and Dr. Kevin Ostrowski's Whole U talk on prostate health on November 16. They will be talking about screening, cancer diagnosis and treatment, and post-treatment care. Register below: