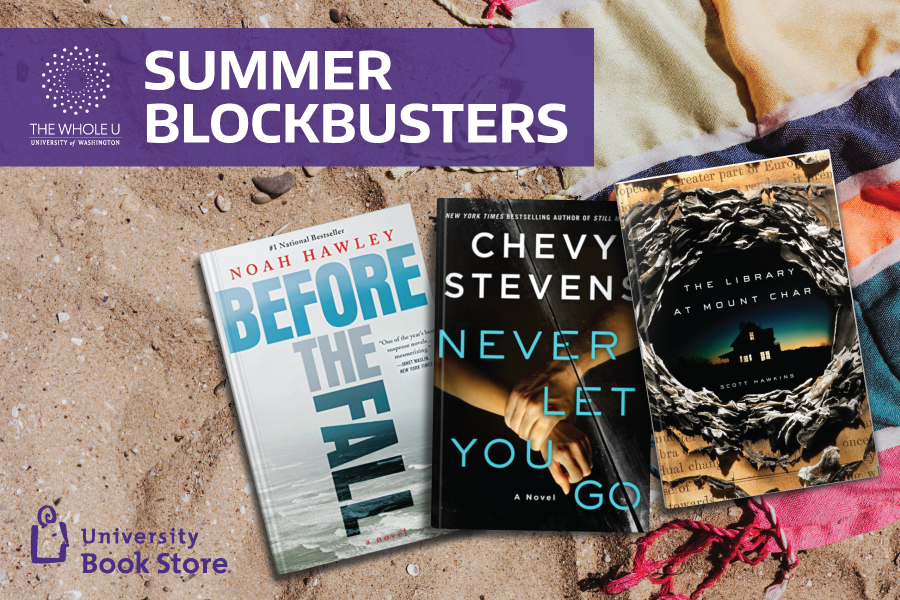 7 Blisteringly Good Summer Reads
Blockbuster movies are a staple of summer, but at University Book Store, we prefer to catch the books before they get spun into stories for the silver screen. Fast-paced, exciting, and immersive, these seven titles are like their own mini-vacations: an escape from the everyday into worlds of explosive plots, imaginative settings, and intriguing characters. Whether you've got a long road trip, plane ride, or series of languorous late afternoons in your future, one of these reads may be just the ticket to transport you to a place where only a book could take you.
---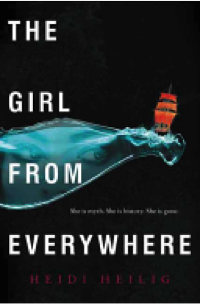 You don't need a plane ticket to go somewhere this summer if you have Heidi Heilig's The Girl from Everywhere in your beach bag. This swashbuckling fantasy epic is, by its very nature, a vacation you can hold in your hand.
16-year-old Nix has grown up traveling with her father on a strange ship that moves not only through space, but also through time. With the right map, he can transport them any place or any era. But there's one map he desires over all others: the one that will take them back to Honolulu 1868, a year before Nix's mother died in childbirth. As much as she has loved her life traveling aboard the Temptation, Nix can't escape the implication that if her mother is saved, she might cease to exist.
---
Take a break from your routine and stop by the Nightshade Lounge. Serving up drinks with flair recognizable by fans of Buffy the Vampire Slayer, Paul Krueger's supernatural thriller is a fun and clever twist on the urban fantasy genre.
Freshly graduated with no job offers, Bailey Chen returns home to Chicago and gets a job bartending with help from her old friend/ex-boyfriend Zane. But Zane and his cocktail concocting buddies are more than what they seem. Recipes from a book of magical mixology create drinks that imbue supernatural abilities, allowing them do battle with the demons that stalk the city. This fresh and cheeky tale even includes 14 drink formulas from the ancient tome of bartending lore. So pour one out—this one is good to the last drop.
---
This book is not for the faint of heart, but if you've a taste for something strange, a little unsettling, yet undeniably interesting, Scott Hawkins' The Library at Mount Char is worth opening up.
Once upon a time, Carolyn was like everyone else. She lived with her family in the suburbs. She did ordinary things. That was before she came to the library at Garrison Oaks, a place whose 12 sections contain wonder, horror, and the secrets of the universe. After being orphaned by a strange disaster, she and 11 other children are taken to study a section of the library under the supervision of a man known only as Father. But when enigmatic Father goes missing, a battle to claim the library and its god-like powers unfolds that's sure to hold you in its grips until you reach the final page.
---
Take a stroll down the red carpet and into a world of glitz, Old Hollywood glamour, and scandal. At 79, reclusive silver screen icon Evelyn Hugo has finally decided to tell her much-sought-after life story and the tale is even more fascinating than imagined. Bold, beautiful, and unapologetically ambitious, she is a force to be reckoned with, but her climb to fame was not a straight or easy one.
With a good helping of Elizabeth Taylor and a dash of Marilyn Monroe,Taylor Jenkins Reid's Evelyn is an unforgettable character who feels so familiar and real you'll be surprised not to see her name splashed across magazine covers. And this book digs deeper—laying bare a flawed but undeniably charismatic woman who could fill seven lifetimes with her secrets, mistakes, dreams, and loves.
---
When Lindsey fell in love with Andrew, she fell hard. He was handsome and charismatic. They got married. Then, another side of him came out that was terrifyingly possessive. When he went to jail for a drunk driving accident, she took their daughter and fled. In the 11 years since, Lindsey has rebuilt her life, but the man she thought she left behind has just been released from prison. He says he's changed, but Lindsey begins to sense that he hasn't—and that there seem to be eyes on her at all times.
Twisty, absorbing and finely written, Chevy Stevens' pulse-quickening thriller will pull at your emotions and keep you turning pages far into the night. Settle in for a story of warped love and obsession that's as shocking as it is satisfying.
---
This recommendation may be a little different from the others, but, for a foodie, it's just as exciting as any action-packed pick. Summer is the ideal time to invite friends and family over for a meal and Nancy Silverton's Mozza at Home makes it all so much easier. Written by Nancy Silverton—an award-winning LA chef and restaurateur—it's a celebration of family-style cooking and fresh ingredients enjoyed at their peak. Pick up this book to be reminded of the true pleasures of making food for those you love.
More than a collection of recipes, it offers practical tips for hosting, cozy, casual gatherings that leave you feeling restored rather than spent. Devour over 150 recipes, 19 elegant menus, an abundance of photos, and cozy little stories about where the recipes came from or when she likes to make them.
With Silverton's expert guidance, toothsome dishes like garlic-rubbed skirt steak with scallion vinaigrette, balsamic glazed mushrooms, and bittersweet chocolate tartufo are entirely obtainable for the at-home chef.
---
Written by award-winning television producer and screenwriter Noah Hawley, this gripping, cinematic thriller boasts a ripped-from-the-headlines premise and plenty of style.
Sixteen minutes after takeoff, a small charter plane crashes into the ocean off Martha's Vineyard. Of the 11 on board, only two survive: Scott Burroughs, a struggling middle-aged artist, and the four-year-old son of a news network head that he saves. Burroughs's heroic act takes him headfirst into a media frenzy and federal investigation that has him scrambling for answers. Flashback chapters for each passenger and plenty of intrigue will keep you hooked throughout this gritty suspense novel.
---
With several more weeks of summer ahead, there's still plenty of time to pick up a satisfyingly good read—or two. Drop by one of our U Book Store locations and you'll be sure to find something that will suit your taste and fit snugly inside your backpack, beach- or weekend-bag!