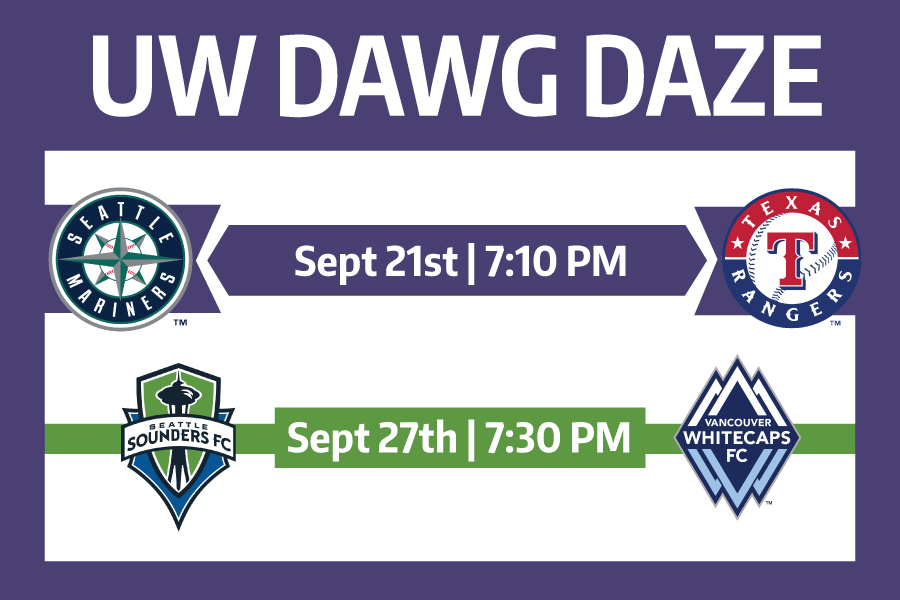 Join Us at UW Dawg Daze with the Mariners & Sounders
Did you know the University of Washington has one of the largest weeks of welcome in the nation? We host over 250 academic and co-curricular events through the first week of the school year and this year, Dawg Daze will run from September 21 through September 30. To get a glimpse of Dawg Daze from a student perspective, check out this Dawg Daze Video. Dawg Daze not only welcomes new students, but also welcomes returning students, staff, and faculty back to campus.
Join us for Dawg Daze and enjoy discounted tickets to the Mariners and the Sounders! Discounted tickets are available to the whole UW community and include a FREE Seattle Mariners Dawg Daze T-shirt and a FREE Sounders Dawg Daze drawstring bag! Different t-shirt sizes are available for the Mariners game while supplies last. Grab your Husky friends and family and join us as we kick off the school year with the beloved Seattle sports teams!
---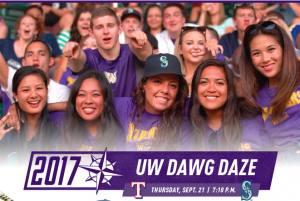 Dawg Daze at the Mariners has been a key event for almost 12 years! You, your colleagues, family, and friends are welcome to join us on Thursday, September 21 as the Mariners face off with the Texas Rangers at 7:10 p.m. at Safeco Field.
Pricing:
$17 View Level ($20 value)
$30 Main Level ($40 value)
Purchase Mariners UW exclusive tickets here.
---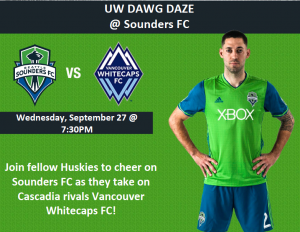 Please also join us for the 3rd year of Dawg Daze with Sounders FC on Wednesday, September 27 at 7:30p.m. at CenturyLink Field. The Supporters Shield winning Sounders will be taking on their Cascadia rivals the Vancouver Whitecaps FC. The singing, chanting and scoring provides an atmosphere that's fun and entertaining for all!
Pricing:
$21 ($35 value)
Purchase Sounders UW exclusive tickets here.
The deadline to purchase discounted tickets is September 20th.
Thanks to all the staff and faculty members across the UW who work to make Dawg Daze a success. I look forward to celebrating with you at the game!
Dawg Daze @ Sounders FC | Mariners2017
Martha Tran is a senior program manager in First Year Programs and a member of the Dawg Daze planning committee. She has worked with FYP since 2008 as a student coordinator and rejoined the team as a Professional Staff member in 2013. Martha is an ambassador for WholeU and serves on the UW Professional Staff Organization.