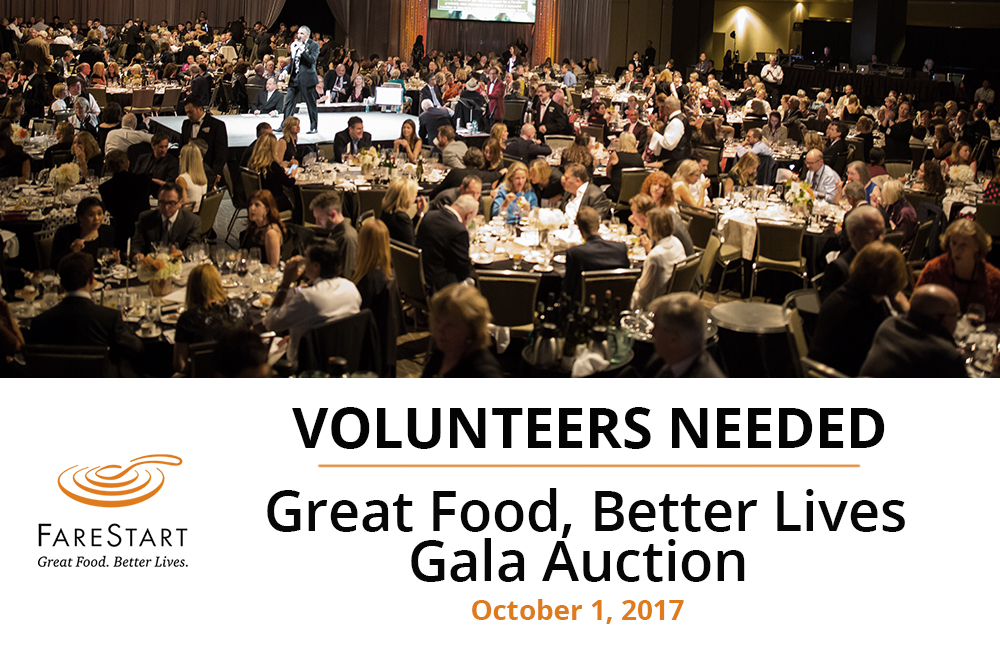 FareStart's 25th Annual Gala Auction Needs Volunteers!
A night of having fun can also be a night of doing good. Join us and make a difference by volunteering at FareStart's 25th Annual Gala on October 1!
FareStart, a culinary job training and placement program for homeless and disadvantaged individuals, tackles some of our society's biggest challenges. Since 1992 FareStart has provided opportunities for nearly 8,000 people to transform their lives, while also serving over six million meals to disadvantaged people.
Over the past three years, UW faculty and staff have dined at FareStart to support its mission, volunteered as servers to help fund its programs, prepared meals to go to food shelters, and donated items to support its students. This year we'll be helping out with their 25th Annual Great Food, Better Lives Gala Auction! An evening of festivities that will include a silent auction reception, live wine auctions, an elegant multi-course gourmet dinner and live entertainment, the gala will be held on Sunday, October 1, 2017 at The Skybridge at the Washington State Convention Center.
We need 30 volunteers to support the event in the following roles (10 per each role):
Live Auction Runner — You will work closely with the auction items and run the items out to be auctioned.
Live Auction Spotter — You will observe table sections for bidders and assist the auctioneer spot bidders.
Section Captain — You will help support the needs of guests sitting at 2-3 tables during the live auction, refreshing their drinks, or answering any questions they might have.
The shifts all start at 5:15 pm at the Washington State Convention Center and will end between 9:30 and 10:00 pm.
If you'd like to volunteer for the 25th Annual Great Food, Better Lives Gala Auction, please email Chiara at chiarai@uw.edu detailing which role you would like to be assigned.