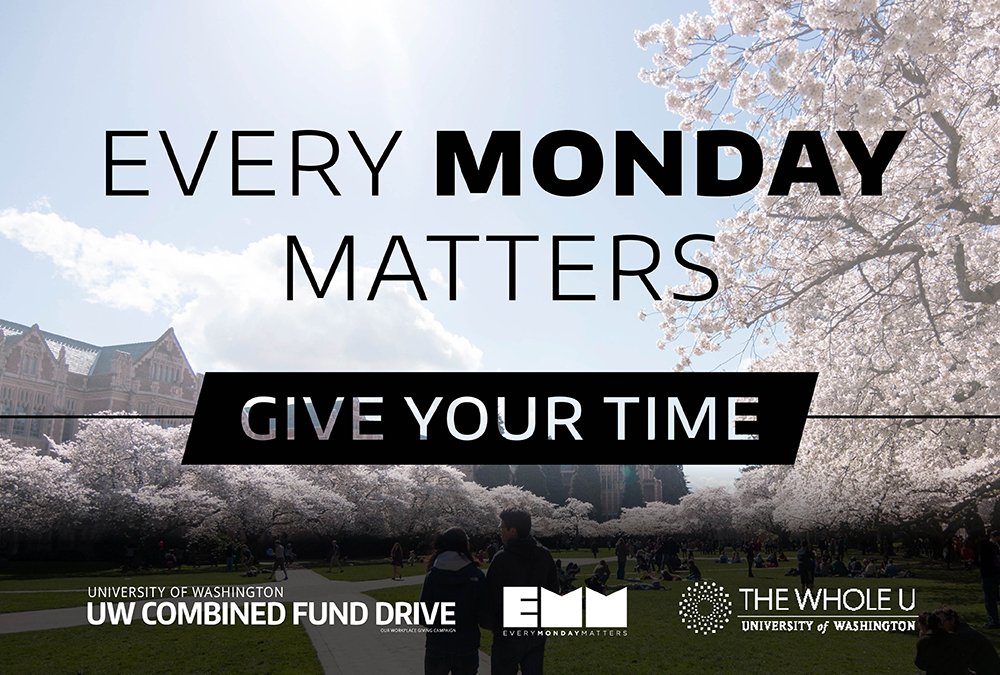 Giving Time: The Most Generous Gesture
This is the fifth installment in the Every Monday Matters series. UW Combined Fund Drive is partnering with Every Monday Matters, a nonprofit committed to inspiring a new normal where people understand how and why they matter to themselves, the community, and the world.
Time is one of the most precious things we have in life. We can't stop time, only get so much of it, and never know how much that will be. We share this to point to the fact that it's important to cherish the time we have.
We know that you spend much of your time at work and taking care of personal business. Because it is so precious, when you give your time, you are actually making the most generous gesture of all. So this month, we ask you to consider giving of your time.
How much time are you able to offer to someone else? Is this something you can become better at doing? Take a look around. Who in your life would benefit from more of your time? When you give your time, it is appreciated more than you might ever know.
Here are some ideas:
Low. Take a short, five minute walk. But make it the kind of walk that's good for you, your neighborhood, and the planet. Bring gloves and a bag to collect trash along the way.
Medium. Create coupons that promise the gift of time and share them with the special people in your life. When you give them out, be prepared to not only make someone's day, but to feel amazingly generous.
High. Volunteer at a local nonprofit that can use your help and talent. Ask your friends or colleagues to join you. If it's a hit, plan a regular monthly opportunity to give more of your time and find out how great it feels to donate freely. Visit the UW Combined Fund Drive volunteer page for ideas and opportunities for volunteering like the following:
Volunteers make everything the University District Food Bank does for the community possible. Every month, volunteers donate more than 1,200 hours of their time. They assist with customer check-in, bagging groceries after customers go shopping, restocking shelves, helping unload trucks, repackaging bulk items, sorting through donations, picking up food from area stores, and serving on the organization's board. Opportunities are available most weekdays the food bank is open for food distribution as well as occasional weekends.
Visit the University District Food Bank volunteer page for more information.