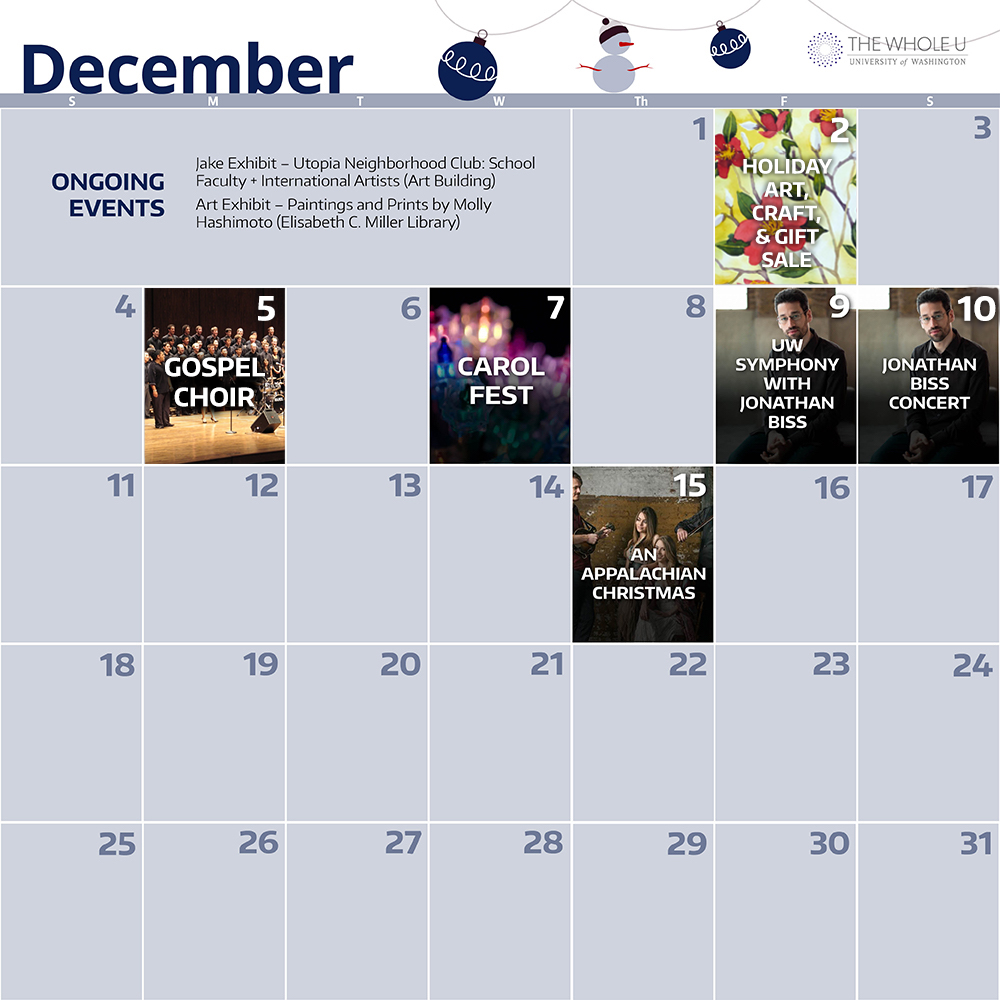 Warm Up, Chill Out with These Delightful December Events
If the weather outside is frightful, it can seem difficult to find events that are delightful. Luckily, this month at the UW, there's plenty going on inside warm libraries, galleries, and performance spaces. The following events are sure to get you into the holiday spirit before your flight out of town or help entertain loved ones who might be dropping in for a visit. Whether you're an fine art enthusiast, symphony fanatic, or just looking for a break from the routine, there's a little something for everyone.
Jake Exhibit – Utopia Neighborhood Club: School Faculty + International Artists
Ongoing, through December 22 – Jacob Lawrence Gallery
We're starting bold. And why not? Jacob Lawrence was. Heralded as one of America's leading modern figurative painters, the New York-born artist pioneered a style he dubbed, "dynamic cubism," abstractly mixing shape and color to treat realistic themes, Lawrence is perhaps best remembered for his painterly documentation of the African American experience in the 20th century, but is known locally for his tenure as a professor of art at UW from 1970 to 1980.
Since the beginning of November, a number of exhibits and programs have been in full-swing celebrating the 100-year anniversary of his birth.
In his youth during the early part of the 20th-century, Lawrence spent time at the Utopia Neighborhood Club, a Harlem organization that provided social services to the underserved. It was there he took some of his first art classes. In recognition of that space's role in his life, this series of highly-involving exhibitions and programs asks viewers to consider the uses and purposes of the gallery's space moving into the future. Featuring works from international artists as well as UW faculty, the exhibit will remain in place until December 22, so don't miss this unique opportunity to look forward by looking back.
You can still participate in the last set of programs coming up in the first week of December, including a Word Exchange exercise December 6 from 3:00–4:30pm led by students of Art 260. Then, on December 10, bibliophiles can join 3D4M Professor Michael Swaine for the walking tour, "How to Organize a Public Library."
Paintings and Prints by Molly Hashimoto
Ongoing, through December 23 – Miller Library
Escape the grasps of a frigid winter by enjoying artwork inspired by the botanical West. Through her art, Seattle-based artist and teacher Molly Hashimoto explores different flora and fauna of the region in watercolor and block print. Whether it's a waltz through the garden or an adventure through the wild, the colors and interpretations of plant-life will leave you breathless.
Some of her works will be on sale as well as part of the Holiday Art, Craft, and Gift Sale, which kicks off with a reception December 2 from 5:00-7:00pm in Miller Library and runs through December 23. Also on show available for purchase will be hand-sewn notebooks, humorous letterpress paper goods, prints, watercolors, and jewelry crafted by a range of local artists. Don't hesitate to drop by and pick up a puzzle, calendar, or card featuring some seriously stunning scenery as a gift for the art-appreciator in your life—or maybe just yourself.
Gospel Choir
December 5, 7:30pm – Meany Theater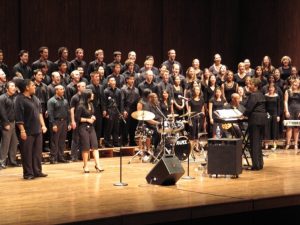 If there's a better way to bask in the joy of the holidays than through the power and positivity of Gospel music, we've yet to hear of it. Director of the UW Gospel Choir Phyllis Byrdwell brings it back to where she got her start as a School of Music alumna, leading the 100-voice ensemble in songs of praise and jubilation that are sure to uplift.
A Minister of Music at Mount Zion Baptist Church of Seattle as well as a music educator for Lakeside School, Phyllis has conducted several seminar workshops on Gospel music throughout Washington state and nationally, and in 2005 served as a songleader for the Baptist World Alliance conference in Birmingham, England. It just goes to show how a little Gospel can go a long way. ($10)
CarolFest
December 7, 7:30pm – Meany Theater
Though the music may be rooted in past carol traditions, the program at CarolFest is sure to have you looking forward to the holidays. From the comfort of a cozy seat in Meany Theater, you'll hear traditional holiday choral music in languages from all over the world.
Settle in for this annual performance featuring a diverse set of arrangements in a variety of styles from the Chamber Singers, University Chorale, University Singers, Women's Choir, Gospel Choir, and UW Men's Glee Club.
The conductors—all seven of them—will direct the 500 singers throughout the night, ending with an awesome finale. Don't miss it, because for all that, tickets are going for just $10.
UWFA Winter Hat Sale for Student Scholarships
December 7, from 11:00 am – 2:00 pm – The HUB
The UW Faculty Auxiliary knits the UW community together—literally. The group has, for 100 years, striven to enrich university life in a variety of ways, but one of the most popular ways of raising funds for student scholarships is by knitting. While knitting is far from the only means by which UWFA supports the community, it's one of the most popular among its members, many of whom have been practicing the craft for decades.
Spearheaded by Kay Gordon, who along with her husband is retired from UW, the group knits hats and sells them on campus, donating all the money raised to the UWFA student scholarship fund. All the yarn used is donated and the knitters are all volunteers.
UWFA will be selling hand knit hats at the HUB Wednesday, December 7 from 11:00 to 2:00. So please stop by and pick up a hat for yourself or a friend. Doing good never looked so good—or felt so cozy.
Jonathan Biss
Friday, December 9, 7:30 pm – Meany Theater (with the UW Symphony)
Saturday, December 10, 7:30 pm – Meany Theater
Described as "one of the most striking pianists of the new generation," Jonathan Biss will share the stage Friday, December 9, with the UW symphony as he performs his own recital over the course of two days in Meany Theater. On Friday, you'll have the opportunity to get a taste of the UW Symphony's strings as they share some of Moritz Moszkowski's work, in addition to Biss's interpretation of a Beethoven piano concerto.
The following night, Biss will perform Beethoven's Piano Sonata No. 4 in E-flat Major, Op. 7, Brahms' Klavierstücke, Op. 118, selections from Jatekok
by Hungarian composer György Kurtag, and Beethoven's Piano Sonata No. 32 in C Minor, Op. 111. To see the Symphony on Friday night, you can get tickets for around $15, but to get the full Biss experience on Saturday, tickets run $45.
Mark O'Connor with the O'Connor Family Band: An Appalachian Christmas
Thursday, Dec 15, 2016, 7:30 pm – Meany Theater
Have you ever been to Christmas in Appalachia? You needn't catch a plane to transport yourself there. Seeing the O'Connor family in action on a Thursday night at Meany Theater would do just the trick. A combination of bluegrass, fiddling, and Christmas carols will keep you guessing at what's coming next. If you hadn't already decked the halls, you'll be ready to by the time they're through. A melting pot of cultures and sounds strings together for an unforgettable night. Tickets are $50-55.