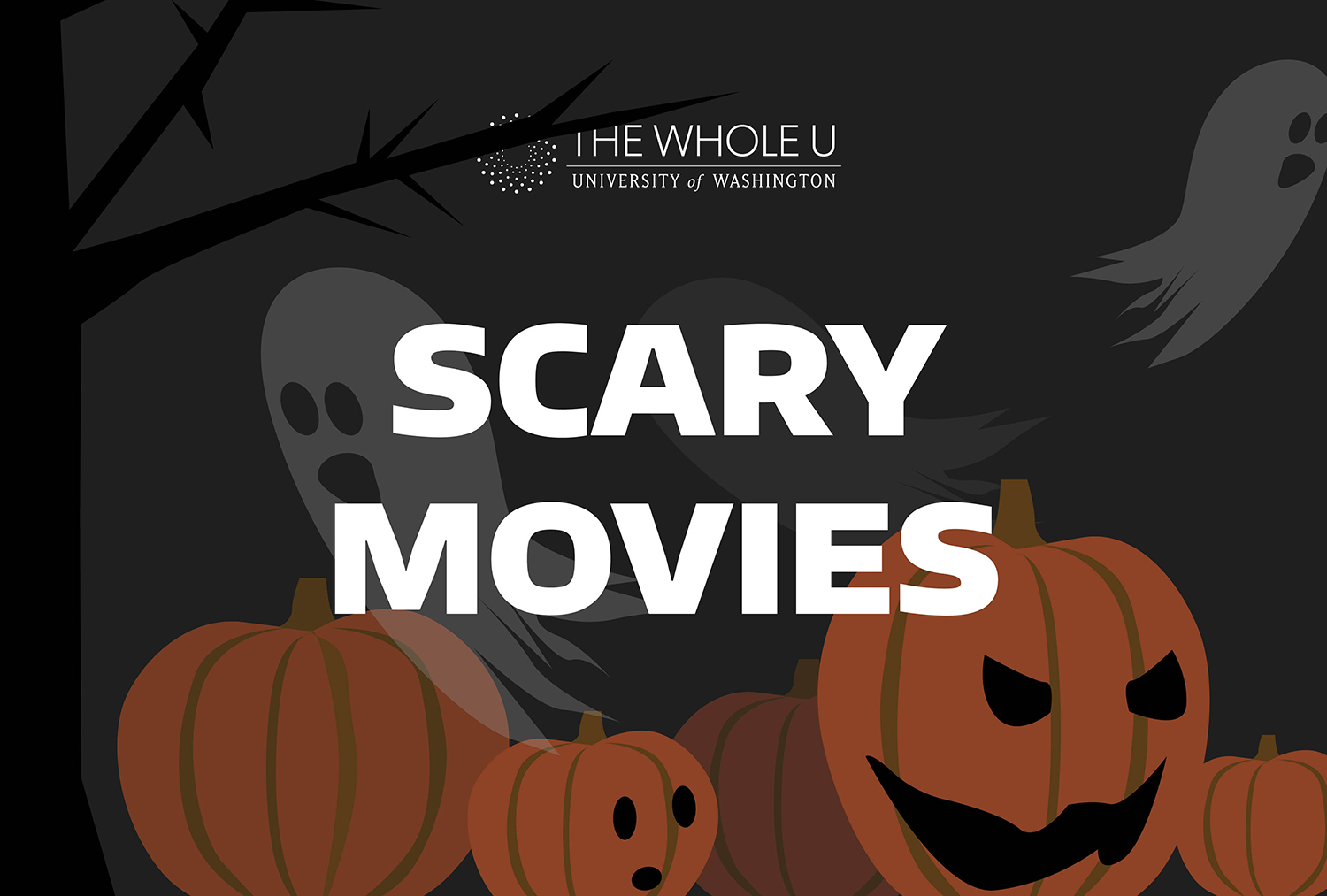 Films to Frighten Up Your Halloween
Halloween is just days away and all month long we've been preparing costumes, sneaking candy from the "secret" stash, and waiting for the big night to arrive. For some, Halloween means tricks and treats, but movies also play a key role in how folks celebrate and get even more pumped up for the scariest season of the year.
We compiled a list of some films made right here in Washington and asked The Whole U community to share their favorite seasonal scare-fests. Check them out and get spooked by some familiar scenery.
Twin Peaks: Fire Walk with Me – Filmed in Snoqualmie and Seattle
As David Lynch's feature-length follow-up to small-screen cult-favorite Twin Peaks, the film follows the investigation of Teresa Banks' murder, as well as the final days of Laura Palmer. While it addresses some of the plot points featured the short-lived television series, the film itself has struggled with identifying as a sequel or prequel despite the sequel-oriented plotline. Though you can't travel to the fictional town of Twin Peaks, Washington, you can catch classic Pacific Northwest scenery throughout the film, including iconic Snoqualmie Falls, which also featured prominently in the TV show's title sequence.

Despite the film's failures in the United States, it did remarkably well in Japan and continues to find favor with fervent fans of the series. Described as strange and twisted by some critics, this film definitely has potential to get you ready for a frightful night.
The Ward – Filmed in Medical Lake, Spokane
This film takes us back to 1966. Amber Heard's character, Kristen, sets fire to a farmhouse and ends up committed into the psychiatric ward of a hospital in Oregon. Unfortunately, the spirit of a past patient haunts her and starts terrorizing her, among some other patients whom she befriends on her arrival. Although the film received harsh reviews, the overall theme and terrifying elements of the movie will freak you out at least a few times. Murders, deformed ghosts, and dark corners? Sounds like Halloween material to me.
The Hand that Rocks the Cradle – Filmed in Issaquah, Tacoma, Seattle
The Hand that Rocks the Cradle is sure to make you skeptical of strangers around your family. After a predatory doctor, Dr. Mott, dies from suicide, his widow takes a vow of vengeance and begins targeting the woman who was responsible for initially reporting him to the police. Taking on a new alias, Mrs. Mott tries to infiltrate the family as a nanny and slowly turn them against one another, starting with the children.

Spending several weeks at #1, the film grossed over $7 million in its opening weekend and ultimately earned over $88 million. With plenty of scares and performances that drew praise from Roger Ebert, this movie can make anyone squirm on a chilly, dark night.
The Ring – Monroe, Seattle
Speaking of killer movies, this one unfolds a terrifying universe where films are the ultimate killing curse. After some students watch a mysterious tape, a Seattle journalist played by Naomi Watts decides to uncover the truth behind why all of those students suddenly perish at the exact same time seven days later. She even watches the film herself, and as she continues her investigation, begins to realize dire implications of the curse's morbid magnitude.

With stunning visuals and an intense sense of dread, this remake of the 1998 Japanese horror film received high praise for its ability to scare without gore and give you the creeps throughout. As one of the highest grossing horror films of all time, this is a must-watch. And don't worry—it won't kill you.
The Whole U Suggestions:
The Witches
Critics raved about this film, released in 1990, though it hardly boomed at the box office. Based on a children's novel, the plot follows the story of a child who gets turned into a mouse and hopes to prevent a group of evil witches from killing other children by turning them into mice too. Starring Anjelica Houston, this movie might make you think twice about eating candy from strangers (mostly witches).
Hocus Pocus
A Halloween must! If you haven't seen Hocus Pocus, be sure to queue it up because it's a cultural staple for many every year. Probably the most family-friendly of movies on this list, this cult classic combines comedy and horror in a tale sure to become an annual favorite. Witchcraft, sinister antics, and black cats make this movie as Halloween-y as they come.
The Nightmare Before Christmas
If nightmares and musicals are your thing, you've got to watch this movie. Jack Skellington, the Pumpkin King, finds himself wanting more than just frights on Halloween, and decides to take over another holiday, Christmas, by kidnapping the legendary Santa Claus. With Tim Burton's classic style and some catchy tunes to keep you dancing (and singing along with each return viewing), this movie primes you for tricks just as well as treats.
The Shining
When Stanley Kubrick adapted Stephen King's chilling novel for the screen in 1980, the resulting imagery set a new standard for horror and thriller films across the world. Jack Nicholson stars as a hotel caretaker who slowly develops violent tendencies toward his family after having increasingly frequent ghostly encounters enclosed in an empty resort as winter closes in. Regarded as one of the best horror films of all time, this is one flick that definitely underscores the need to get out more.
Blair Witch Project
You might end up reconsidering your next camping trip after watching this 1999 indie smash. The Blair Witch Project routinely frightens viewers, and although it isn't based on real scenarios, the hand-held camera style of the film will make you question how staged the footage really is. From spooky sounds and mysterious disappearances to never-ending dark forests, this downright scary movie is sure to send shivers up your spine.