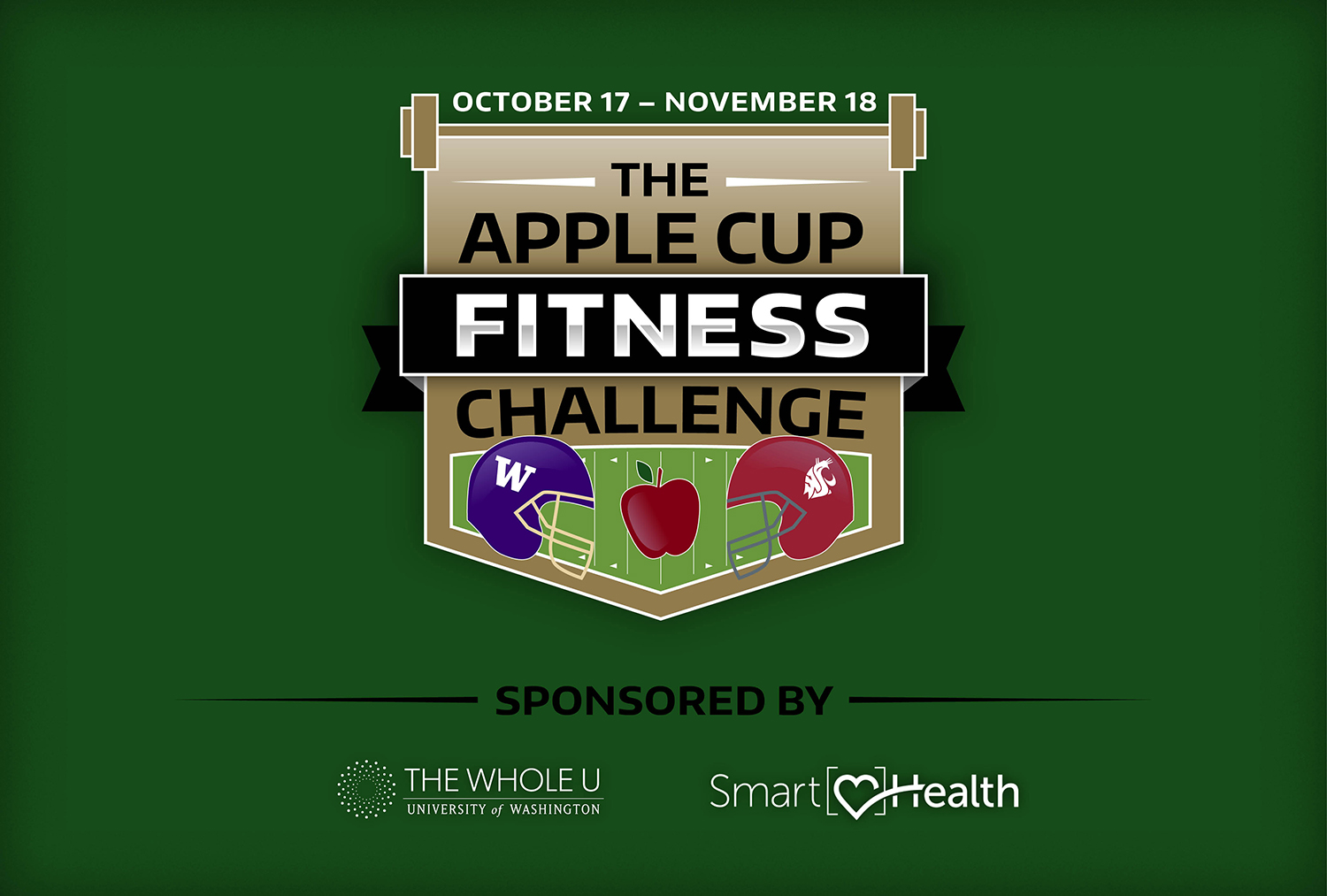 The Apple Cup Fitness Challenge
As many of you know, the Washington Huskies football team is doing quite well for itself this season. Not only did they break the losing streak to the Oregon Ducks, but they also beat the Stanford Cardinal to rise in the ranks as the top seated team in the North Division. On November 26th, UW will be facing Washington State University in the illustrious Apple Cup game. As the excitement and rivalry builds leading up to the game, let's use some of that energy off the field and let's use it now!
The Apple Cup Fitness Challenge is the perfect outlet. Today is the kick-off of the challenge and it's not too late to register!
So what's this challenge all about?
The Apple Cup Fitness Challenge is a five-week event, Oct. 17 to Nov. 18, where UW and WSU staff and faculty compete head-to-head to see which school can earn the most minutes exercised. While this challenge is organized through PEBB's SmartHealth, anyone at UW can participate regardless of their PEBB health insurance eligibility. Participants log their minutes of exercise each day to help UW succeed – those who track at least 4 weeks of the challenge will receive a Whole U fitness water bottle. To keep the competitive spirit blazing, we'll be periodically sharing the progress of each university on our social media outlets.
To get a sense of what we're capable of, let's look at the results of 2015's Dare to Do Challenge. The Whole U's 6-week Dare to Do Challenge encouraged faculty and staff to move more throughout the first weeks of 2015. Participants tracked their progress online each week. By the end of the challenge, a staggering 110 million steps were climbed and nearly 800,000 minutes of exercise were logged! That's equivalent to circling the Earth not once, but twice!
With just 5 weeks in the Apple Cup Fitness Challenge, let's see how close we can get to our Dare to Do results. Better yet, let's be sure to continually exceed WSU in exercise minutes and show them UW is not to be reckoned with.  When all the results are in, the challenge champion takes home an envy-worthy trophy and bragging rights, of course.
Let the challenge begin and may the odds be ever in your favor. Register here.
---
Not following us on our social media? Find us on Facebook, Instagram, and Twitter.