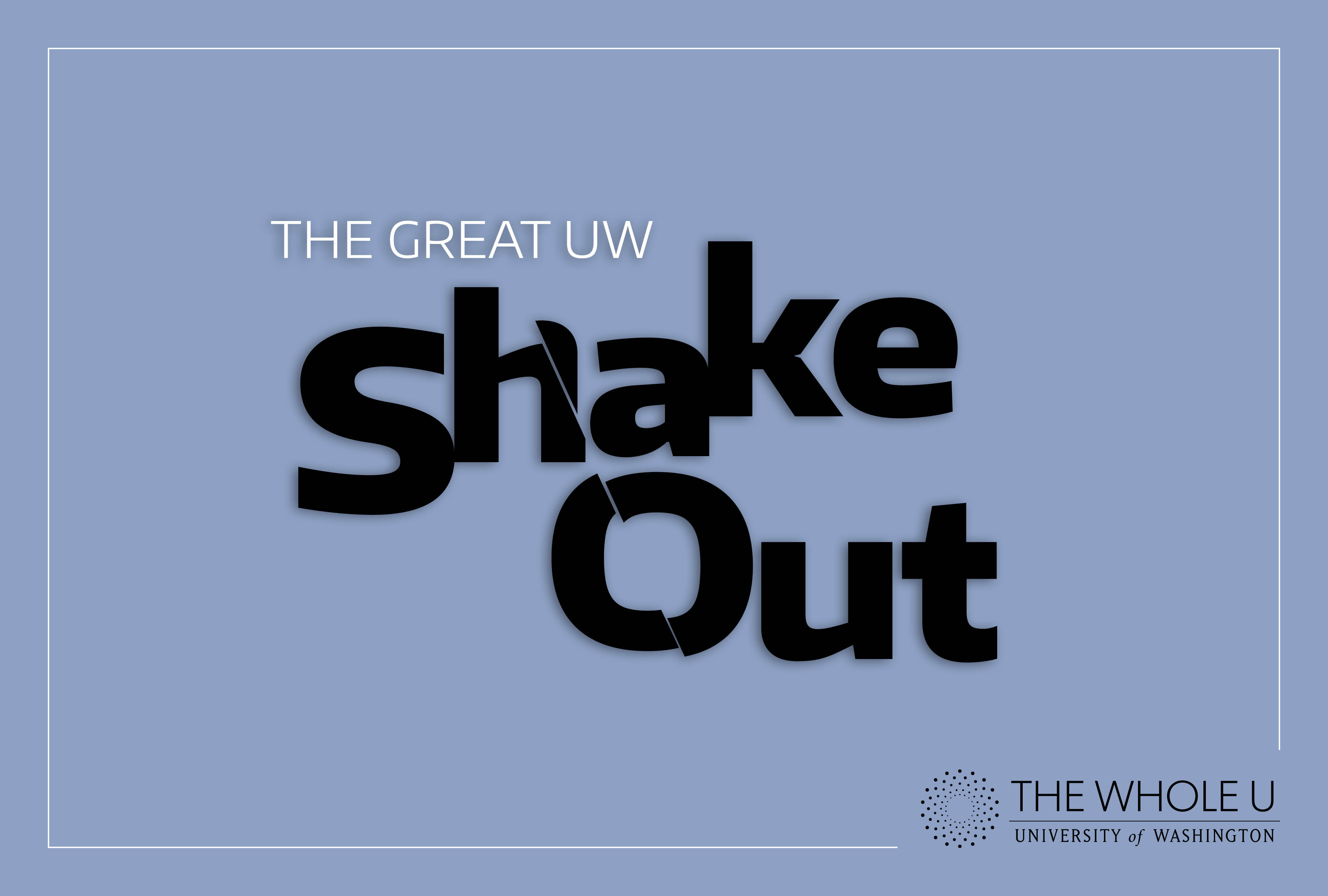 By know you may have already heard of the Great UW ShakeOut, happening soon on October 20th, 2016 at 10:20 am. If not, don't worry! You still have time to learn more, and then register, plan, and participate.
A little history
The Annual Great ShakeOut is a dedicated time for organizations around the world to practice the recommended actions to take as soon as the earth starts shaking. The goal is that muscle memory will win over that Fight-or-Flight instinct, and in the end we will be safer as a community.
The Great ShakeOut is a national program, often administered at state level. In Washington, for example, it is coined the Great Washington ShakeOut. As the UW Seismic Resilience Program Manager, I have coined the UW's efforts as the Great UW ShakeOut.
That's right, you have an opportunity to practice DROP, COVER, and HOLD ON at your workplace, and with thousands of people across the state on THURSDAY, October 20th at 10:20 am.
Frequently asked questions
What if our department already registered with the Great ShakeOut directly? (as opposed to the Google Form being used for Great UW ShakeOut registration)

That registration goes directly to the state, and I cannot see who is registered. Here at UW Emergency Management, we would like to give credit where credit is due! If you could please take the additional 2-3 minutes to register here, I would be extremely grateful.

Why does the registration link not work, and/or I get a warning message when I try to register?

You need to be logged into Google with your edu email in order to have access to the registration link. If you are having trouble registering, try opening a new browser. Simply go to google.com, and on the upper right-hand side log out of your non-uw.edu google account and then log back in with your NetID.

Does our earthquake drill have to be on October 20th at 10:20 am?

I understand that some departments need to alter, slightly, the timing of their Great UW ShakeOut Drill. I have already received registrations that note when their alternative earthquake drill will take place. No worries! The important thing is that you practice Drop, Cover, and Hold On.
Ways to participate
The Basics. The simplest way to participate is to practice DROP, COVER, and HOLD ON at 10:20 am on 10/20/16.  This can be done by using the building's Public Address (PA) system to alert occupants of the preceding drill (contact your Building Coordinator for details).  No access to your PA system, or departments in your building not participating?  Choose a team member to use whistles, a blow horn, or the like to alert department members that "This is an earthquake drill! DROP, COVER, and HOLD ON!"
Reaching for Gold. In addition to practicing Activity #1, some departments may also add a building evacuation drill to their earthquake drill. Be mindful that your earthquake evacuation location is not always the same location as your fire evacuation location.  Furthermore, evacuation after an earthquake is not always necessary.
Over Achiever (in a good way). The real superstar departments will take this time to also review any and all emergency plans as a team. Reminder: UW Emergency Management can tailor just about any training to your department's specific needs.  Furthermore, we offer a multitude of services that are all 100% free to the UW Community. Just ask!
Anything else? 
As your UW "Earthquake Concierge", I have already registered the entire Seattle campus on the official Washington State Great ShakeOut website. All that is left for you to do is use this internal Google Form to let us at UWEM know you will be participating.
If you need help planning your department's participation in the Great ShakeOut, send an email to smiths42@uw.edu
For other resources concerning the earthquake threat(s) in Washington State and/or general emergency preparedness, visit our website.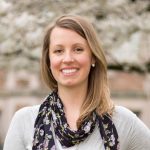 A UW graduate with a Masters Degree in Infrastructure Planning and Management (MIPM), Stacie is the UW's first Seismic Resilience Program Manager. Her interest in Infrastructure Planning and Emergency Management stem from a passion for public health, community, and the environment. As a Pacific Northwest native, Stacie enjoys spending time outside with her fiancé and their two dogs and aspires to travel the world and grow a plentiful home [fruits and vegetable] garden.