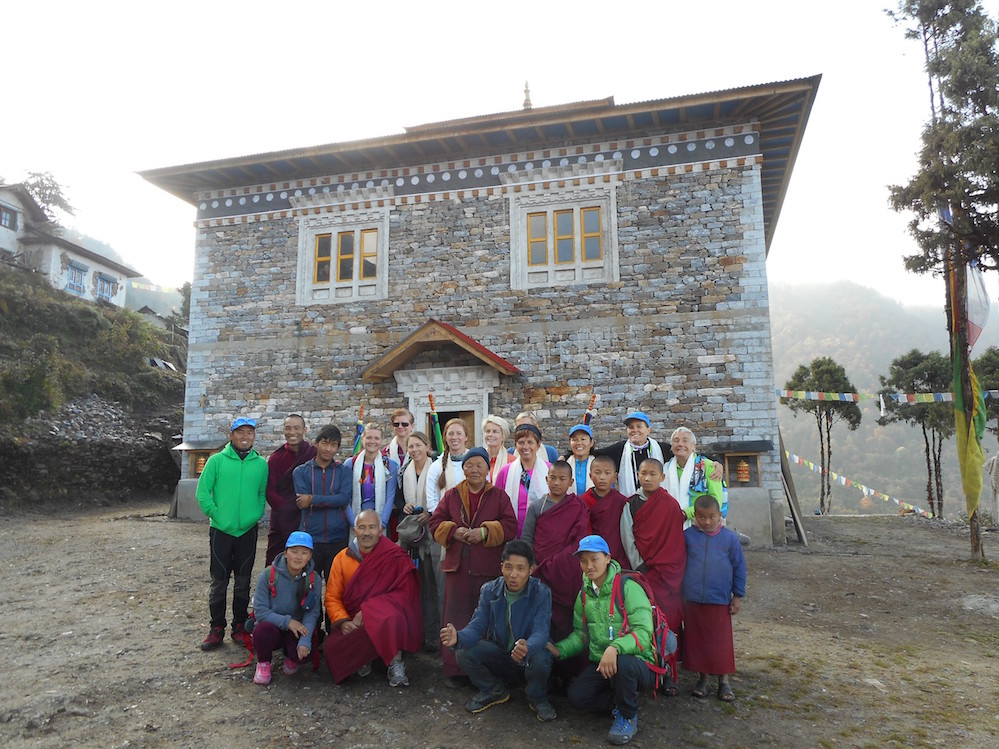 Staff Story: Ariadna Santander
A Story of Fundraising, Gratitude, and Fitness
Chris Kirchoff changed Ariadna Santander's life.
Since doctors told Santander she would never run again, she's completed over 11 half marathons and hiked in the Himalayas – not to mention her plans to hike the Andes this October.
Now Santander, along with Kirchoff and a team of determined and passionate women, plan on changing the lives of four young women living in Peru. Partnered with Peruvian Hearts, a nonprofit designed to give women an opportunity to attend college, Santander's team hopes to sponsor all four women and pay their tuition and living expenses for a full year of school. The team of fitness-friendly fundraisers plan to take on a 40-mile trek through the Andes Mountains after a summer of training and raising money to send women to college.
The Unexpected Adventure
UW Alumna and CoMotion Senior Agreements Officer Ariadna Santander told me that her global journey of fitness and philanthropy started nearly 6 years ago at a bootcamp workout class with Kirchoff Fitness. She decided to go for the sake of her own health, but her community minded attitude immediately drew her to Kirchoff's international program, Adventure Fitness Travel.
"What really attracted me to Chris's trip: it's fitness, it's this type of philanthropy (for lack of a better word), and it's getting to see the world and making a change – albeit small," she said. "But a little goes a long way."
This month, Santander's second trip with Kirchoff will lead her to Peru, where she'll hike through the Andes Mountains and meet the four young women that Santander's team has been working to support.
While the potential collegiate scholars have to put in work to pass the exams that will ultimately grant them admission, the Fitness Adventure Travel team fundraised throughout the year to meet a $10,000 goal. Despite the seemingly daunting task of raising such a large sum – in addition to paying their own airfare and lodging costs – Santander told me her team's diverse network and determination played a major role in making it happen.
"We live in Seattle where there's so much and so many people, and it takes all of us coming together and reaching out and telling our story, really," Santander said.
Her team comes from a variety of professional fields, so when it came to setting their goal, they wanted to choose an achievable amount. Santander said that they knew they would meet their goal – but it didn't keep them from still starting off with some nervous anticipation.
"At the very beginning it was like 'what? how are we going to get to ten?'," she recalled. "I mean, we're not trying to get an endowment – but it would be really cool if we did."
An Attitude of Gratitude
Santander's first trip with the group sent her to Nepal in 2015, and the experience vastly expanded her worldview. The team raised enough money to bring electricity to a village that otherwise wouldn't have it, and Santander was incredibly moved by the community she got to know.
"The day we were leaving the village, everyone wanted us to come to tea. We stopped at the most affluent house in the village, but then the very last house we had tea in was the most humble house I had ever been in. These people had nothing, and they were so happy we were there and offered us tea," Santander said tearfully. "It made me realize that there's so much in the world that can be gained by humility and kindness and gratefulness."
Those moments might not have been possible without Santander's improved health; the Nepal trip included a hike through the Himalayas that lasted days with the team hiking for hours at a time.
"The fitness – getting healthy and getting fit – has been such a gift," Santander said. "It's enabled me to appreciate all these things that I couldn't when I was not fit."
At home, she feels grateful for the nature right in her backyard. From watching eagles soar over Lake Washington during her open-water swims to hiking the Cascades all summer long in preparation for Per. Experiences like those make her wonder why people live anywhere else.
"It never ceases to amaze me. We'll be on the trail and I will look up and say, 'pinch me, I live here.' People living in New York – I don't get it, when you could have this."
Aside from the positive influences from her work with Kirchoff, Santander's job at the UW paves way for more inspiration to strike. The time and experiences she spends on an individual level has made it more important for Santander to keep doing community-oriented work.
"The thing that I love about my job is that there's like a civil servant aspect of it. I may not be in the lab or on the front lines of research, but trying to help people do their research and seeing the amazing things that researchers do here is incredible," Santander said. "Getting to see the change – especially in this office – I feel like it's like being in Willy Wonka's factory.
Though Santander doesn't quite know what she'll be up to after Peru, she encourages any and all who are interested in Kirchoff's program to get involved. Whether it's looking into the upcoming trip Chris will lead to Vietnam in the spring, donating, or speaking with Kirchoff about future fitness adventures, you could make an important change.
"If you expose people to these things and get them thinking differently about the world, it makes the world a better place," Santander said. "All it takes is one."