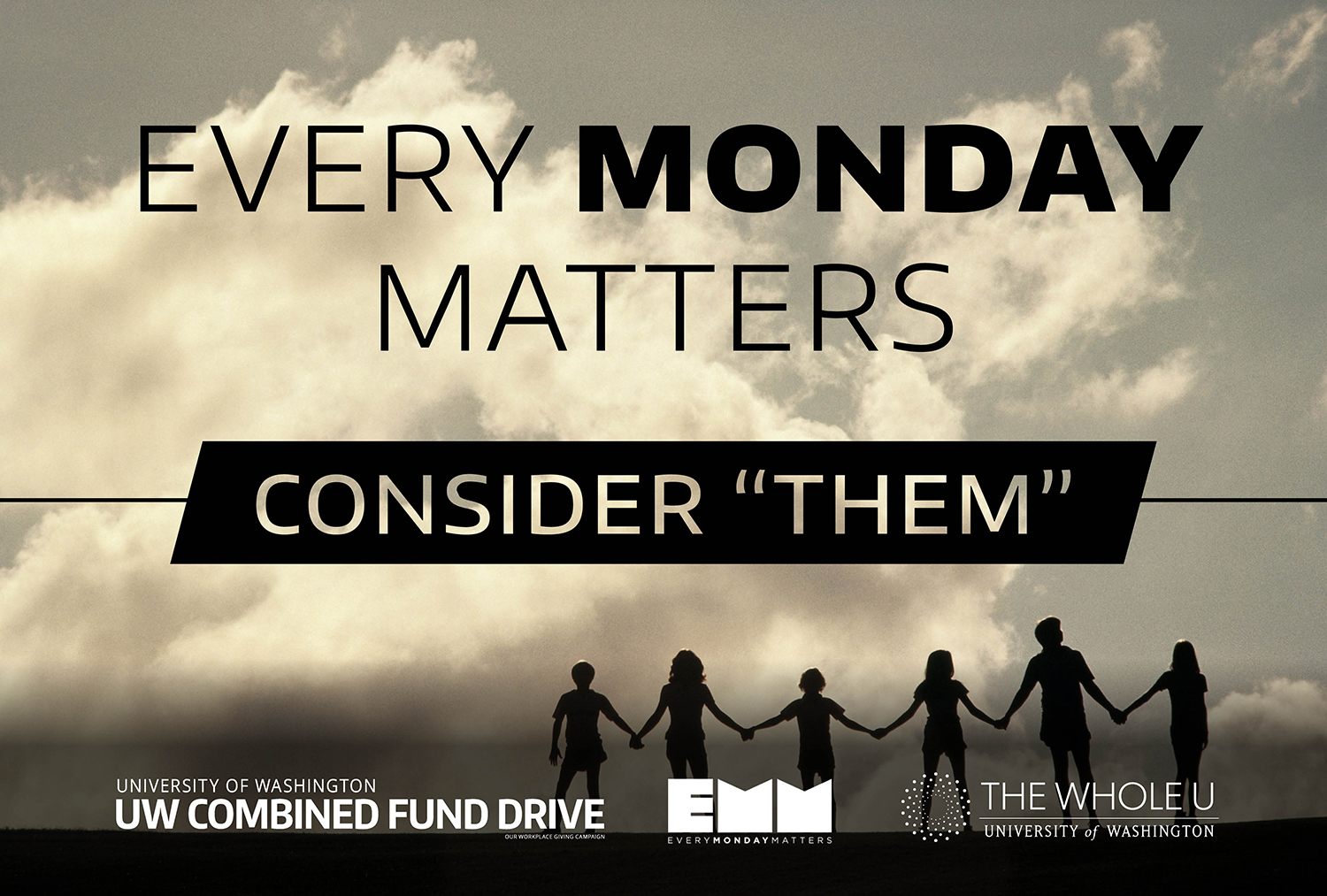 Every Monday Matters: Considering "Them"
With the start of October comes the second installment of the new Every Monday Matters series. UW Combined Fund Drive is partnering with Every Monday Matters, a nonprofit committed to inspiring a new normal where people understand how and why they matter to themselves, the community, and the world.
This month's topic is on considering "them."
Differences in the world are often seen as a good thing that should be celebrated, but just because we're different doesn't mean we're disconnected. Yet, some situations occur in life that can create that disconnected feeling. How about the first day on a new job? Or the first day attending a new school? There is nothing worse than that feeling of loneliness and isolation that comes with being the new kid.
Chances are we've all felt it, which means we should also be aware of when others might be feeling it. See a new neighbor moving into your neighborhood? Make a point of introducing yourself. Have a new coworker joining your department? Don't let them eat lunch alone. It's a matter of being aware of the people around you and knowing that your kindness will be appreciated – because it will be. Considering "them" matters; no more "them" and "us" thinking – it's all "we".
With that being said, here are three different examples of everyday situations where you can practice a community mindset.
It is usually pretty easy to spot people who are new. Hint: if they are holding a map and seem confused, they are probably new! So, instead of watching new employees, students, or visitors struggle, offer them some help.
Ever been shopping where the person helping you was clearly on their first day of work? Most of us have been there or experienced it ourselves. So, next time it happens, be patient, friendly, and supportive. Don't be the grumpy customer. Be the encouraging one.
Remember your first day at work? How did you feel? Since you started working here, there may have been several new hires in your department. But how many of them did you go out of your way to meet? Consider yourself part of your organization's welcoming committee and be that happy greeter! Trust us, you will calm a lot of nerves and make some great new friends.
As we kick off the UW Combined Fund Drive campaign, we invite you to continue your consideration of "them" by attending the UWCFD Charity Fair & Silent Auction on Thursday, October 13.
Drop in anytime between 11 a.m. – 2 p.m. and meet more than 80 nonprofit organizations. Enter to win door prizes – including Seahawks tickets – enjoy refreshments compliments of Trader Joe's-University District, and bid on silent auction items. The annual event is open to the entire UW community! Be sure to stop by and meet event sponsor Inspirus Credit Union for your shot at winning a GoPro camera!
Bring your spare change and fill the jar benefiting Holocaust Center for Humanity. We are also collecting non-perishable food for the new UW Campus Food Pantry. Admission is free, but let us know if we'll see you there – RSVP today!
Next month's topic: Donate a Little