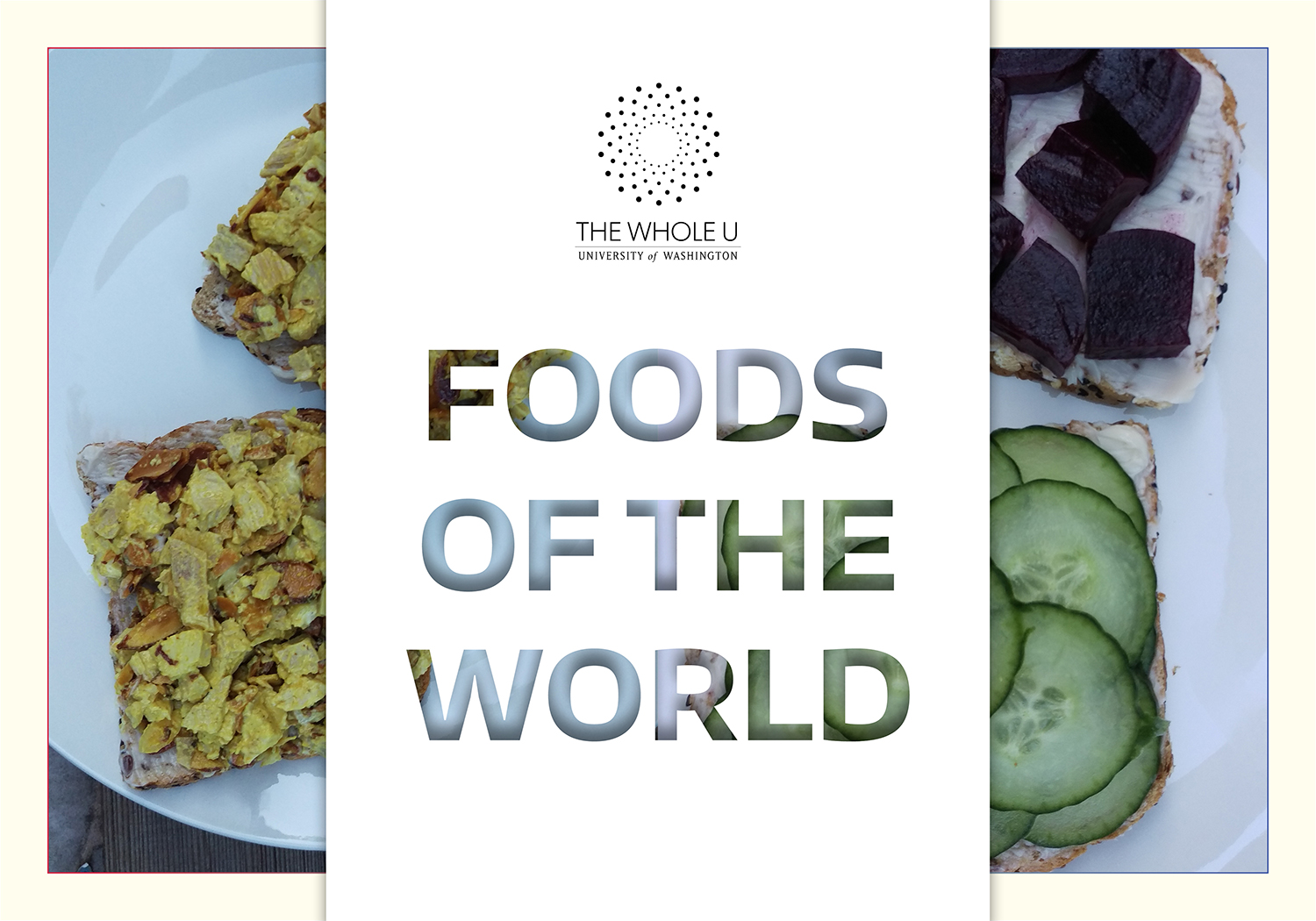 Foods of the World: Denmark
The Danish national custom for Smørrebrød, which means "buttered bread" is simply an open faced sandwich, eaten with a knife and fork. It's hard to pronounce in English, but most agree that it's close to smor-rebrod or smuhr–bruth.
Smørrebrød came into being with the onset of factory production in Denmark; unable to return home for lunch, workers started to bring food with them in the form of these little open faced sandwiches, utilizing leftovers from the previous night's meal.
Building Your Smørrebrød
A thinly sliced, hearty rye bread should be used whenever possible. Ingredients including dark molasses and a variety of other grains and seeds are typical of a good Danish rye bread that has lots of flavor and texture to form the base of your smørrebrød.
A typical smørrebrød is topped with butter, however rendered animal fat (like schmaltz) may be used as well. But, how much butter is enough? Be sure you spread a thick layer on, getting all corners and edges evenly—to do anything less would be an insult to a Dane. If you can bite into the buttered slice and see your teeth marks, you're doing it right; they even have a term for this, which translates into "tooth butter"!
Now, what to put on top? Many typical options involve fish or seafood such as herring, gravlax or shrimp for which a light rye bread may be used in place of the heavy dark rye. Sadly, I don't enjoy our fishy friends, so I tend to stick with vegetarian, chicken, or pork smørrebrød.
Danes have a lot of rules when it comes to this meal, such as:
Not mixing proteins
Put thinner toppings at the base of the sandwich, and bulkier ingredients on top.
If you're going to eat multiple types of smørrebrød in one sitting, start with herring and then move to other fish, eat any other meats next, and then finish with cheese or other vegetarian sandwiches. Eating in this order appropriately primes one's palate.
With all this talk of rules, I did break away from some typical preparations. First and foremost, I've discovered that finding an appropriate Danish style rye wasn't going to happen (I'll have to try making my own this winter), so I opted for Dave's thin-sliced 21 grain bread. I also changed up the Frikadeller recipe (pan-fried meatballs), opting to bake them instead in order to lighten things up for myself… I didn't want to completely negate all the work that I put into the WholeU's Summer Fitness Throwdown, after all!
I also love simple vegetarian smørrebrød such as the ones pictured here, topped with very thinly sliced cucumber than has been lightly salted, and another with chopped roasted beets (however sliced, pickled beets are more traditional).
Smørrebrød is fantastic on hot summer days, too: Top them with whatever leftovers are in your fridge and you're all set! If you're interested in getting some more ideas and recipes, I encourage you to check out danishsandwich.com.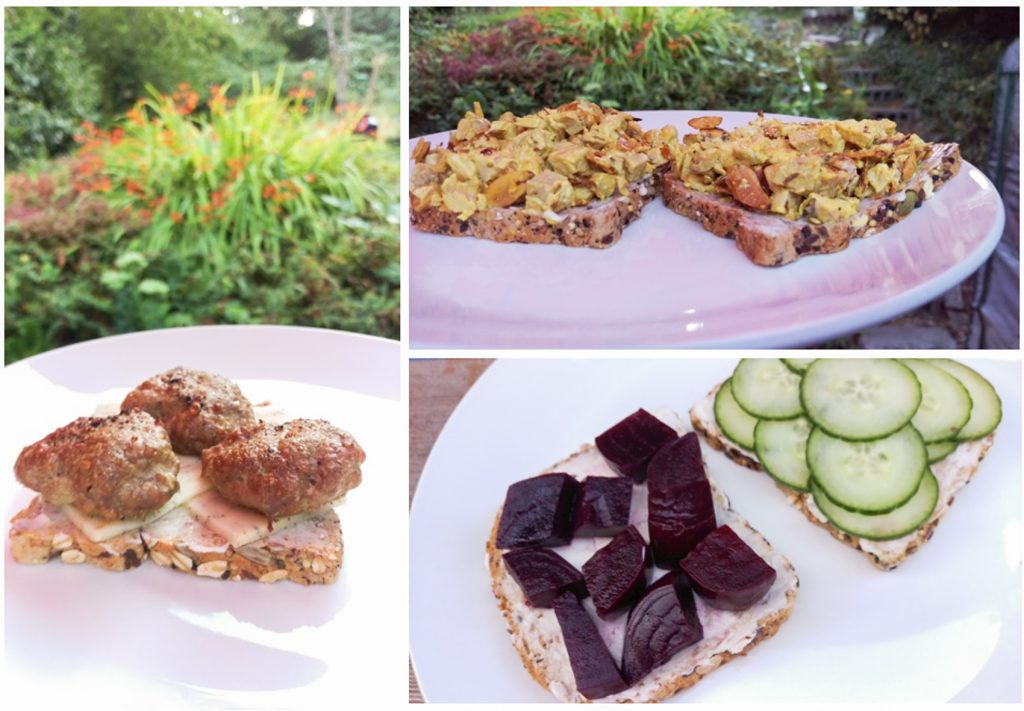 Frikadeller smorrebrod (meatballs)
Traditional Frikadeller
Ingredients and instructions
Hannah's Lighter Frikadeller
Ingredients and instructions
½ lb of finely ground pork

½ lb of finely ground veal

1 medium onion, shredded or minced finely

1 large egg

1½ cups soda/seltzer water

1 tsp salt

3 tbsp flour (rye or wheat)

Pinch or two of ground all-spice

Freshly ground pepper to taste

Butter for frying

1 lb ground pork or turkey

1 medium onion, minced

1 large egg

1 tsp salt

3 tbsp wheat flour

1 tbsp grainy deli mustard

2 tbsp milk

Freshly ground pepper to taste

Olive or vegetable oil, for coating baking sheet

1. Mix all ingredients except the butter in a large bowl; the mix will be quite soft.

2. Add butter to a frying pan over med-high heat.

3. Using a pair of spoons, form the meatballs into an egg shape, and place them, one-by-one, in the hot frying pan.

4. Don't allow them to touch, so only do a few at a time; given the high moisture content too many would get them boiling instead of frying.

5. These will only take about three minutes per side; flip once for even browning.

1. Preheat oven to 350 degrees.

2. Grease a large, rimmed baking sheet.

3. In a large bowl, mix all ingredients except the oil.

4. Roll into oblong meatballs slightly larger than a golf ball, and slightly flatten them. Place each meatball onto the greased baking sheet.

5. Bake for approximately 30 minutes, or until cooked through, flipping the meatballs over halfway through for even browning.

Once you are ready for smørrebrød, butter a piece of dark Danish rye bread, slather it with Dijon or a grainy deli mustard, place a couple of sliced meatballs on the mustard, and then top it with an appropriate accompaniment such as dill pickles or pickled beets (or, in my case, add some dill Havarti cheese before the meatballs… mmm).
Curried chicken spread – Smørecreme af Hakket Kyllingebrød
1 cup cold cooked chicken and giblets, chopped (it's okay to leave out giblets)
1 cup toasted slivered almonds, chopped
1 teaspoon onion, grated or finely minced
½ teaspoon curry powder
½ cup mayonnaise
Mix the ingredients well before piling onto buttered rye bread.
Hans Christian Andersen's Smørrebrød
(not pictured)
Cover well-buttered bread with crisp, grilled bacon. On this place first thin slices of tomato and then liverpaste or pate (typically pork). Garnish with meat jelly (aspic) and a little horseradish.