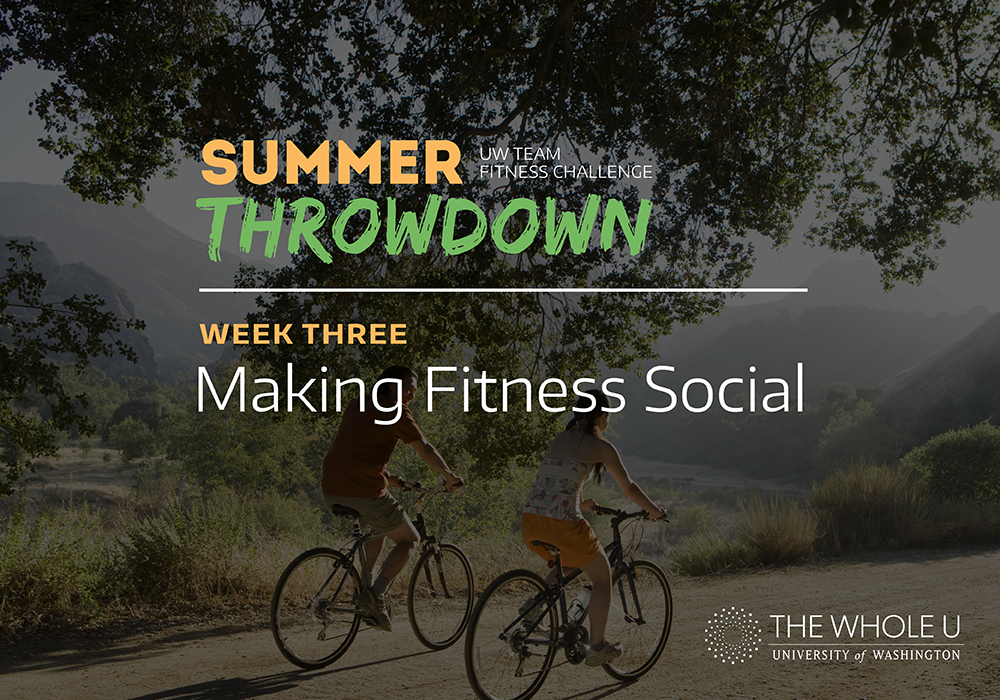 Summer Throwdown Week 3: Making Fitness Social
Over the past few weeks, you've been eating right, exercising more, and engaging in a little friendly competition with faculty and staff across UW's campuses. Maybe you've implemented walking meetings in the office, eaten a healthy lunch with your colleagues, or used your lunch break to walk around looking for Pokemon (yes, the Whole U team has done all of these things).
No matter what you're doing to focus on fitness during the Summer Throwdown, keep it up! But, seeing as we are halfway through with the challenge, you might find that you need a little extra motivation and inspiration to make it through. If that's the case, look to your team! Finding a way to engage in the social aspect of fitness might be just what you need to strengthen your commitment to your goals.
Buddy Up             
When you make plans with a friend, the last thing you want to do is stand them up. So, next time you are planning dinner with a friend, plan a workout class or session instead. When someone is expecting you to show up and exercise with them, you're less likely to come up with an excuse for skipping your workout that day. Working out with a friend is also the perfect time to try something new and fun, like going canoeing at the WAC or taking a hike on the weekend! Not to mention, having the support of a friend cheering you on might be just what you need to develop healthy habits and a fitness-focused mindset.
Group Exercise
One of the easiest ways to make your fitness routine social is to sign up for a class. Exercise classes are great for people who want to be active but don't have the knowledge to create their own fitness plan. Classes generally include a warm-up, cool-down, and conditioning (when we exercise on our own, we often skip parts of a workout). Class instructors are motivating and can inspire you to engage in healthy habits outside of class, as well. You'll also get to know the regulars in the class and create relationships with them — an additional reason to show up and work out!
Another wonderful aspect of fitness classes is their diversity. There really is something for everyone — from walking groups to Zumba, boot camps to yoga. Studios also offer classes at different times throughout the day and week, so you're bound to find something that works for your busy schedule. Check out all the fitness memberships on our discount network to find a good match, and don't forget to use your Summer Throwdown punch card to try out different classes in your area and find your favorite!
Team Spirit
Joining a team sport is another great option that allows you to turn your fitness routine into a social outing. Not to mention, when you're on a team, each of your teammates counts on you to show up and give it your best. The responsibility you feel toward your team will not only give you the motivation to go to practices and give it your all at games, but to train outside of team meetings as well to boost performance. Team sports also make exercise feel less like exercise. If you're not excited about the idea of going on a run, perhaps running around the court or field is a better fit for you. Team sports provide a little healthy competition, and the idea of winning the game might be just what you need to make a commitment to fitness.
Virtual Support (and Competition)
Maybe you're too busy to join a gym or class, or just prefer a solo workout session. You can still reap the social benefits of fitness when you work out alone by joining a virtual support group. If you have a Facebook, you can join The Whole U's Being Active and Eating Well pages. By joining these private groups, you can learn about upcoming fitness opportunities or delicious healthy recipes, find out what others are doing to stay fit and live in health, and get inspired and motivated to achieve your fitness goals. And don't forget that working out alone does not mean you can't engage in a little healthy competition. If you wear a fitness tracker like a Fitbit, you can join an activity group (here's a UW one and a Whole U one) to beat out other fit Huskies in daily, weekly, and monthly challenges.
Not only can being social make you more fit, but being fit can help you become more social! That is, when you work out and keep up with your fitness goals, you are bound to feel more confident. This newfound confidence will allow you to feel more comfortable in your own skin, making you more likely to seek out social situations and develop new relationships.
The next time you find yourself dreading a workout, think of all the benefits that physical fitness provides. Who knows, your perfect workout partner could be waiting in that class, team, or virtual program you've been meaning to check out. When it comes to trying something new in your fitness routine, go for it! The loads of benefits can often be surprising.