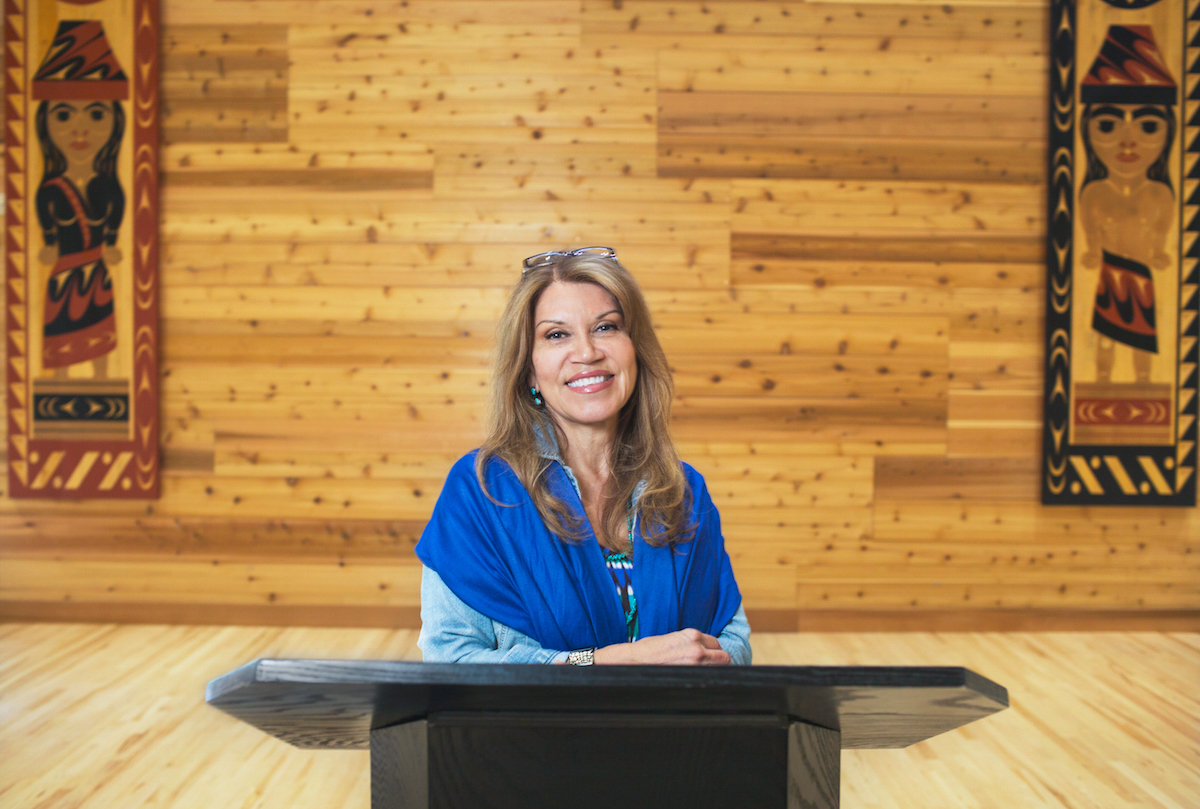 Faculty Friday: Charlotte Coté
It took almost 15 years, but Charlotte Coté finally got her answer.
Where do all of us hang out? She first asked the question when she arrived at the University of Washington in 2001. "Nobody really knew what to say," recalled Coté, a member of the Nuu-chah-nulth Nations in British Columbia. "We're on Native land — Duwamish had villages here — and yet, you could walk down this campus and that wasn't visible."
The answer nowadays, of course, is wǝɫǝbʔaltxʷ, a Lushootseed word that translates to Intellectual House. The longhouse-style building opened in the spring of 2015, fulfilling a 40-year dream for Native students, faculty, and staff.
"I see it every day," said Coté, an associate professor in the Department of American Indian Studies. "Finally, finally, we're visible here on this campus."
The Intellectual House isn't just a building — it's the beginning of a village. Outside, a group of benches surrounded by indigenous ferns and berries will someday connect to a second building. That's where you'll find a student center, an arts lab, an Elders lounge, and a main administrative space.
Coté, the chair of the Intellectual House Advisory Committee, has lobbied for the village since 2002 — through three presidents and an interim president. "My famous line that everybody hears is, 'All the gray hair under this now-dyed, light-brown hair came from this project.'"
The construction of the village has been paralleled by an expanded interest in indigenous issues at the UW. American Indian Studies was a program, not a department, when Coté came to the UW in 2001, and it began offering a major in 2009. This fall, her class Native Peoples of the Pacific Northwest will double in size — from 40 students to 80 — and she's bringing on a T.A. for the first time. The department welcomed a new chair, Christopher B. Teuton, in 2014, as well as two new faculty members in 2015. A search for an assistant professor will begin in the next few months.
In addition to the new buildings, Coté wants the UW to someday have a Native Affairs Office — rather than housing tribal issues under the Office of Minority Affairs & Diversity (OMAD).
"Our historical experience is very different from people of color," she said. "Yes, we face the same oppression. Yes, we face colonialism. But the colonization of indigenous peoples, through the fact that we're tied to land here, is very different. That has to be recognized."
Coté grew up on Vancouver Island, B.C., and went to college on the mainland. "I loved the experience of living there, but I hated that I was living away from family," she said. "I was raised in a very tight-knit family and tight-knit community, so leaving that was difficult."
After a few years back home, she went on to study comparative ethnic studies at the University of California Berkeley, leaving behind her plans to enter Native politics. She's not alone: Sixty percent of Native people live outside of their communities.
Many Native students live away from a reservation structure before coming to the UW, often in urban areas. "But they're still looking for community when they come here," Coté said. The Intellectual House gives them that community — that sense of belonging on campus. "It makes them feel like we have a story that needs to be shared."
Coté joined the Intellectual House project at the request of Julian Argel, OMAD's tribal liaison at the time. She formed an ad-hoc committee with faculty, staff, and students that included Argel, Ross Braine (a student who has since graduated and now runs the Intellectual House), Marty Sands (former UW graduate student), and Augustine McCaffery (senior administrative specialist in the graduate school).
Working with Dr. Sheila Edwards-Lange, the vice president for minority affairs and vice provost for diversity at the time, the group presented the project to then-president Mark Emmert, whose support placed the building on the campus capital projects list.
The village was designed by architecture firm Jones & Jones, headed by Johnpaul Jones of Cherokee-Choctaw ancestry. "The first design was $12 million," Coté recalled. "I said, 'OK, that's a lot of frybread sales.'"
They shaved the price tag down to $10.6 million, formed an official advisory committee, and raised $6 million for the first building through private donations, support from regional tribes, matching funds from interim president Phyllis Wise, and $1.5 million in state appropriations.
The style is a modified longhouse design (the building is on a slope, so a traditional longhouse wouldn't sit right). Coté pushed back against the idea that the structure should reflect a mix of Native cultures. It should be coastal architecture, she argued, rooted in the cultures of the land. "When you walk into the Intellectual House, you really do feel the spirits of their ancestors. It's not just a building."
Not just a building — not just a village, either — but a safe place, a welcoming place, a place where Native students can form a family on campus. And beyond that, it's a place for all students, staff, faculty, and community members. The building has hosted President Ana Mari Cauce's annual address and a Board of Regents meeting. "This is a home where we can share our culture with the non-natives, and build bridges amongst us," said Denny Hurtado, a Skokomish Tribe member who serves on the Intellectual House Advisory Committee, at the building's grand opening.
When non-Natives pass through the building's breathtaking Great Hall, carved from aromatic cedar, Coté hopes they will become interested in the history. "Hopefully they'll say, 'This is a really amazing space. I didn't know this is how Native people lived. Maybe I need to know more.'"
She also hopes the building's beauty will inspire donations and community support for the rest of the village, which will cost an estimated $8 million due to rising construction costs.
Friends have been lost along the way. Three tribal elders who served on the committee have passed away, and tribal liaison Julian Argel, who orchestrated much of the project, succumbed to cancer in 2012. Their spirits, Coté is known to say, are here with us.
She tells the story of the first day the committee got the keys to the Intellectual House. As they stood outside, building director Ross Braine pointed to the indigenous cedar trees overhead. "We all looked — there was a bald eagle staring at us," Coté recalled. "We all looked at each other and said, 'It's Julian. He's here with us.'"
She wept. She wasn't the only one. The visit had brought joy, sadness, solace. The eagle left the Intellectual House that day, but the spirits never will.
---
Coté has a broadcast communications degree from the B.C. Institute of Technology, a B.A. from Simon Fraser University, and an M.A. and Ph.D. from the University of California, Berkeley. She is currently writing a book about food sovereignty. Learn more about the Intellectual House here and in this Columns article, explore the history of Pacific Northwest tribes in the UW Library Digital Collections.