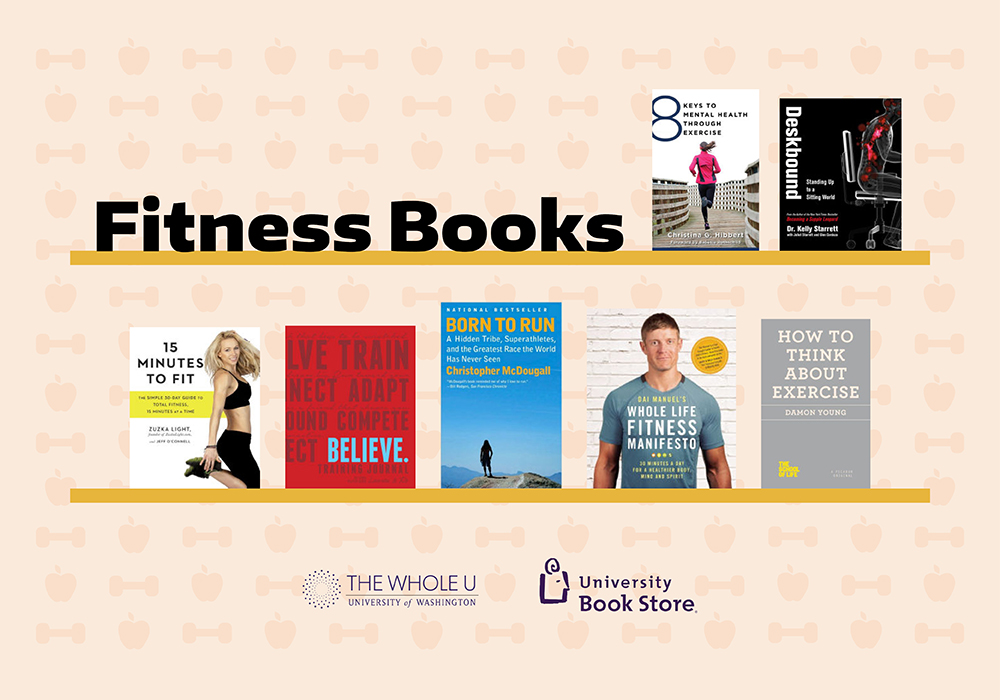 Fitness Books to Pump Up Your Summer Throwdown
Summer has begun, and so has The Whole U's Summer Throwdown Team Fitness Challenge. As you and your team get moving, here are several books to help you keep motivated and move towards your fitness goals this summer. Check them out below, in our stores, and at ubookstore.com today!
Get Inspired, Stay Inspired
Motivation is often the biggest hurdle when it comes to fitness. In his bestselling books Born to Run and Natural Born Heroes, Christopher McDougall's portraits of incredible athletes hiding in South American canyons and ordinary men and women who harnessed their physical potential to become history-making heroes will inspire anyone to see the potential inside themselves.
To stay inspired, a training journal can also be a great tool. One of our favorites is the Believe Training Journal — a diary/workbook created by pro-runners Lauren Fleshman and Roisin McGettigan-Dumas. It's filled with motivational quotes and essays, pro nutrition and fitness tips, workouts, and more. The journal is designed for runners, but many parts of it are applicable to the pursuit of any fitness goal.
Pick a Program
Sometimes the easiest way to incorporate fitness into your life is with a comprehensive program featuring easy-to-follow exercise and nutritional plans designed to cultivate overall health or meet a specific goal. For those looking to lose weight, the bestselling weight-loss plan in Thinner This Year continues to gain fans with its straightforward nutritional advice, easy recipes, and exercise diagrams that anyone can follow.
If fitting in fitness without spending hours at the gym is what you're looking for, 15 Minutes to Fit offers a 30-day fitness plan featuring short, high-intensity workouts as well as a companion meal plan. It's written by YouTube workout video star Zuzka Light.
If overall health is you goal, Dai Manuel's Whole Life Fitness Manifesto focuses on whole-person fitness using short, equipment-free routines (that can be done anywhere) paired with nutritional advice, mediation exercises, and personal development tools.
Try a New Type of Exercise
For those who are already active, trying a new workout routine or type of exercise — whether it's a hot new trend or simply new to you — can be the key to taking your fitness to the next level.
Made up of short, intense bursts of exercise followed by periods lower-intensity exercise, high-intensity interval training (HITT) is one of today's hottest fitness trends — primarily because of its ability to burn more calories in a shorter time than traditional exercise routines. For a comprehensive introduction to HIIT, Idiot's Guides: High-Intensity Interval Training is a great resource featuring over 80 exercises, routines for a variety of fitness levels (and time constraints), and programs that can be done anywhere.
Incorporate Fitness into Your Daily Life
Not sure how to fit fitness into your busy life? From biking to work to taking the stairs instead of the elevator, you'll be surprised how many other activities and small moments of free time you can turn into opportunities for fitness.
In Urban Cycling, local cyclist Madi Carlson gives readers all the tools they need to not only take up cycling, but to turn their daily commutes into a regular workout. For those who typically spend most of the day at a desk, Dr. Kelly Starrett's Deskbound shows how to combat health problems often caused by sitting and add movement into your daily work routine.
Explore the Mind-Body Connection
If you're still looking for reasons to get moving, consider the benefits of exercise that go beyond the physical. Part of The School of Life series, Damon Young's How To Think About Exercise challenges the separation of mind and body and explores the mind-expanding virtues of various types of exercise.
Written by fitness instructor and clinical psychologist Christina G. Hibbert, 8 Keys to Mental Health Through Exercise explores how exercise can alleviate stress and anxiety, help with depression, and improve self-esteem.
For more book recommendations to fuel your summer fitness goals, stop in any of our stores or visit ubookstore.com today!