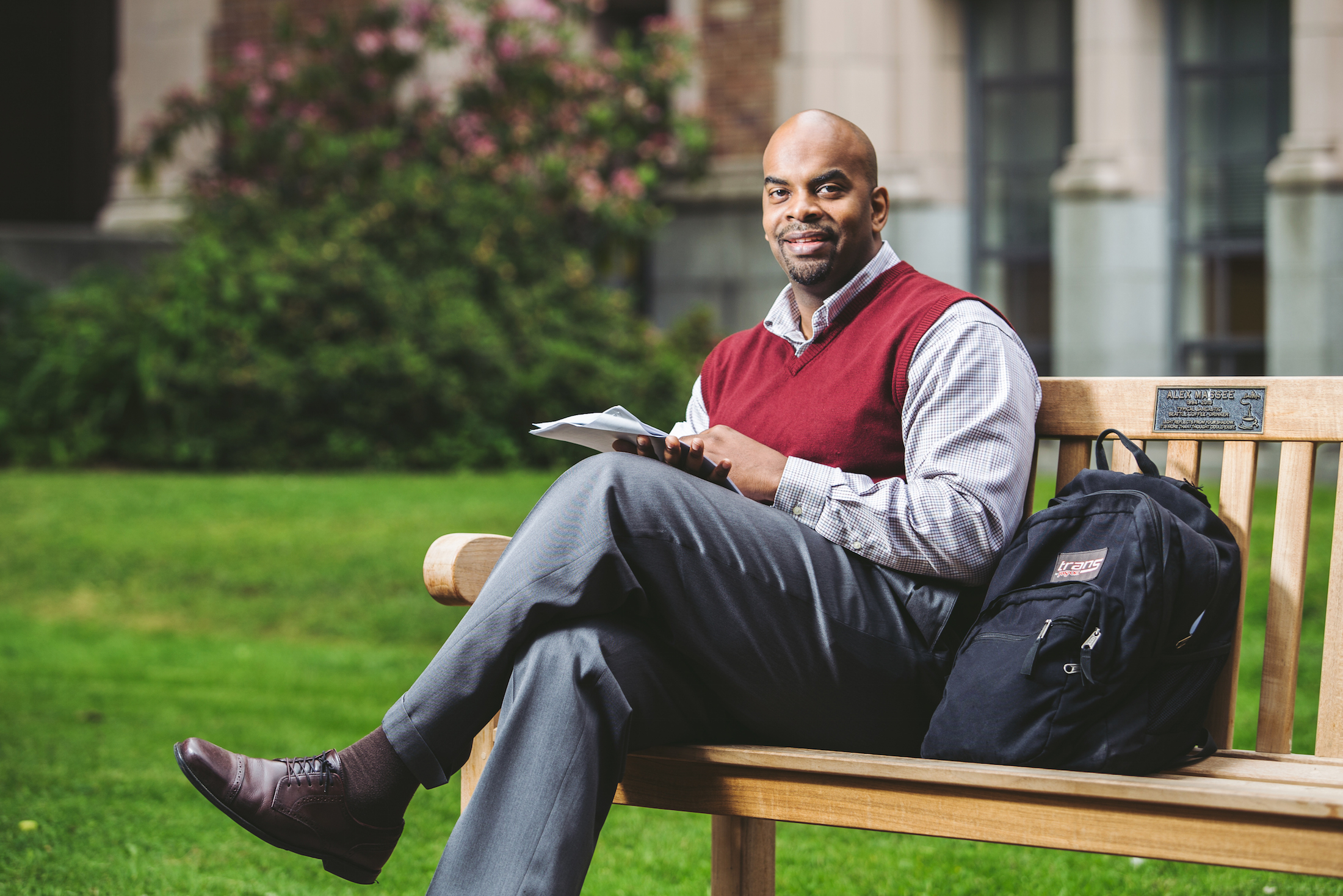 When Joe Lott taught a course about black and brown men in higher education, students from departments all over campus signed up — sociology, political science, engineering.
"For many of them, it was one of the first classes where they talked about race," said Lott, an associate professor in the College of Education. "I found that shocking."
Lott grew up in the South and went to a historically black college. A mandatory freshman orientation class taught him the history of the school — it was founded in 1867 by former slaves, at a time when black students were barred from predominately white institutions — and small class sizes led to lively discussions and direct feedback from faculty.
In other words, he's used to talking about race, and he's used to being around people who look like him. Many of his students aren't.
"For myself, being a black male and feeling isolated on the UW campus, and then hearing similar experiences from my students, I thought, 'How can we create something to address this?'" Lott said.
He reached out to Emile Pitre, a senior advisor to the vice president in the Office of Minority Affairs and Diversity (OMAD), and assembled a team to tackle the issue. That team, which also includes representatives from Undergraduate Academic Affairs and the Division of Student Life, turned into a steering committee, headed by Lott, and a program was born: The Brotherhood Initiative.
Starting this fall, the program will advocate for male students from five demographics: African-American, Latino, American Indian, Pacific Islander, and Southeast Asian. These groups, federally recognized as underrepresented minorities (URM's), tend to trail behind their peers in both enrollment and graduation rates.
"The Brotherhood is all about creating the conditions to close that graduation gap," Lott said.
Why just men? Only 484 male URM's were admitted to the University last year. While women of color still face obstacles to education, they have a higher graduation rate than their male counterparts, and they're also admitted at higher rates (black women, for example, attend college at a higher rate than any other group in the U.S.).
In September, Lott will teach a yearlong course for incoming students of color. From fall to spring, a cohort of black and brown young men will journey through their freshmen year together — writing papers, collecting data, presenting research, meeting mentors, talking about the intersection of their identities.
The students can be from any program, not just the College of Education. The first cohort will be 30 students. That number might sound small, but it's 6% of last year's incoming class of 484, and the cohort will expand each year.
The program doesn't end after freshmen year; it's a four-year framework that guides students from choosing a major to preparing for graduate school or professional life.
The Brotherhood Initiative is informed by Lott's research team. They're wading through academic literature to learn from similar programs, and they're listening to personal stories from UW students. Since April, they've conducted over 40 interviews and three focus groups with male students of color.
The interviews reveal that many students of color feel isolated on campus — especially when they're the only person of color in their classes — and that many have found a second home in the Office of Multicultural Affairs and at the Instructional Center. Those findings might not be surprising, but this process turns them from anecdotes to data.
"This is the first time I really feel a part of the University," Lott said about the project. "I'm collaborating with people who look like me. I'm working with students who look like me. That's reinvigorating. The Brotherhood Initiative has really given me hope."
He thinks the program can do the same for men of color across campus — not just students, but also faculty and staff who can become involved.
"It's our responsibility to call out public problems and then, with the community, collectively leverage our resources to address these things," Lott said. "This is what I see as the mission of a public university: to be that public good."
---
Lott has a B.A. from Talladega College and an M.P.A. and Ph.D. from Louisiana State University. He's an affiliate of the University's Center for Communication, Difference, and Equity. Follow the Brotherhood Initiative on Facebook, find out more about the program in this UW News piece, and see more about the statistics of undergrad students from OMAD.