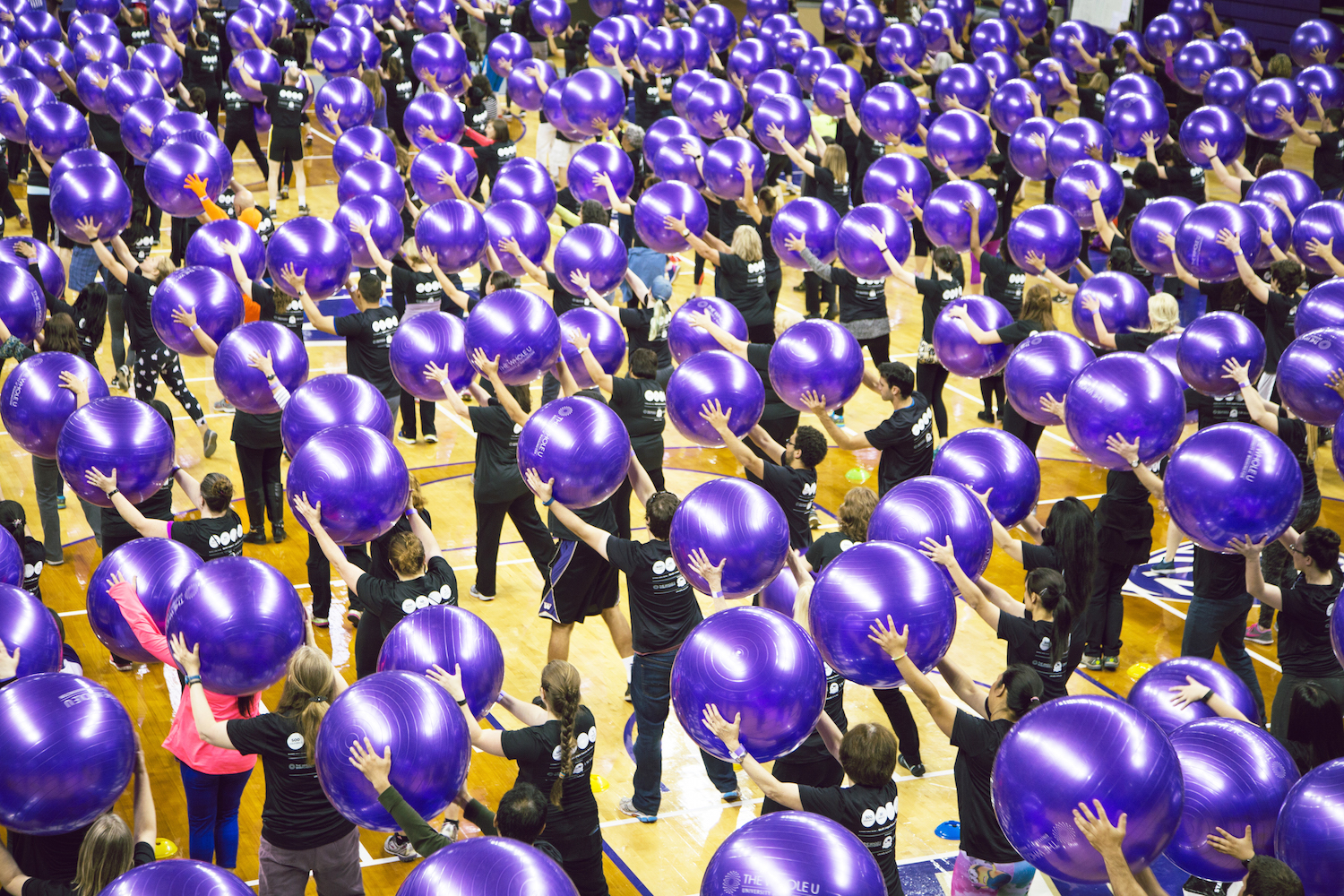 The World's Biggest Exercise Ball Class
What happens when hundreds of Huskies flood into Alaska Airlines Arena with a world record on their minds?
They have a ball… 454 of them, to be exact.
On Wednesday, May 25, the UW community came together for the World's Largest Exercise Ball Class. The event was co-hosted by Husky Nation and sponsored by UW Medicine and UW Athletics.
Staff, faculty, and students filed into the basketball court and grabbed their own purple exercise balls. Donning sleek DryFit shirts donated by Nike, they leaped and lunged as beats blasted from the stadium's overhead speakers. As bright lights shined from above and cameras rolled from every angle, it was hard not to feel like a world-class athlete.
The event's emcees, Vice President of Human Resources Mindy Kornberg and Vice President for Student Life Denzil Suite, pumped up the crowd by busting out a selfie stick for a balls-in-the-air photo.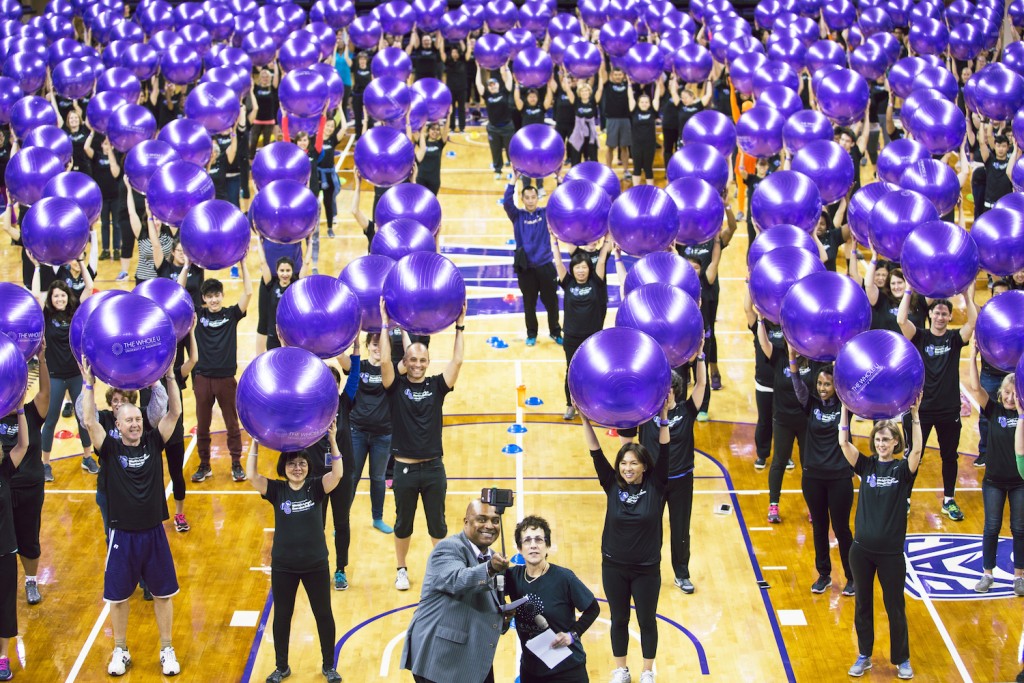 The workout, which combined cardio and strength, was designed and lead by IMA instructor Jessica Norman. She was joined on stage by Julie Schroeder, member services manager at the IMA, and Sarah Gustafson, a physical therapist at UW Sports Medicine.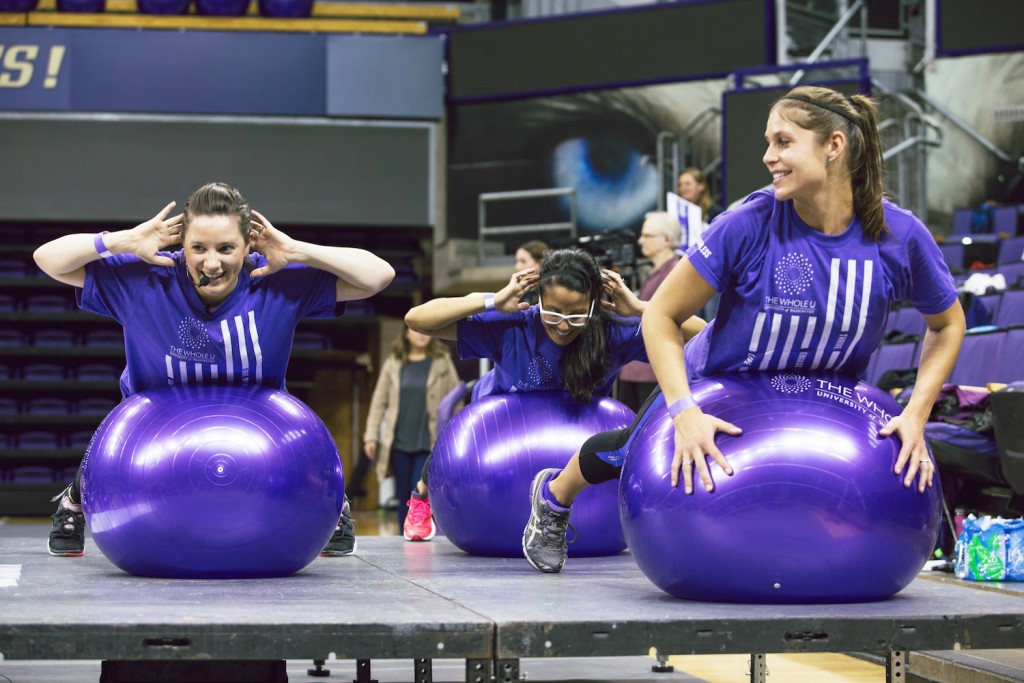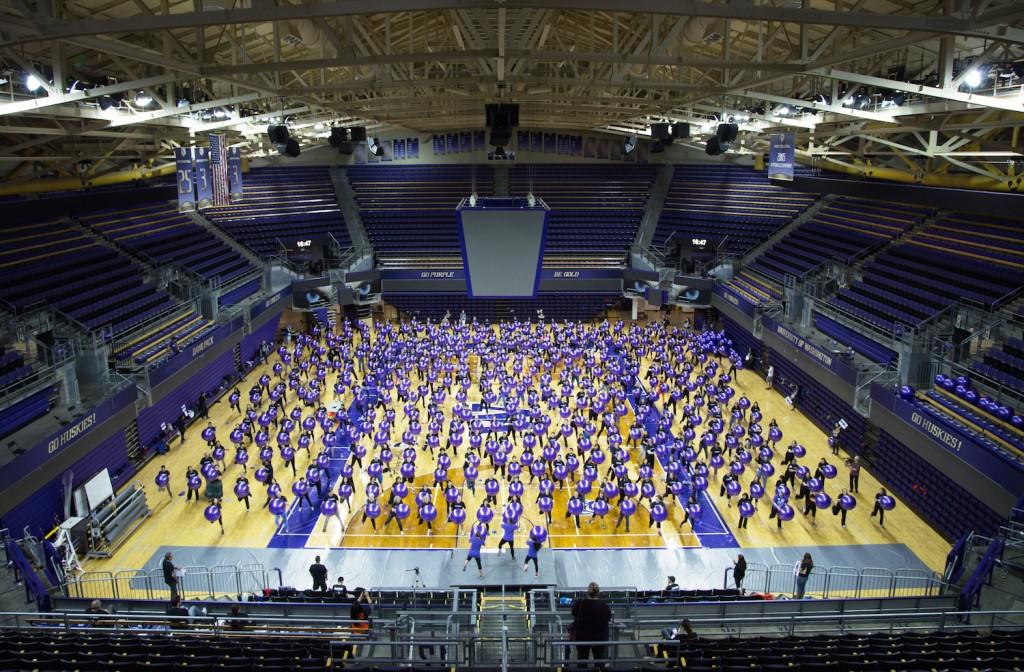 The night before the event, The Whole U staff spent five hours inflating the exercise balls. We were joined by 13 superstar volunteers who donated their time to make this world record possible. We used heavy-duty motorized pumps from Husky Athletics, smaller plug-in pumps, and even hand pumps (the people who got stuck with those had a nice pre-Guinness workout).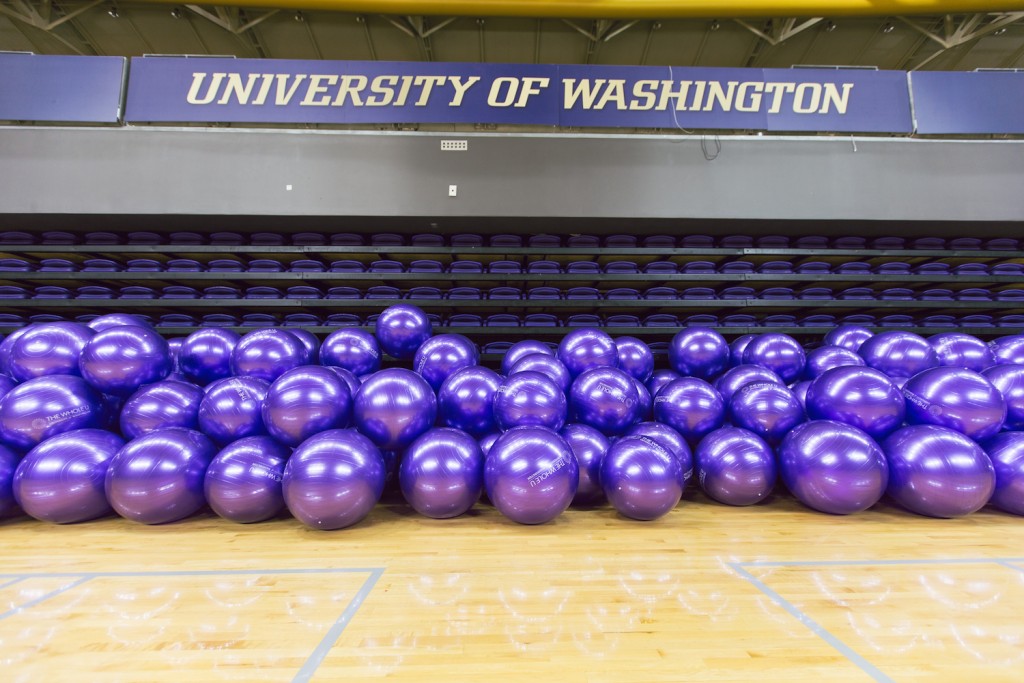 Here's what participants had to say:
"This was an AWESOME event! I learned new exercises to use with the exercise ball and am definitely inspired to do more.  It was fun and invigorating.  I'm sore today, so I know the session was effective!"
"As always, the feeling of being a part of a larger community is great."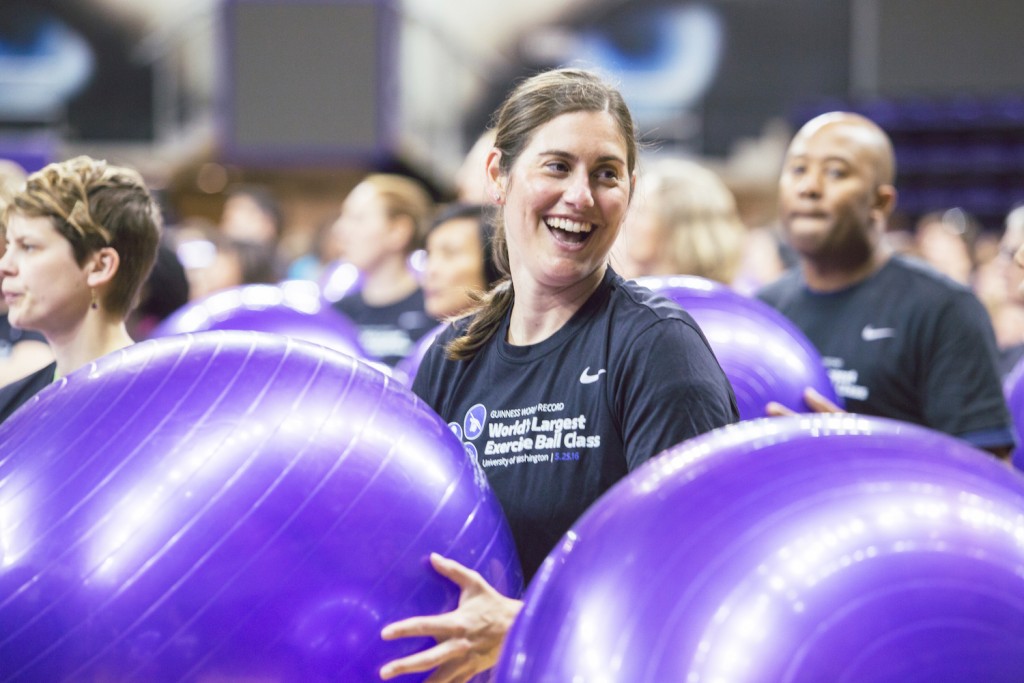 "I have used exercise balls periodically for many years, but the workout introduced some new exercises.    The organization of the event was amazing which set the stage for an enjoyable time.  The workout was fun and it was great to see so many UW faculty, staff, and students working out together.  The energy in the room had to have been catching for anyone who is not into regular exercise. Please continue similar events."
"So much fun! I really liked the idea of joining my colleagues for fitness and it reminded me that I have fun at group exercise, so now I'm looking at classes around Seattle that perhaps I could join. So, definitely a positive impact on my fitness plans."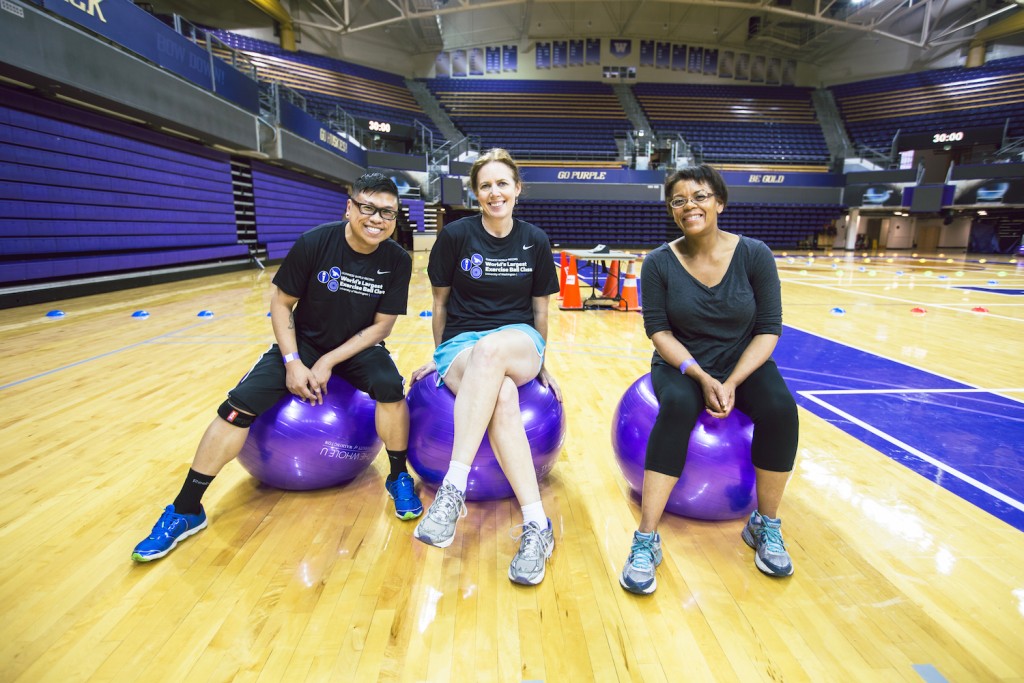 "I just had fun, which is something that does not usually occur here at work. The energy and excitement were such a high, especially the marching band kids. The only negative impact is the current state of my quadricep muscles which are pretty sore today."
We had two photographers capturing the 30-minute workout, one of the floor and another in the stands. Student group Husky Nation filmed the event with GoPro's from above, and videographer David Patterson filmed the event from the floor (you might've spotted his fancy shoulder rig as he trekked all over the floor — he was sweating, too!).
Big thanks to DJ Kenny for spinning some awesome pump-up music, and thanks to UW Police for making sure nothing got out of hand!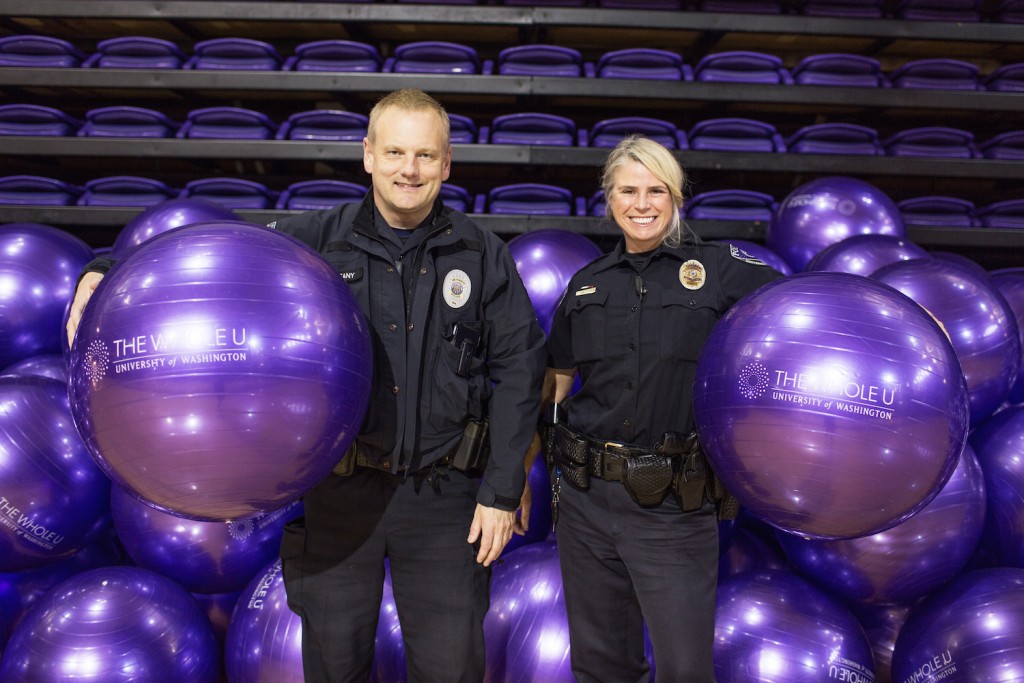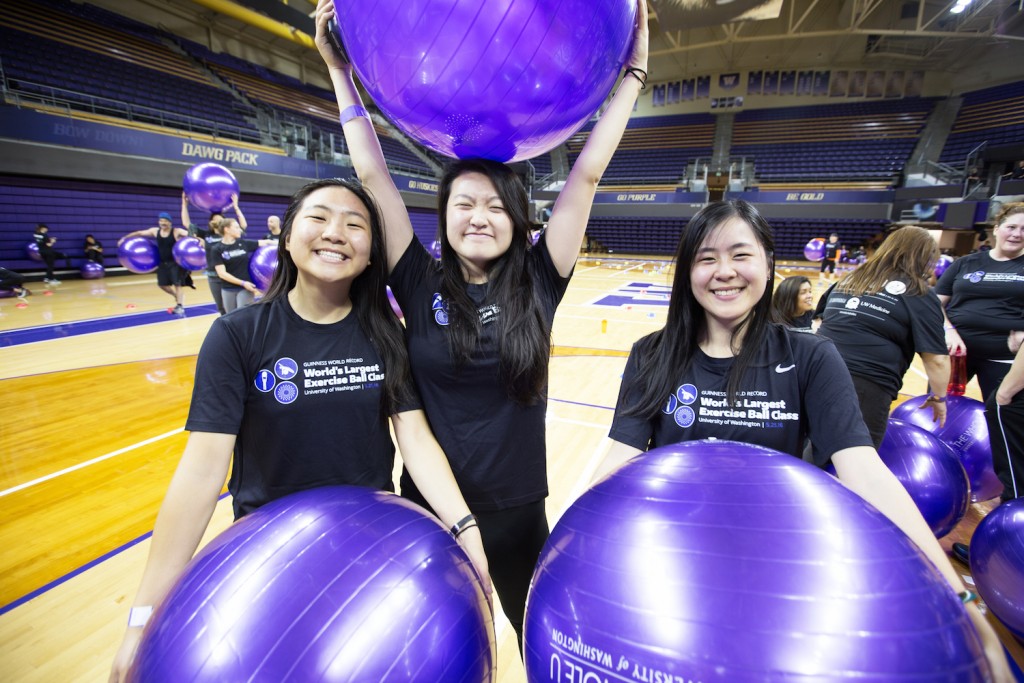 I know what you're wondering: Are we record holders or what? As for as numbers go, yes. We passed the previous record, set by the Today Show, by over 100 participants. Still, it's going to take Guinness between 6-8 weeks to verify our evidence. We're confident that we documented the event to the fullest extent, so now it's just about patiently waiting for confirmation.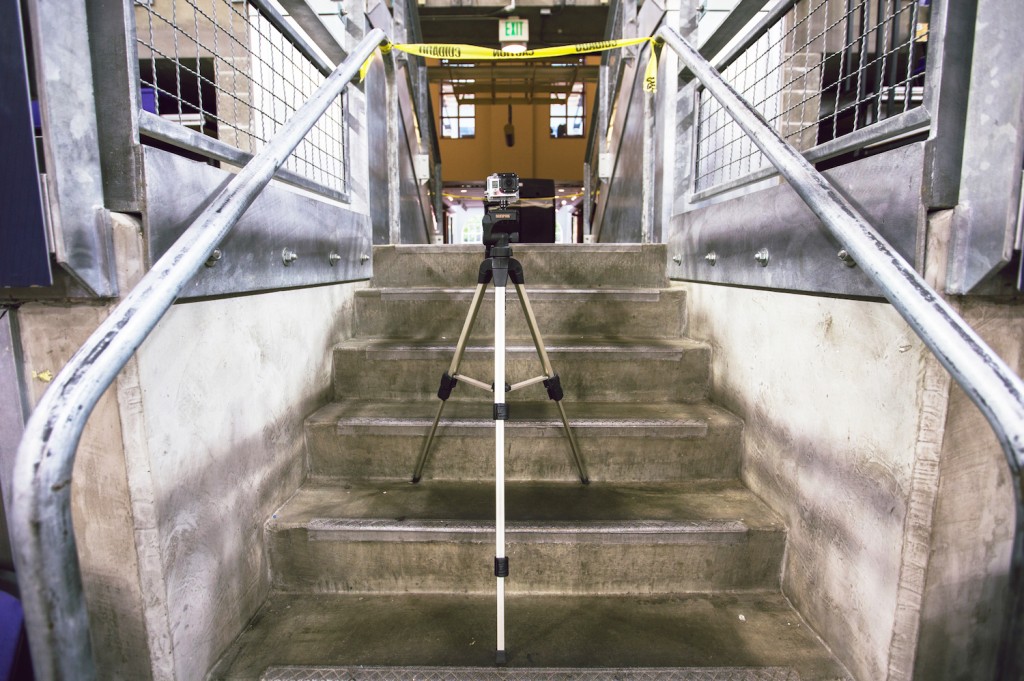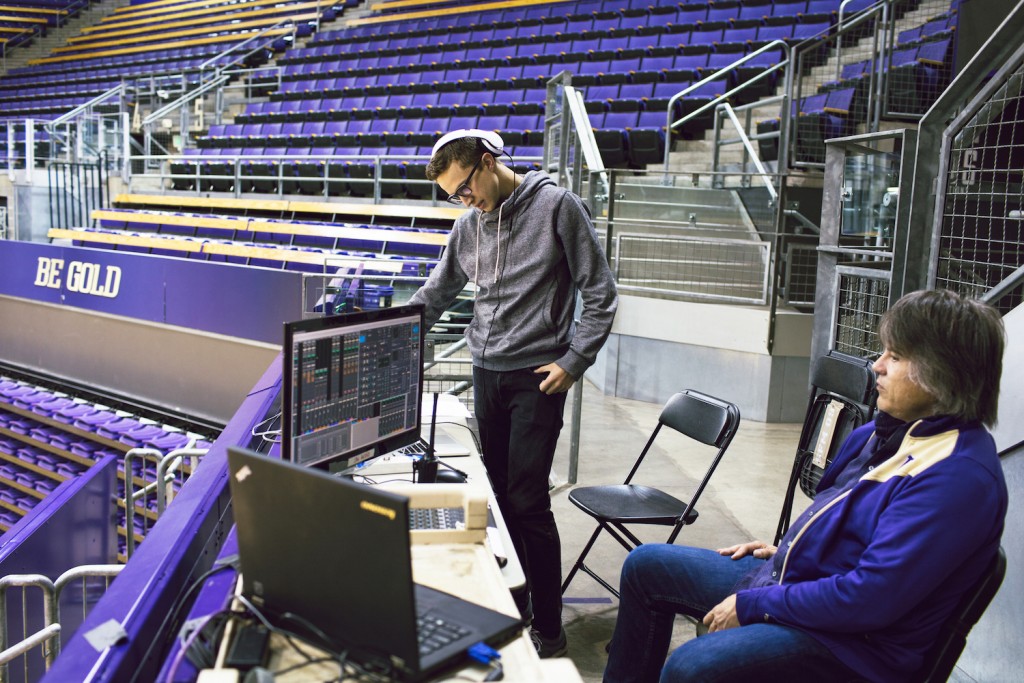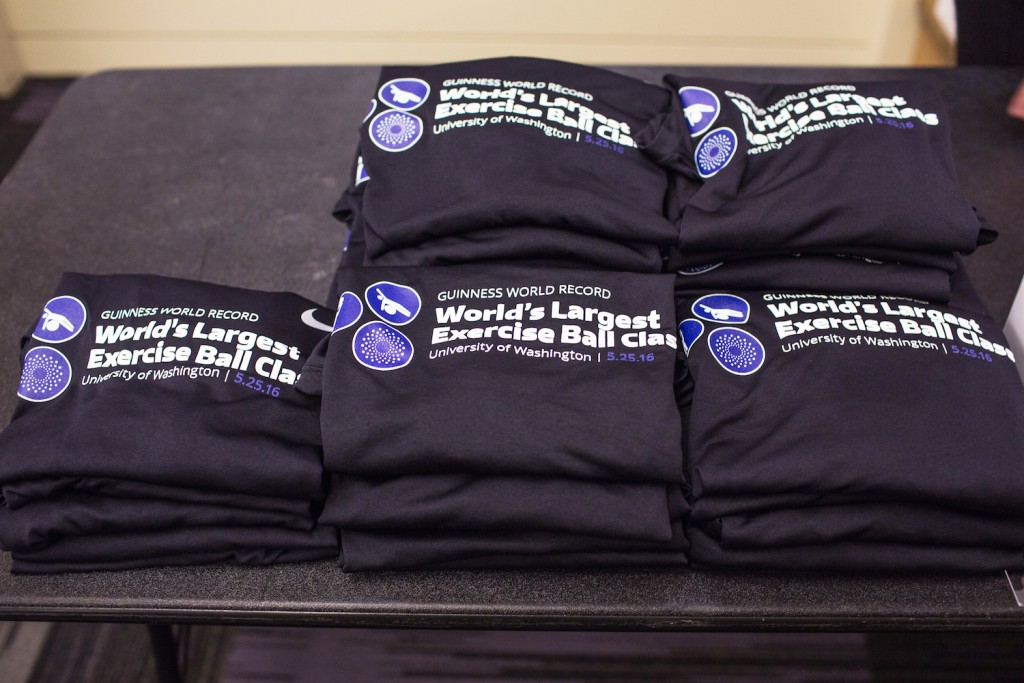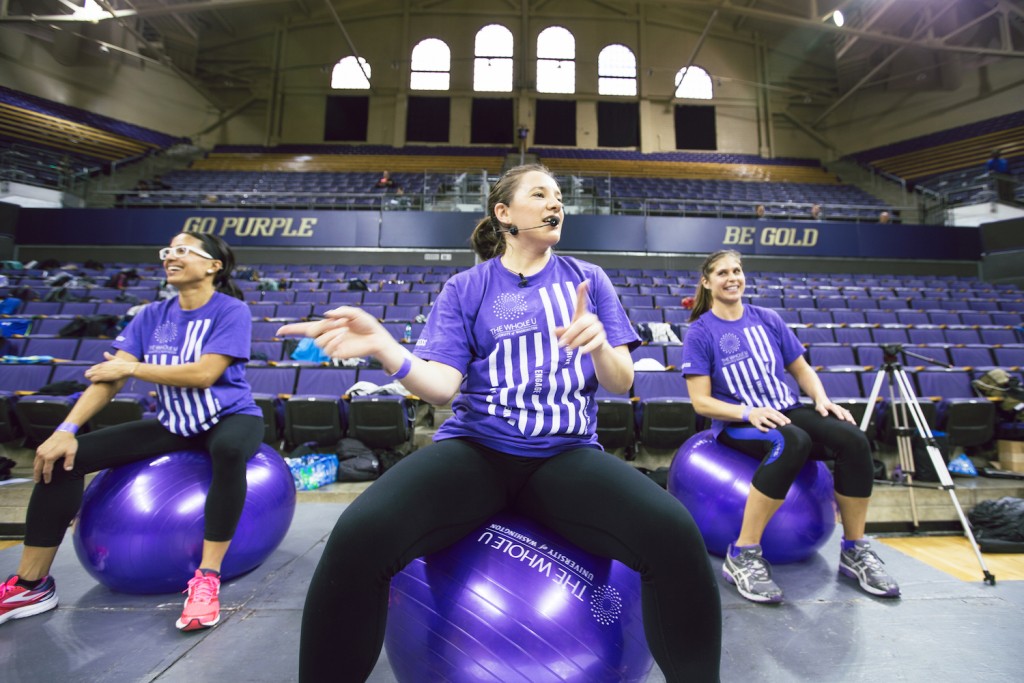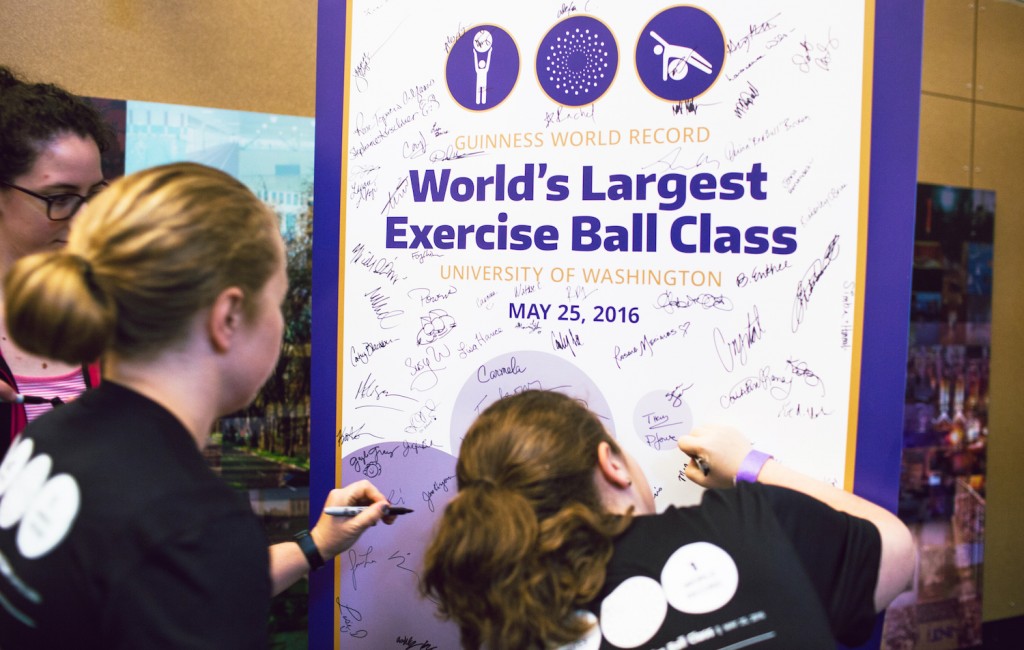 In the meantime, check out our Facebook album for more photos, and search for the hashtag #UWHavingABall on social media to see posts from the event.
What record do you think we should break next?