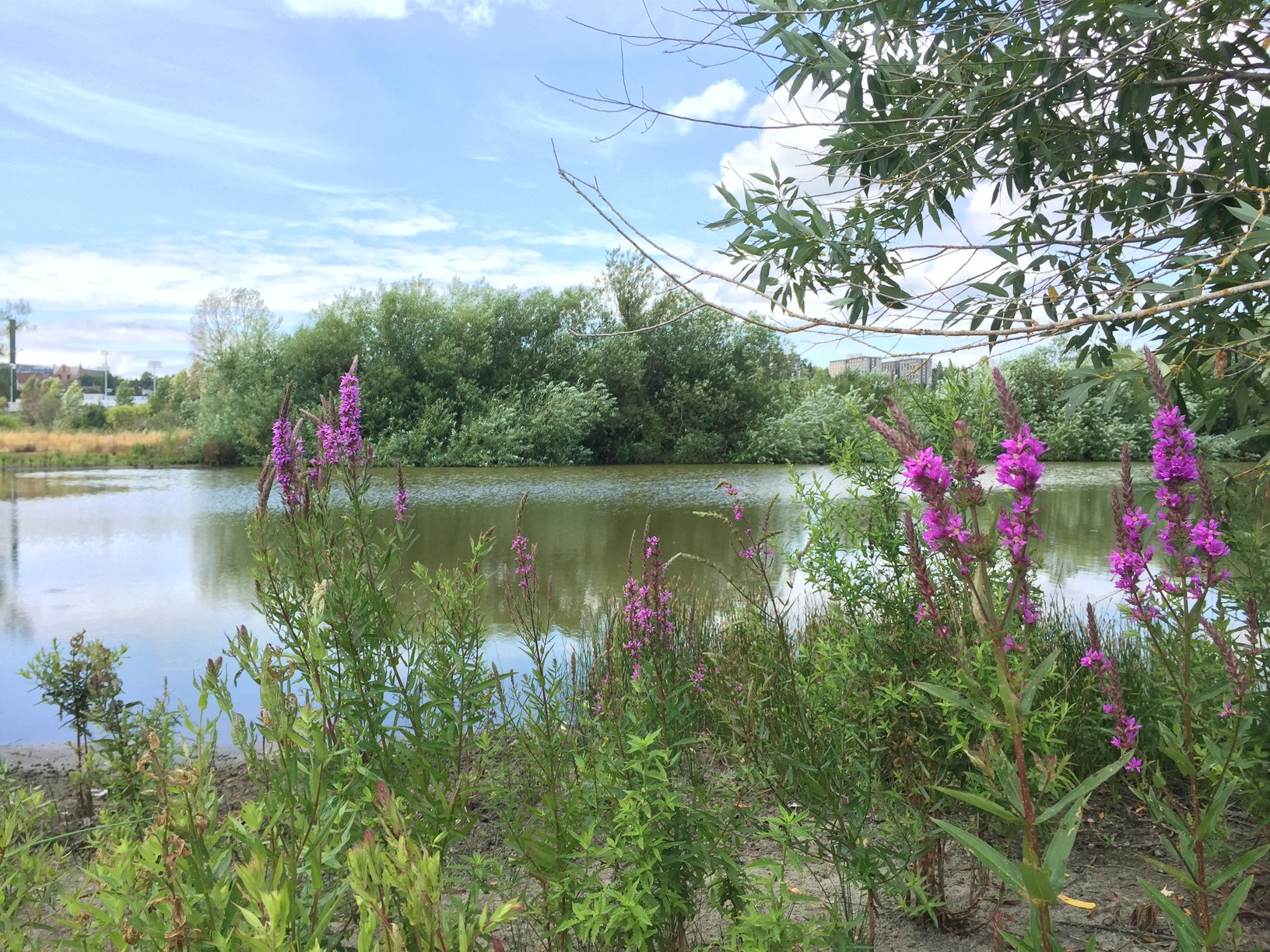 Discovering the Union Bay Natural Area & 7 Other UW Treasures
As a graduating senior at UW, I thought I was aware of all of the beautiful spots on campus. I've studied in Sylvan Grove, enjoyed the cherry blossoms in the Quad, and read a book in between classes in Greig Garden. But it wasn't until recently that I learned about the beautiful paths lining Union Bay, adjacent to the IMA.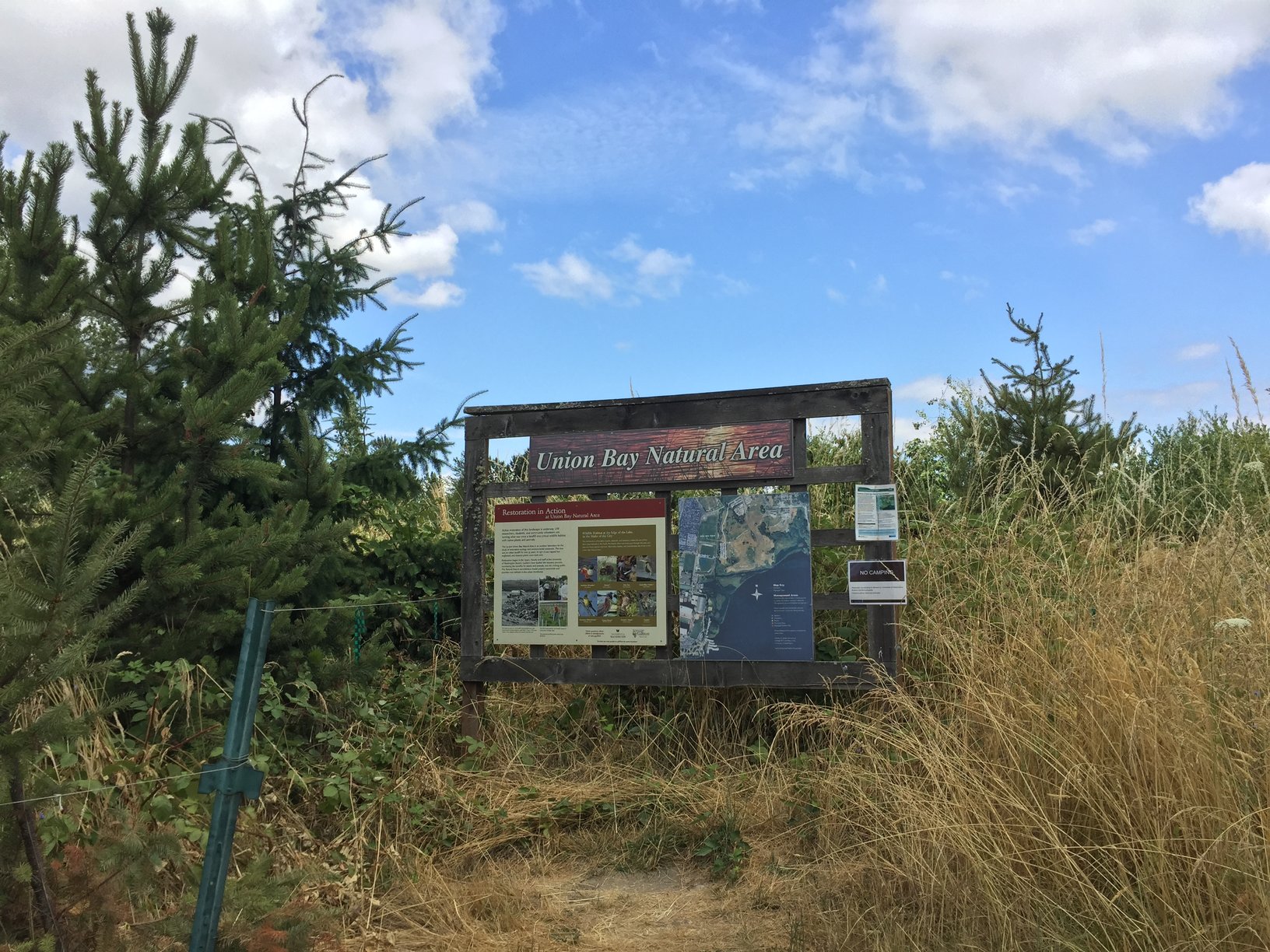 When I finally stumbled upon this area what I found was surprising… winding trails, tall grasses, towering trees, and colorful flowers. I wondered why I hadn't heard about this place before. The area is so beautiful—and practically empty—making it the perfect place to take a walk or run alone, with friends, or with a dog. Parallel to Lake Washington, it provides unbeatable views of the water and Husky Stadium. There are even a few benches along the trails, making this area an excellent picnic location as well.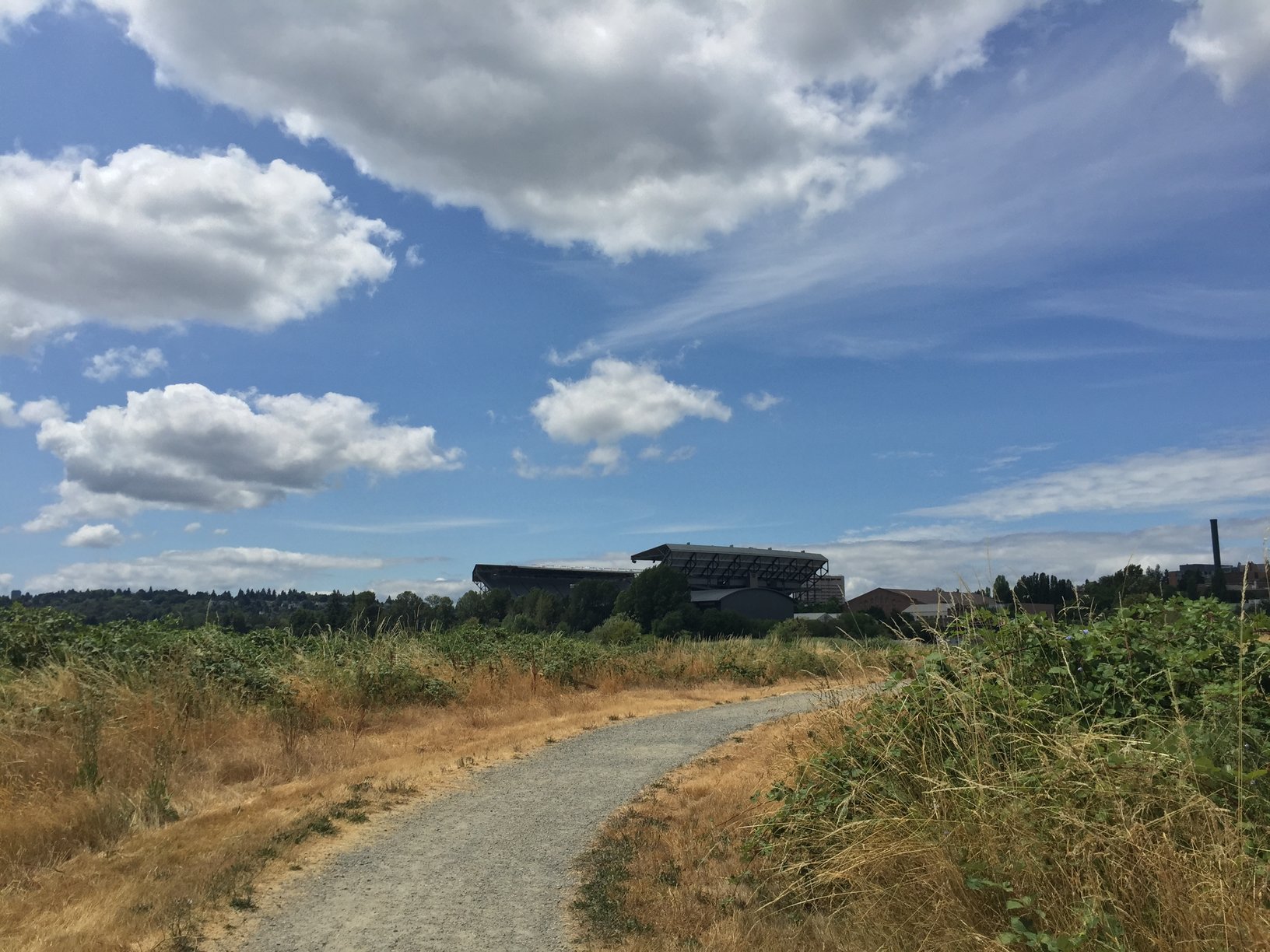 If you're like me and were unaware of the Union Bay Natural Area, I highly recommend it. With summer right around the corner, there is no better time to enjoy a little Seattle sunshine on a walk or run around Union Bay.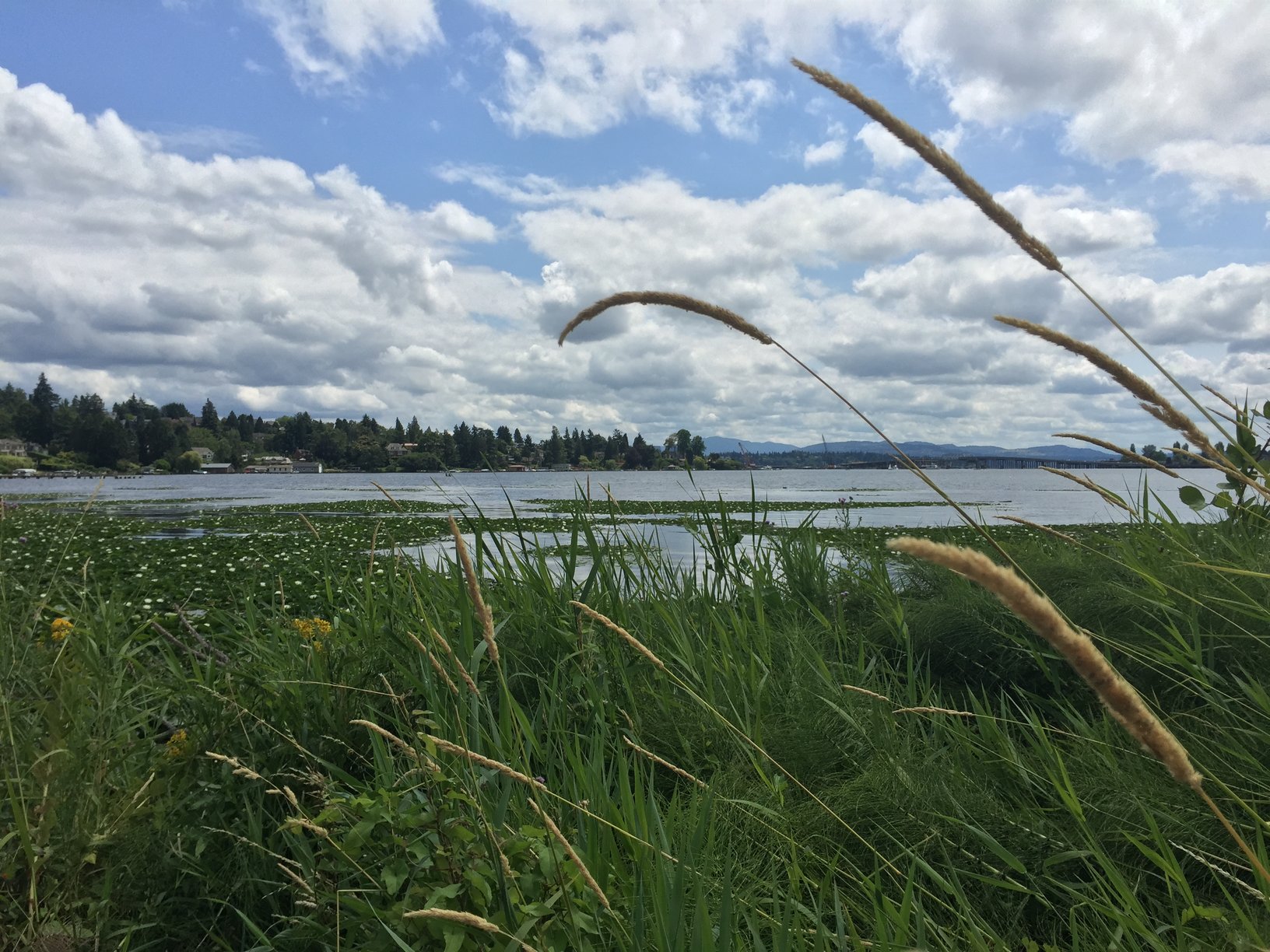 If the natural area is too far away for a lunchtime walk, you're in luck! The University of Washington is full of walking paths that provide beautiful scenery and light exercise. Venture out to one of these campus locations for a break or walking meeting.
The Quad – Beautiful all year round and close to many campus locations, the Quad is a place that you can walk to or through. If you're walking on your lunch hour, bring your food and enjoy a picnic under one of the shady cherry trees. We hosted a picnic on the quad last summer and had a blast!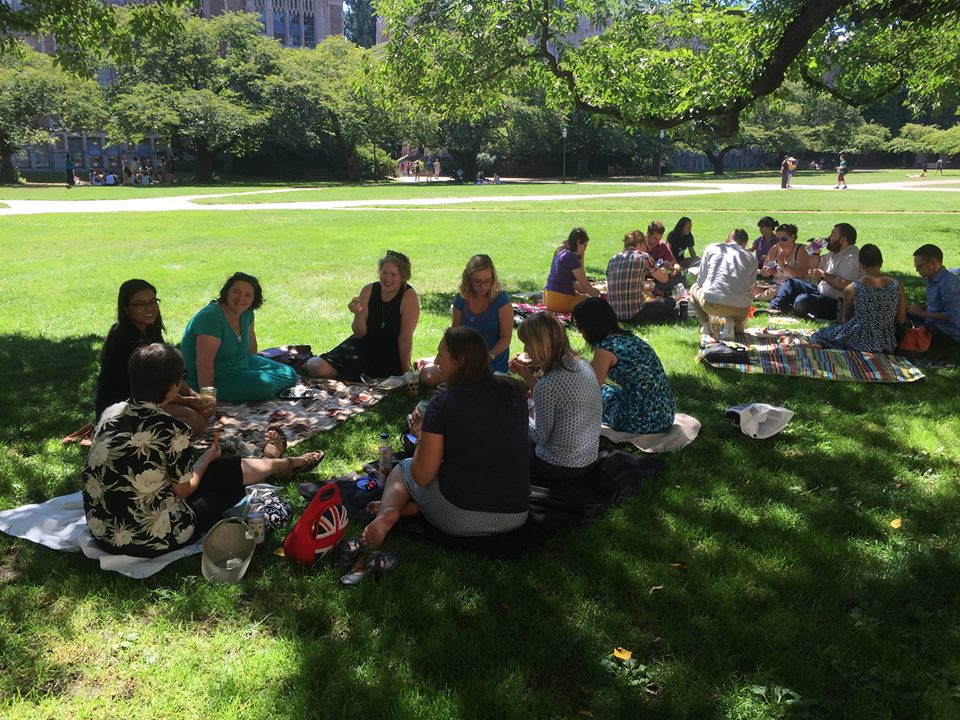 Sylvan Grove – A hidden gem of the UW campus, Sylvan Grove is home to the original columns of the first University of Washington building. If you need a secluded place to relax or read a book on your lunch break, this quiet oasis is the place to go! Sylvan grove can be a bit tricky to find: walk just past Drumheller Fountain and enter next to the Electrical Engineering Building.
Sakuma Point – If you want beautiful views of Lake Washington, take a walk down to Sakuma Point. You'll be able to people watch (and duck watch) as you enjoy your lunch or a snack from Agua Verde, which is conveniently located right next door!
San Juan Beach – A little further down the road is San Juan Beach, located by the Department of Global Health. If you're looking for a tropical escape, UW's very own mini beach is the place for you. Listen to the crashing waves and enjoy the breeze.
Grieg Garden – This place is so well hidden, you might not even know that it exists. Located right across from Thompson Hall (in between the HUB and the Quad), Greig Garden provides benches, blossoming flowers, and luscious grass to make up a mini-park. It's the perfect place to bring lunch and enjoy one of UW's hidden wonders.
Parrington Lawn – If your workplace is past the Ave like ours is, walking toward the IMA or the water might not be so realistic for a short lunch break. Luckily, a straight walk up 42nd leads you to Parrington Lawn, located in between the Law School and Parrington Hall. Parrington Lawn is vast, providing shade in some parts and sun in the others. Take your lunch and enjoy your break relaxing on the grass.
Waterfront Activities Center – If you're looking for a little extra exercise, take a walk on down to the WAC. Rent a canoe or a rowboat, and paddle around the Lake. Not a water person? Test your limits on UW's very own climbing rock located right behind the Canoe House on Walla Walla Lane.
So grab your lunch, your colleagues, or that book you've been meaning to finish and venture out to one of these campus locations for your midday exercise. It'll get the blood flowing and energize you for the afternoon ahead. Walking for any amount of time is better than sitting, so take a stroll through our beautiful campus.
Do you have a campus walk that you like to take? Share your route in the comments! We'd love to hear about your favorite spots on campus.