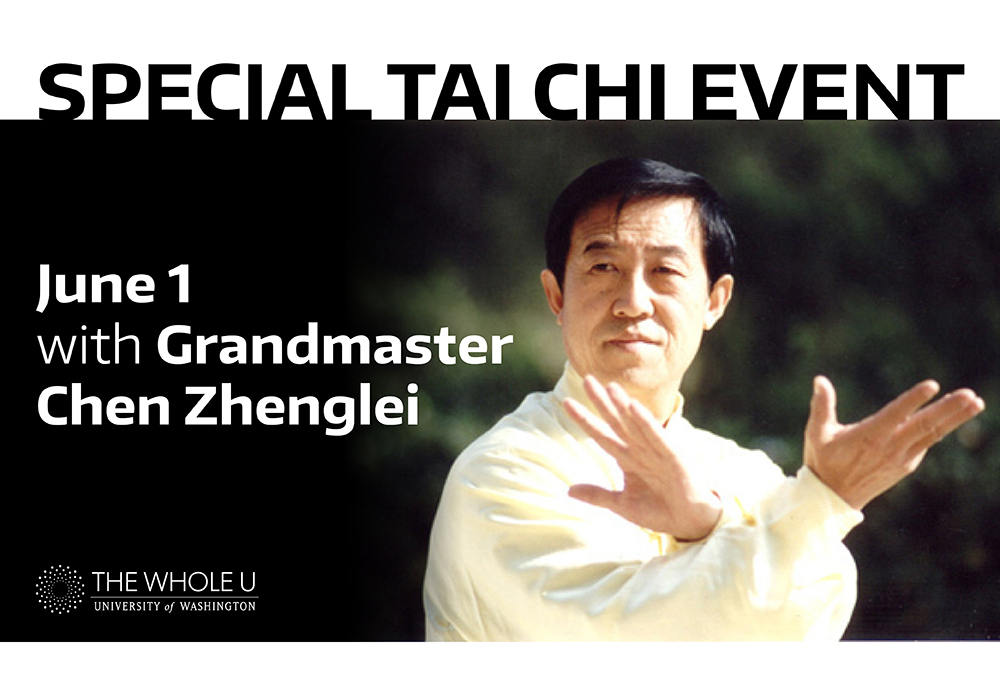 Tai Chi Event Coming to Kane Hall
Grandmaster Chen Zhenglei, one of China's top 10 contemporary martial arts masters, is coming to the University of Washington.
The Whole U has partnered with the Confucius Institute of the State of Washington, the Chen Zhenglei Tai Chi Training Center, and the Chinese Wushu and Tai Chi Academy to bring the Grandmaster to campus on Wednesday, June 1. He will speak on the history and health benefits of Chinese Tai Chi.
Grandmaster Chen Zhenglei (GM Chen) began his training at a very early age. With hard work and diligence, he has mastered the complete Chen's Tai Chi system, earning the honor title "Tai Chi Jingang." He has won numerous gold medals and championship titles in national and international tournaments and has been teaching students across the globe for over 40 years.
GM Chen will also be joined by Master Gao Jiamin, China Queen of Tai Chi from Portland. In addition to the discussion, there will also be performances by GM Chen, his disciples, and UW faculty and staff who have participated in Tai Chi classes through The Whole U.
To learn more about our upcoming event, we reached out to Aihua Liao, the assistant director of the Confucius Institute of the State of Washington.
Is the event appropriate for people who do not know much about the art of Tai Chi? And what ages are recommended for the event?
Everybody, including children over 5 years of age, is welcome and encouraged to attend the event. No prior experience is needed, however a general knowledge and interest in Tai Chi is helpful.
What are you looking forward to?
We are excited to hear an internationally well-known master talk about Chinese Tai Chi. This is also a rare opportunity for UW students and staff as well as the community to watch the best Chen and Yang style Tai Chi performances provided by highly professional masters from China, Europe, and the U.S.
Has GM Chen been to the Pacific Northwest before, and if so, how many times?
Since 1998 GM Chen Zhenglei has been travelling to Seattle almost annually to deliver seminars and workshops. On April 15, 2016, King County Executive Don Constantine proclaimed June 1 of each year to be "Grandmaster Chen Zhenglei Day!"
What is Grandmaster Chen Zhenglei most excited about for this event?
Despite his extensive travel to Seattle in the past 18 years, this will be the first time that GM Chen shares with and performs for the UW community, together with his disciples.
What does a Tai Chi performance usually consist of?
Tai Chi shows uniquely graceful power, and the performance consists of moving within meditation, softness into hardness, and slowness with speed power. Tai Chi's internal force contains martial arts applications and is a very poetic art to watch. Audiences will be able to learn about Chinese Tai Chi in general and how it benefits human health. The one-hour performance will be an absolute joy.
You won't want to miss this opportunity to learn from one of China's most renowned Tai Chi masters and watch beautiful Tai Chi performances. Register here to celebrate Grandmaster Chen Zhenglei Day accordingly on June 1!