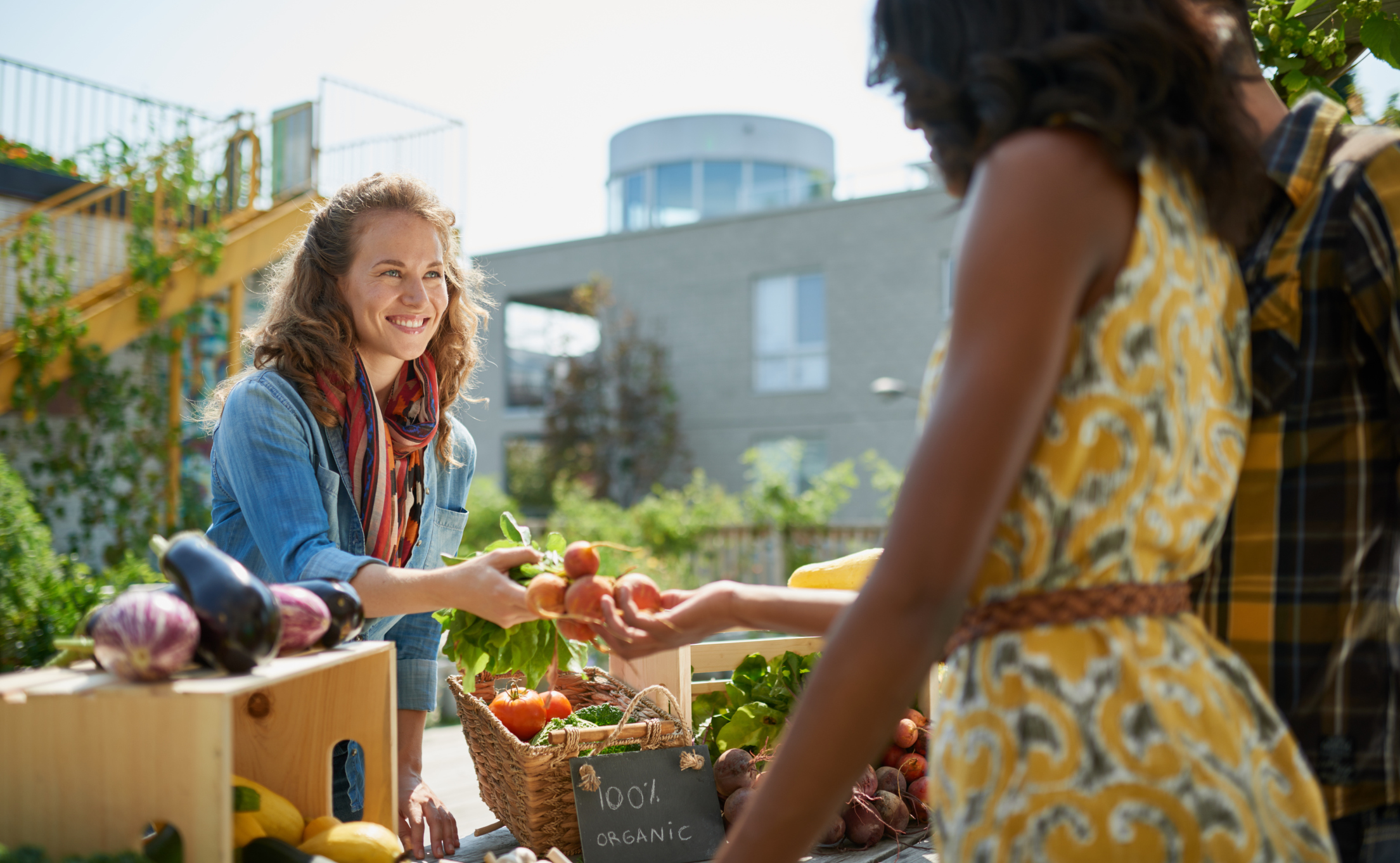 The Benefits of Eating Locally Grown Foods
We are lucky to live in the Pacific Northwest, where an abundance of locally grown produce, livestock, seafood, and countless other foods and beverages are available. While Seattle hosts several year-round farmers' markets, May marks the official start of the "farmers' market" season, where you will find a bounty of fresh and seasonal foods.
So, what are the benefits of eating locally? Here are the top 8 reasons to eat local foods:
Local foods are fresher. Fruits and vegetables begin to lose nutrients as soon as they are picked. Buying local produce cuts down travel time from farm to table.
Local foods are seasonal. True, it would be great to have fresh tomatoes and berries all year round, but eating seasonally means avoiding "artificial ripening" with gases or eating a bland version of a fruit or vegetable that's been shipped thousands of miles. Eating seasonally results in the most delicious and nutrient-dense produce.
Local foods are better for the environment. Some foods are shipped literally thousands of miles; that is a big carbon footprint that could be avoided by purchasing local and seasonal foods.
Local foods preserve green space and farmland. The environmental question of where your food comes from is bigger than its carbon footprint. Buying foods grown and raised closer to where you live helps maintain farmland and green space in your area.
Local foods promote food safety. Less distance between your food's source and your kitchen table leaves less of a chance of contamination.
Local foods promote variety. Local foods create a greater variety of foods. Farmers who run CSA (community-supported agriculture) programs, sell at farmers markets, and provide food to local restaurants have the demand and the economic support for raising more types of produce and livestock.
Local foods support your local economy. Money spent locally stays local. Purchasing locally builds your local economy instead of handing over the earnings to a corporation in another city, state, or country. Also, since the food itself moves through less hands, more of the money you spend will end up in the pockets of those raising and growing those foods.
Local foods create community. Ever find yourself spending much of your time at the farmers market chatting and socializing in addition to purchasing your produce? Getting to know your farmer, cheese purveyor, fishmonger, butcher, workers at your local co-op, etc., creates a sense of community.
Ready to eat locally?
UWMC Plaza Café – The Plaza Café hosts a Farmer's Corner held every second and fourth Wednesday of the month. It is a great time for UWMC guests and staff to come together to enjoy local and organic produce and foods. And did you know that over a quarter of the café's purchasing dollars are spent locally? To highlight some of our favorite local farmers, we celebrate Farm Fresh Fridays with specials featuring foods from a local farm.
Seattle Markets – For a list of Seattle farmers' market locations, visit seattlefarmersmarkets.org. There you can also find out more about the vendors, what is ripe and ready that week, and about upcoming programs and events. Plus, show your Husky Card or UW Medicine ID on the first Saturday of every month and receive a $2 discount coupon for the U District Seattle Farmers Market.
Community-Supported Agriculture (CSAs) – There are dozens to choose from with a variety of pick-up locations, and some even offering local delivery. UW faculty and staff receive a discount from Boistfort Valley Farm and Full Circle. See all food discounts here.
If you're ready for even more inspiration, here's a seasonal recipe using locally grown produce. A beauty of a dish; this is one of my spring favorites!
Fettuccine with Asparagus, Spring Peas, and Morel Mushrooms (adapted from Tiny Urban Kitchen)
Serves 4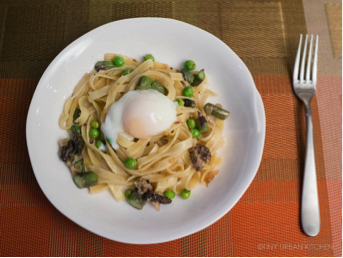 1 lb pasta (dried, or fresh & locally-produced)
2 Tbsp shallots, minced
20-30 morel mushrooms, cleaned with a damp towel
2 Tbsp butter
2 Tbsp olive oil
6-8 asparagus spears, sliced at an angle into 1-inch pieces
1.5 cups fresh English peas, shelled
Parmesan-Reggiano cheese, grated
sea salt and pepper
Poached egg (optional)
truffle oil (optional)
Bring water to a boil, and cook pasta according to package directions
Heat butter and olive oil in deep sauté pan; sauté shallots and morel mushrooms over medium heat until shallots are lightly browned and the ingredients are fragrant (about 2-3 minutes)
Add the asparagus and peas; sauté for about 2-3 minutes or until lightly cooked (al dente).
Season with grated Parmesan cheese, salt, and pepper. Toss in the pasta and add pasta water as needed to get the desired consistency. Serve topped with poached egg and drizzled with truffle oil (optional) and sea salt
What's your favorite spring produce? Please share in the comments!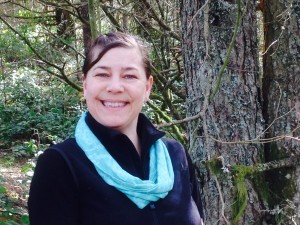 Kristine Carlson is a registered dietitian and certified nutrition support clinician who works in the Surgical and Medical Intensive Care Units at the University of Washington Medical Center. Outside of work she enjoys exploring Seattle with her husband Dave, hiking, yoga, cooking, swimming and spending time with her dog, Charlie. 
 This post was originally published in the RD Blog. You can visit the RD Blog and see its archives if you have a UW Medicine ID.