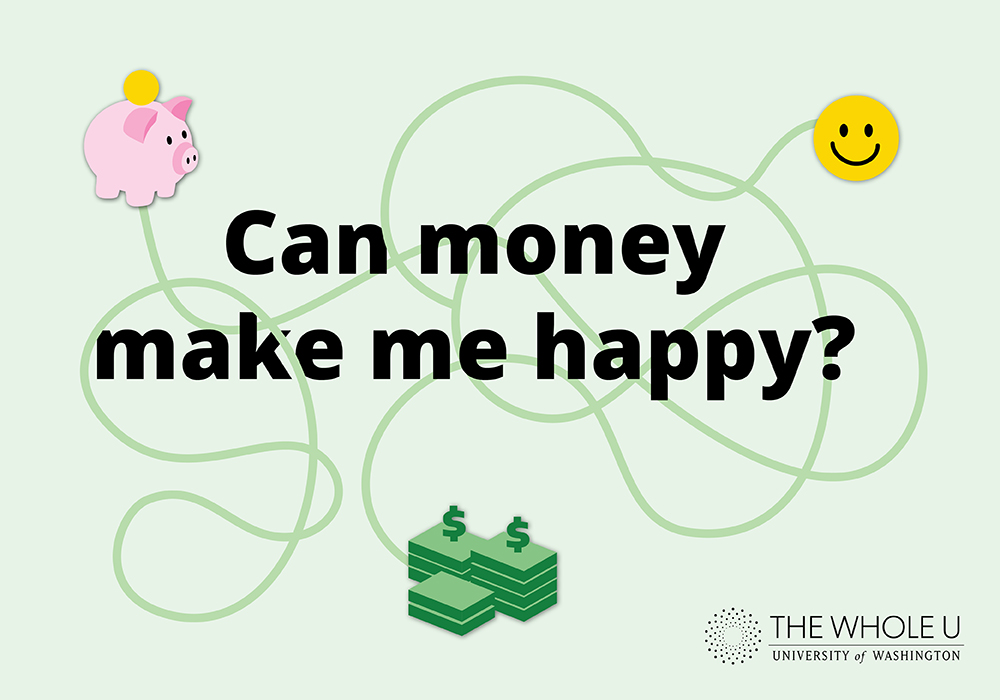 Can Money Make You Happy?
The short answer to this age-old question is yes — potentially. But the complete answer is a bit more complicated than a simple yes or no.
Let's look at the numbers. GeekWire recently shared a study that tells us exactly how much people in Seattle need to live comfortably: $72,092. This includes all of your basics, like rent and groceries, as well as savings and miscellaneous spending money for concerts or movies. The study also found that the median income in Seattle falls short of that figure by about $4,000.
Luckily, there's good news, whether you meet that figure or not.
Money and "stuff" — as Melissa Knox, an Economics lecturer at UW explained — isn't usually the source of a person's perceived happiness. In fact, the usual source is gaining what many people often wish they had more of: time.
"From my personal and professional perspective, money is best spent when it gives you freedom," Knox explained. "When you ask us what we prefer to be doing, I think we're much more likely to answer, 'Going to the beach' than, 'Sitting in my new car and thinking about how happy it makes me.'"
Bloggers and researchers often express a similar view. In a conversation thread on the Q&A site Quora, psychologists, researchers, and even some TED talk speakers have been discussing the answer to whether money can help you find happiness or not since 2012. A common theme is that experiences and other people — not materials — make you feel great, and making "smart financial decisions" by learning how you should spend your money is essential.
Part of knowing where you should be spending your hard-earned money is investing some of that precious time you have for budgeting. Although stress from a lack of funds can impact a person's ability or desire to create a budget, Knox emphasized the importance of making one before opening up your wallet no matter how much you have to organize.
"Happiness is not created just by spending money, but by spending money on things that you value," Knox said. "Budgeting is a way, from an economist's perspective, of writing down what you really value."
Of course, money is less likely to impact your mood positively unless you've got the essentials taken care of, like rent, groceries, utilities, and so on. Without those, you open the door for stressors to set in if something goes awry, and when you're not ready for rent, eviction will most certainly not make you a happier person.
Basic needs aren't the only priority before looking into how your cash can make you merry: money in a savings account is an important factor, too.
Knox explained that while a savings account might not necessarily boost your mood, having any sort of fallback fund will certainly help prevent your attitude from taking a tumble.
"There's lots of research out there that shows that experiencing an emergency without savings or insurance to help you deal with it leads to people choosing coping strategies that, in the end, make them worse off," she explained. "This might be going into debt, selling productive assets, or underinvesting in their own or their children's educations."
Fortunately, most folks who work at UW qualify for retirement and savings plans, or can access professional financial advice through CareLink. There's even an entire webpage devoted to explaining how your retirement plan works, and another on how you can start saving money.
So what does this all really mean? It means that yes, money can help make you happy, but you have to put in some amount of effort for that satisfaction to match your unique set of values and priorities. It's definitely easier said than done, but isn't it worth it?
Share any of your own saving or spending advice in the comments below, and remember that no matter how much you make, at the end of the day money just another tool.