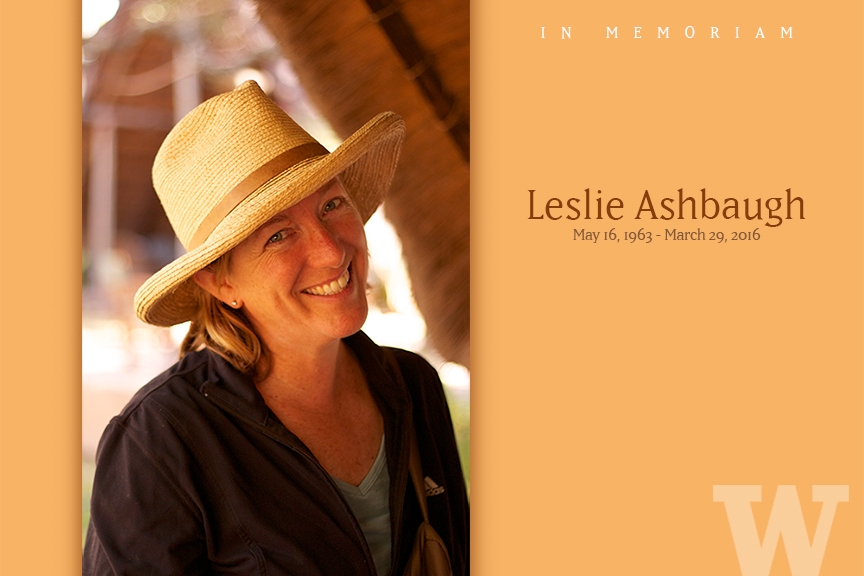 Faculty Friday: Leslie Ashbaugh
Leslie Ashbaugh, who joined the UW Bothell campus in 1998, passed away last week after a two-year battle with cancer. She was 52.
When diagnosed with melanoma, a form of skin cancer, Leslie chose to remain in her role as assistant vice chancellor of academic achievement. Before taking a position in leadership, she taught in the School of Interdisciplinary Arts & Sciences (IAS) for 14 years.
The student government selected her for the Excellence in Teaching Award in 2001, and she was named the UW Bothell Distinguished Teacher of the Year in 2012.
Life in America was only half of Leslie's story. She began studying Zambian culture as an anthropology Ph.D. student at Northwestern University, and she traveled to the south African country with a group of UWB students every year until 2013.
Leslie was one of my teachers in 2010. I met her on my first day at UW Bothell, in a sociology class called Family in U.S. Society, and she greeted me with a beaming smile on stage at graduation. Her classroom is where I learned all sorts of things about life, but above all, she taught me to be skeptical of the norm and empathetic toward the new. I would have a hard time writing Faculty Friday if I hadn't met her.
I've compiled memories from students, staff, and faculty at UW, as well as people Leslie knew at Northwestern University, where she earned her Ph.D., and in Zambia.
Bruce Burgett

Dean of Interdisciplinary Arts & Sciences, UW Bothell
I and many others worked with Leslie for almost two decades here. She was a fabulous friend, colleague, and teacher. In relation to her leadership role with the First Year and Pre-Major program, I shared more conference tables with her than I can remember. At all of them, she was a tireless and laser-focused advocate for students, which was how she understood her contribution to the institution. After learning of her diagnosis of cancer, she continued to play that role fearlessly. So many of us have lost someone critically important to us.
Wadiya A. Udell

Associate Professor of Community Psychology, UW Bothell
Leslie was no doubt "the realest" person I have met at UWB. Coming from the East Coast and new to the PNW, she immediately was a breath of fresh air for me. She was warm and open, yet straightforward and blunt. She said what she thought most times without pause, and this proved how great she was as a person. Her consideration, care, and support for others constantly flowed. She was real in every sense. When we were frustrated by aspects of the job, she was real and validated our struggles. When we were down on ourselves, she was real and reminded us of our strengths.
In addition to being a supportive colleague, she was a fierce advocate for our students. She saw their strengths and assets, as well as their vulnerabilities and challenges. She made an impact on our community because she was real. She wasn't afraid of contradictions, and didn't shy away from discomfort. She embraced life with all of its joys, triumphs, pains, and uncertainties until the very end. She is missed — her smile, her laugh, and her realness. Rest in Power, Leslie.

Diane Gillespie

Emeritus Professor in IAS, UW Bothell
I met Leslie in 1998, shortly after I arrived at UWB. Robert Schultz, then Director of IAS, and Dan Jacoby, then coordinator of Society Ethics and Human Behavior (SEB), asked me to interview a young woman who was applying to teach part time, a course on marriage and family. Just as I finished reading her CV, she appeared at my office door, winded, that mile-wide smile. Her first words as she sat down? "It's the mission. 'UWB holds the student-faculty relationship to be paramount.' That's the kind of university in which I want to work. I brought my past syllabi, and, here, I created three different ones for SEB students."
We dug into her syllabi, her teaching philosophy, and then she talked about her life as recent Ph.D. student, teacher, wife, and mother. I was hooked. I not only wanted her as a colleague but I wanted to take her classes. She started teaching for SEB that quarter, passionate about sociology and anthropology, her students' learning, and the growing teaching and learning ethos on the campus.
In the years that followed we worked together on committees and on research projects, publishing an article (with JoAnn DeFiore) entitled "White Teachers Teaching White Women about White Privilege, Race Cognizance and Social Action: Toward a Pedagogical Pragmatics." Leslie won teaching awards, took students to Zambia, engaged them in research and service learning and, in the past few years, stepped up to direct what is now called the First Year and Pre-Major Program. In all her contributions to our campus, she embodied the teacher-scholar, dedicated to the achievement of all undergraduate students.
Leslie's legacy is one of hope through courageous and persistent advocacy: we are all in this university together; we have a greater capacity for community than we know; we can hold our differences in ways that do not destroy the threads that tie us together; we can create a more just, rigorous, and responsive education system. And if we can do it here, at UWB, why not everywhere?  She is, already, sorely missed.

Rachael Gilchrist

Pre-Major Academic Advisor, First Year and Pre-Major Program
Leslie Ashbaugh was an amazing woman, friend, and colleague. She lived life fully. She loved the work she did. She continued working up until her last days. But looking back, I realize it was less about the work itself and more about her relationships and making a difference and improving the lives and opportunities for others. People will say she really cared about the students and that is true. But she also cared about the people she worked with as well. Relationships were paramount to her. And many of those relationships ran deep because she shared herself, her stories, and listened and cared about us, by making herself available even if she was between doctor's appointments and therapies.
I will miss her bright light, her stories, her support and encouragement and friendship. I found a perfect motto somewhere that describes how Leslie lived, "Life should NOT be a journey to the grave with the intention of arriving safely in an attractive and well-preserved body, but rather to skid in sideways, body thoroughly used up, totally worn out, and screaming, 'Woo Hoo, what a ride!'"
Janelle Silva

Assistant Professor of Interdisciplinary Arts & Sciences, UW Bothell
Leslie hired me twice. More than that, I was one of the lucky ones to share an office with her. She taught me so much about our students, the importance of easy crockpot recipes when you teach late at night, and told the most amazing stories of falling in love with her husband and their wonderful children. My heart is with her family through this difficult time.
Deborah A. Hathaway

First Year and Pre-Major Program at UW Bothell
Back in 2013, I was hired by Leslie Ashbaugh, the director of the First Year and Pre-Major program, to teach one evening acting class at UW Bothell. Shortly after I was hired, I set up a time to meet with her and ask her for some advice on how to advance my career and grow within the university. She went out of her way to connect me with several faculty and staff on campus and advocated for me on many occasions. She's literally the reason I am where I am right now in my career. She made me believe in myself and my ability to succeed.
During my first year of teaching, I had a particularly rough class and while I was on the phone, quite upset, with her and another staff member, she never judged me, but reminded me that I hadn't been doing this for 20 years. I was learning and that was okay. She always made time for me and made me feel important even as a faculty member teaching part-time and just embarking on the start of my career. I hope to continue to follow the example she has left for me of humor, compassion, and kindness both in and out of classroom.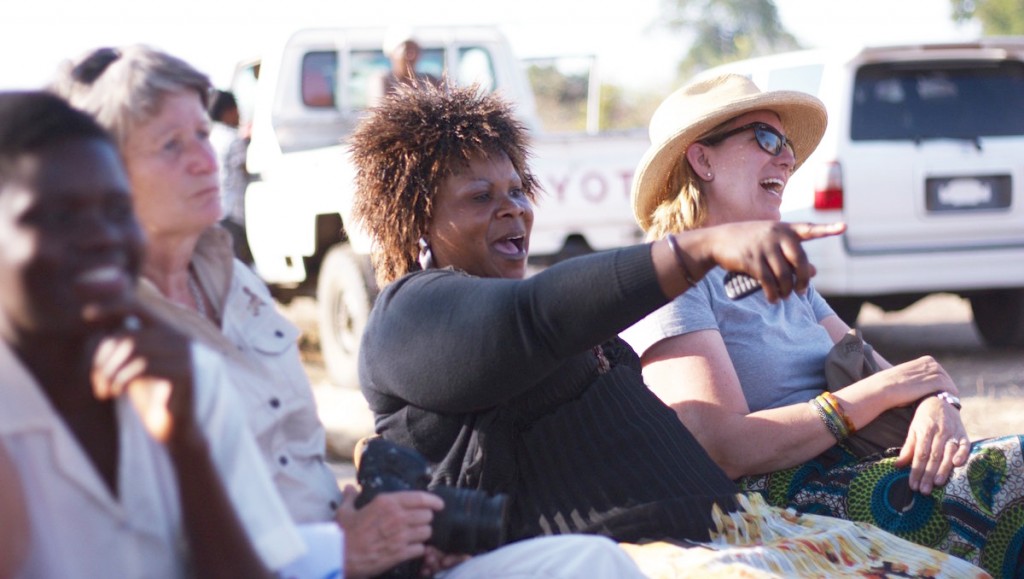 Jennifer Atkinson

Lecturer and Associate Director, Pre-Major Program and Discovery Core
In 2010, while traveling through the airport in Salt Lake City, I sat down next to a stranger who turned out to be a UWB alum. I had just begun teaching in IAS that year, and the woman was excited to chat about her undergraduate experience in the program. Almost everything she shared came back to her classes with an instructor named Leslie Ashbaugh. As I myself got to know Leslie in the years that followed, it no longer surprised me that she was the person students remembered and talked about most fondly, even years later and in other parts of the world. She was an amazing teacher and an amazing person.
Michael Goldberg

Associate Professor at UW Bothell
 The only thing that makes contemplating a world without Leslie bearable is remembering all that she has left behind. Her impact on students, colleagues, friends, and family has been so deep and wide-ranging that there is no doubt of her continued presence in all of our lives.
David Goldstein

Senior Lecturer in IAS, UW Bothell
I was thrilled, but not surprised, when she won the Distinguished Teaching Award. Even when she took high-level positions in the administration of UW Bothell, her job focused on student success, and she never wavered in her commitment to students, even when she became increasingly ill. I remember her telling me after her cancer diagnosis that she carefully considered what she wanted to do with whatever time remained for her, and after talking it over with her family, concluded that she would continue her work on behalf of students.
She as much as anyone exemplified the core tenet of UW Bothell's mission statement: "UW Bothell holds the student-faculty relationship to be paramount." Leslie's legacy at UW Bothell will be her inspiration among her students and her faculty and staff colleagues to be boundless.

Karen Tranberg Hansen
Professor Emerita at Northwestern University, Leslie's Ph.D. advisor
The photo is from 1992, when Leslie and I visited the largest Salvation Army store in Chicago in order to look for a wedding dress, which I could take to Zambia and give to my research assistant, who wanted to hire it out, as a money making project.  At the time, I did research on the trade in second-hand clothing in Zambia.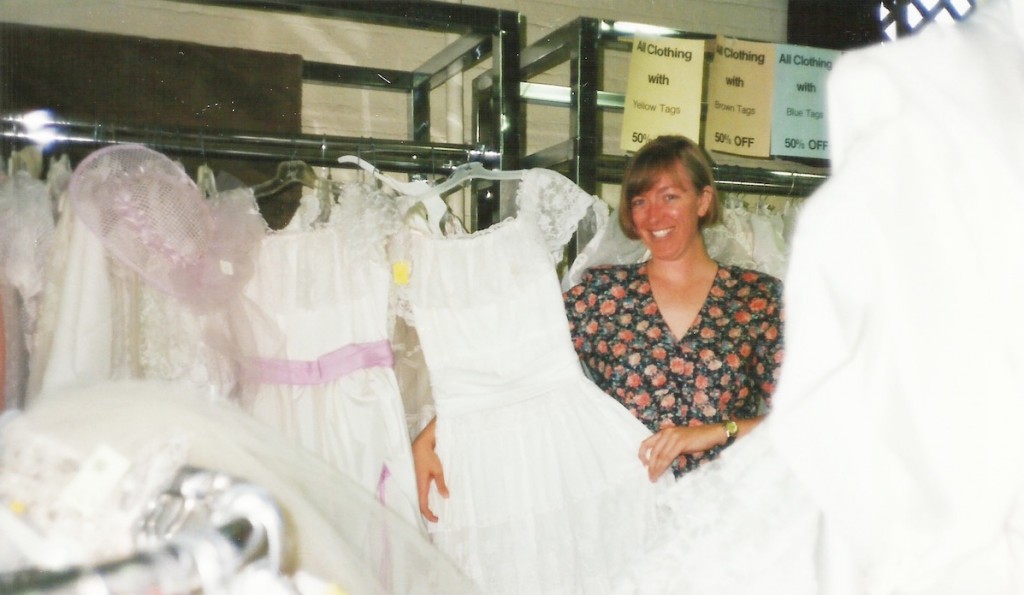 Mariah Crystal

International Admissions Advisor/Recruiter at UW Bothell
Leslie emanated light and warmth. She was an open, supportive mentor. Her example inspired me to reach for a better version of myself. Leslie came alive in Zambia, where she led students every summer. Leslie was remarkable in that she pointedly chose the life she lived; she lived with true purpose and direction, serving her students, colleagues and family. She balanced it all with grace and ease.
She was a uniquely gifted and supportive mentor, guide, coach, teacher, and was the ultimate inspiration. Leslie was remarkable, someone that you immediately wanted to befriend, someone who you aspired to be like, and who inspired you to be a better version of yourself. I loved Leslie dearly, and her loss cuts deeply. However, I have no doubt that her spirit and legacy lives on within each one of us whose lives she touched.
Matt Libby

UW Bothell '13, Student on Zambia trip
Traveling in Zambia can be quite an exercise. Road conditions can create slow drive times, especially on dirt roads covered in pot-holes and dust. From the main road back to our camp was about a half hour-drive down one of these roads, traveling under 10 miles per hour. One day I asked Leslie if she would want to walk back with me. This would give me a much-needed break from the group and some Leslie bonding time. I was so excited when she said yes.
I was in the back of the bus, and by the time I made my way to the door, Leslie was in full sprint about 50 yards ahead of me. I yelled for her to slow down but all she said was "Catch up!" Leslie pushed me physically, mentally, and intellectually to achieve my dreams and goals. Upon returning from Zambia she continued to help me become a finalist for the Fulbright Research Grant, guiding me along the writing process and writing a letter of recommendation.
Evans Graph

Ministry of Education in Mfuwe, Zambia
I knew Leslie in 2010 when she brought a group of students here in Mfuwe, Zambia. I was running a project dealing with people living with HIV/AIDS. She brought her students to me and I took them on a tour of our villages. Since then we became friends. She was so amazing, caring, understanding and a role model. She understood Zambian culture as if she was Zambian herself. We shared one common ambition of working for the underprivileged, especially youths and women. Shedding tears for her.
Olive Makukula-Mumba

Social Entrepreneur in Lusaka, Zambia
To write just a paragraph about such a GREAT person is not easy. I shared many beautiful memories with her; we laughed, ate, danced, cried and dreamed together, and how do I put all that in a paragraph?
Leslie told me that she had lived in Zambia before and always wanted to come back but logistics were a challenge. Her breakthrough came in 2009 when she read an article in The Seattle Times where I had been featured. She contacted me by email and after a year we finally met in Lusaka, Zambia. By then, we were no longer friends but sisters.
I realized she had so much love for people that whoever she came in-touch with, she had a special bond with. I remember her passion for her students–how she treated and talked about each one of them with fairness and love; the love and energy she poured in the Zambia program and how she would cry at a touching situation and always wanted/tried to find a solution to it. I remember her calmness and her infectious smile.
I was so blessed to have 'collided' with such GREATNESS! She may never have known it, BUT she was such a RARE bred of human being to have lived; she brought PEACE, HOPE and LOVE to a world of hopelessness. She has not gone alone, part of us has gone with her. May Her Sweet Soul Rest In Internal Peace, until we meet on that beautiful shore.
Farewell my friend and sister.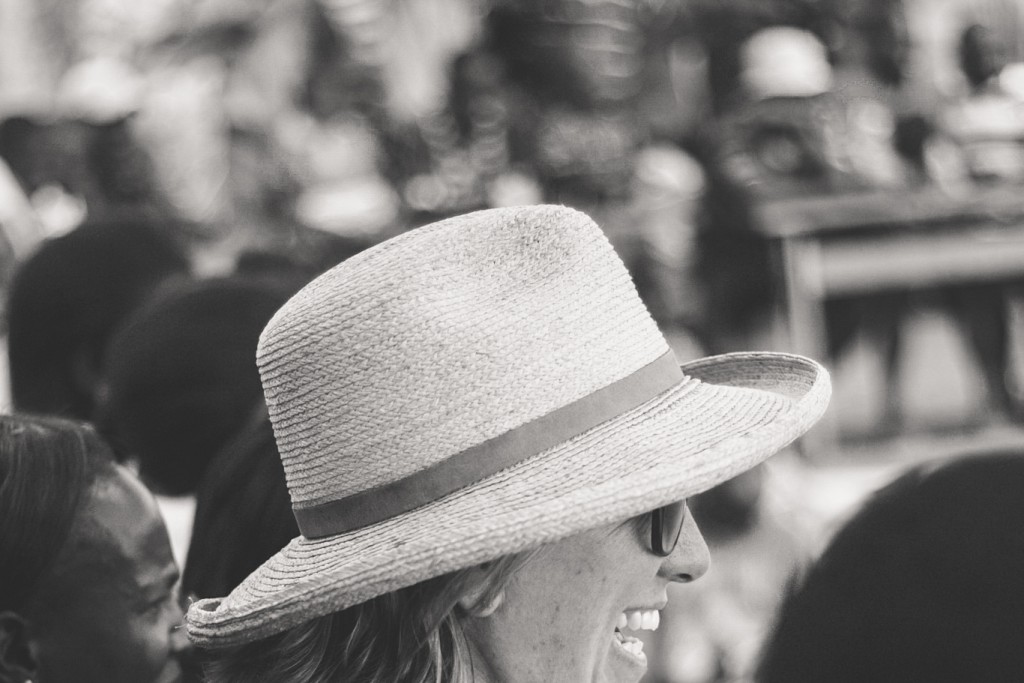 Do you have a story to tell about Leslie? Share it in the comments section below and on leslieashbaugh.com. Want to see more people like Leslie in the world? Donate to the Student Support Fund that was started in her honor. The Zambia photographs in this article were taken by Matt Libby.