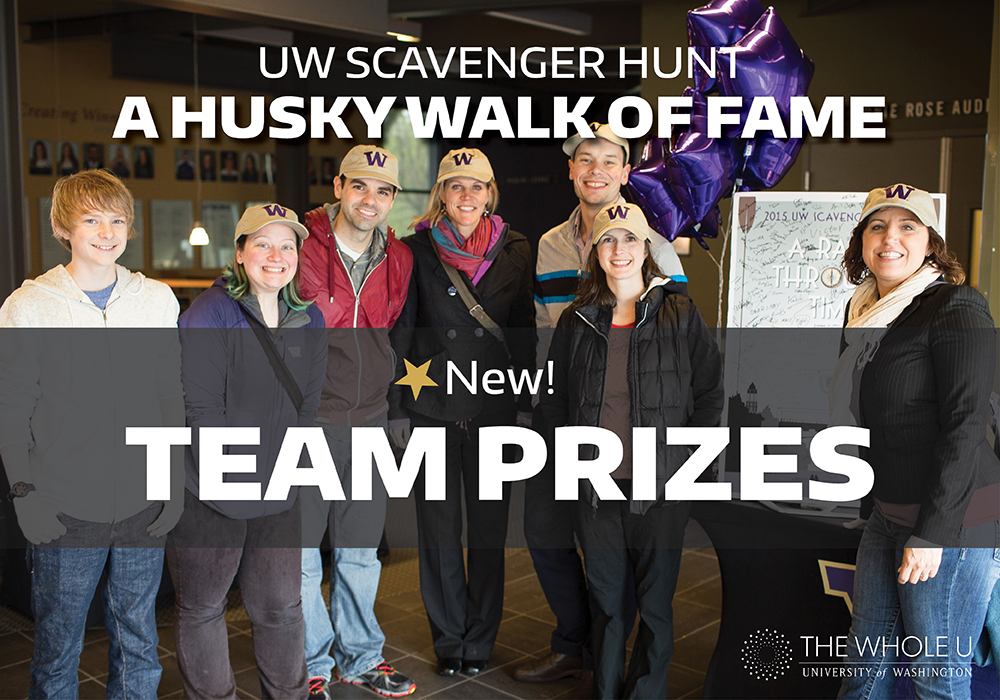 Assemble Your Team for the 3rd Annual UW Scavenger Hunt
Grab a colleague — it's time for five rounds of head-to-head Husky trivia! The winner gets a free lunch… or at least bragging rights (You can find the answers at the bottom of this article).
Which famous Husky graduated from the UW School of Law in 1935 and served as a U.S. Senator from Washington for 30 years?
This Husky famously earned over $3 million on the game show "Jeopardy."
One more TV-related question: Which UW alum stars on the CBS show "Mom"?
Now let's try one with faculty: Can you name the writer/poet/screenwriter who was an artist-in-residence in the Department of American Ethnic Studies between 2003 and 2013?
Lastly, who currently wears #0 for the UW Women's basketball team? Hint: Her brilliant play this month has propelled the Huskies to their first-ever Final Four.
This is just a tiny taste of what we have in store for next week's 3rd Annual UW Scavenger Hunt: A Husky Walk of Fame. But instead of competing against one another, you and your coworkers can team up and combine your brainpower. As you traverse campus using geocaching technology on your smartphone, you and your crew will learn about a star-studded lineup of past and present Huskies.
It's not too late to register if you haven't already. Sign up for the Friday, April 9 hunt with your colleagues (you can also go solo if you want) or do the Saturday, April 10 version with your friends or family (kids will love this!).
Register yourself and add as many guests as you want as team members. This is a great way to have fun with your colleagues as you walk or run throughout campus. Create a team, come up with a name, wear your Husky gear, and make it a race if you want!
In addition to the finish-line prize that everyone will receive, The Whole U will have special prizes for the following categories on all three campuses:
Fastest team: Time yourselves and race through campus
Biggest team: How many colleagues, friends, or family members can you get to participate together?
Best team name: How creative can you be together? Tell us your team name at the finish line
Biggest Husky fans: How much Husky spirit can you show?
If you plan on walking, the Hunt takes approximately 45 – 60 minutes to complete.
Friday, April 8
Bothell campus 11:00 a.m.-1:00 p.m.
Seattle campus 9:00 a.m.-3:00 p.m.
Tacoma 11:00 a.m.-1:00 p.m.
Saturday, April 9
Seattle campus 10 a.m.-3 p.m.
Register for either day:
UW Staff, Faculty & Student Sign-Up Page
General Public Sign-Up Page
In last year's Hunt, participants traveled back in time to learn about the 1936 UW rowing team that won a gold medal at the Berlin Olympics. Here's what some people had to say about the journey:
"We used this as a team-building exercise for our office. It was good exercise and we learned some things about the UW that we didn't know before. This is a great event! We participated last year and hope that you have this event again next year. Thanks!"
"I enjoyed the event with colleagues. It was a great bonding experience."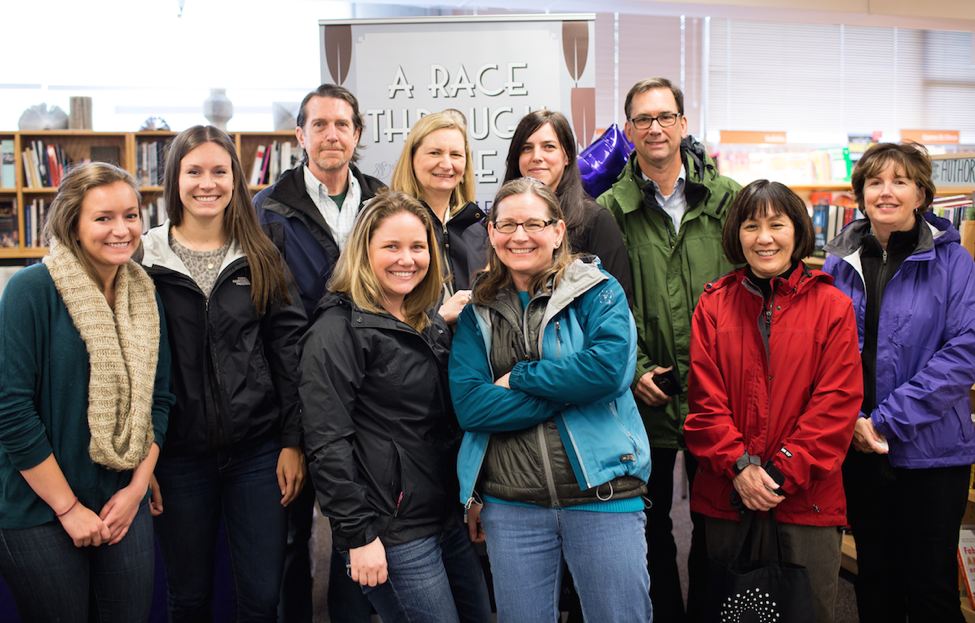 "Loved this! Great way to get outside and explore the campus with coworkers, and to get your day's exercise."
 "Both my spouse and I work at the UW and we brought kids and their friend to the Scavenger Hunt. We all had a great time experiencing the campus from a different perspective (one in which we weren't working, but having fun)"
We're ready to make this year's hunt the biggest and best one yet! See you out there!
Answer key: 1. Henry "Scoop" Jackson, 2. Who is Ken Jennings?, 3. Anna Faris, 4. Sherman Alexie, 5. Chantel Osahor