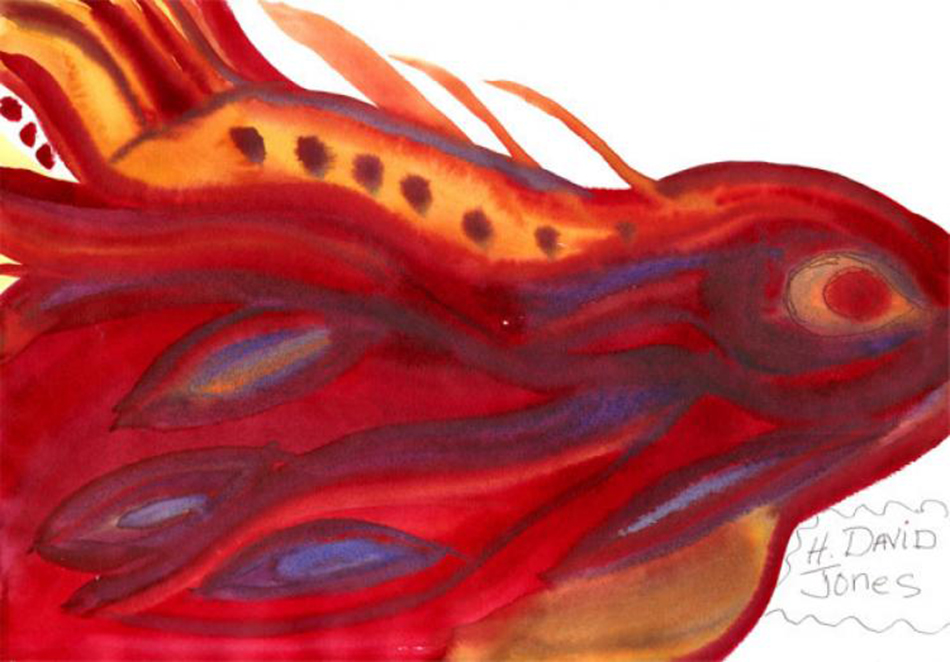 3 Powerful Art Exhibits Coming to the UW
The Art of Alzheimer's
Thursday, March 10 – Wednesday, May 25
Harborview Medical Center Cafeteria, Level B Atrium
Open 24/7
The University of Washington is a leader in Alzheimer's research, so it's only fitting that Harborview would showcase artwork by people living with Alzheimer's disease and conditions that lead to dementia. This extremely powerful exhibit is presented by the non-profit The Art of Alzheimer's with support by the UW Memory and Brain Wellness Center.
Genevieve Wanucha, science writer and communicator for the UW Memory and Brain Wellness Center, shared her reflections on her late mother's self-portrait at the exhibit's opening.
"She didn't have yellow hair or blue eyes, and she never even liked red," Genevieve said. "So, I think the only answer as to why she chose such vibrant, brilliant, and cheerful of primary colors as the palette for her self-portrait during her rather dark decline, was that that she was trying to say, in the only way she knew how, 'I'm still here.'"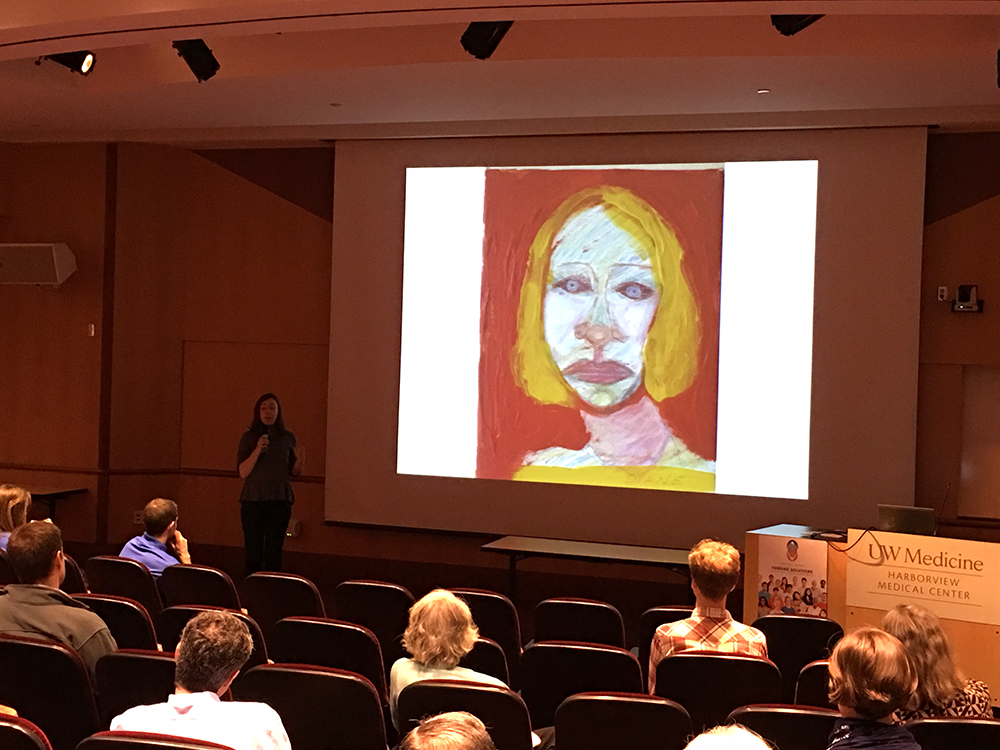 Rebecca Crichton, director of the Northwest Center for Creative Aging, shared some insight from the exhibit steering committee.
"As we look at this art, it's clear that each person found their own voice," Rebecca said. "Dementia is a scary thing, but when we reflect on this exhibit, we recognize that there is a creative essence in all of us, and maybe we don't need to be so scared."
Paul Hayes, RN, executive director of Harborview Medical Center noted the importance of hosting the exhibit.
"I'm thrilled that this exhibit will bring help bring awareness to the services at our UW Memory and Brain Wellness Center and also to the people on the journey of memory loss and dementia," Paul said. "Somebody develops symptoms of Alzheimer's disease every 67 seconds in our country, highlighting the importance of an exhibit that makes us all reflect on the experience and preserved abilities of those affected."
You can see a more in-depth review of the exhibit here. Don't miss this unique and inspiring art!
Shanghai Jewish Refugee Exhibition, 1933 to 1941
Wednesday, April 6 – Saturday, April 30
Hillel UW (4745 17th Ave. NE, Seattle, WA 98105)
Open to the public Monday-Friday, 9:00 a.m. – 4:00 p.m.
Jewish refugees attempting to flee Europe before and during World War II had limited options because of immigration restrictions. Shanghai, however, was one of the few places that didn't require a visa. From 1933-1941, it welcomed over 18,000 Jewish refugees.
In the "Designated Area for Stateless Refugees" in the historic area of Shanghai, Jewish refugees lived harmoniously with the local Chinese population, overcoming challenges together. Most of these Jewish refugees survived World War II. David Kranzler, a Holocaust historian, described it as the "Miracle of Shanghai."
This exhibit brings together photos, personal stories, and artifacts from the Shanghai Jewish Refugee Museum. The opening reception will be on Tuesday, April 5 at 5:30 p.m. There will also be lectures and documentary screenings throughout the month. I'm especially excited for the lecture by Yomi Braester, UW professor of Humanities, on Thursday, April 7 at 7 p.m. Learn more and register here.
The exhibit will be at Hillell UW for less than a month, so be sure to see it before it move on.
Four Women
Wednesday, March 9 – Saturday April 2
Jacob Lawrence Gallery
Open Tuesday-Friday, 10 a.m. – 5 p.m. Saturday 1 p.m. – 5p.m.
The third exhibit features New York-based artist Amelia Saul. Her video and photogram exhibit captures the private experiences of four women. Personal and provocative, the Jake's website notes: "The videos all feature women, whether in front of the camera or behind it. All of them are DIY-style recordings of women engaged in self-expression — talking, singing, masturbating, making videos —while also engaging with the history of earlier (male-dominated) cultural forms."
Conveniently located inside the Art Building, check it out after you see the cherry blossoms at the Quad.
Art can pull us out of the here and now, change our perspective, and provide lightening flashes of empathy. These three exhibits are sure to do just that.