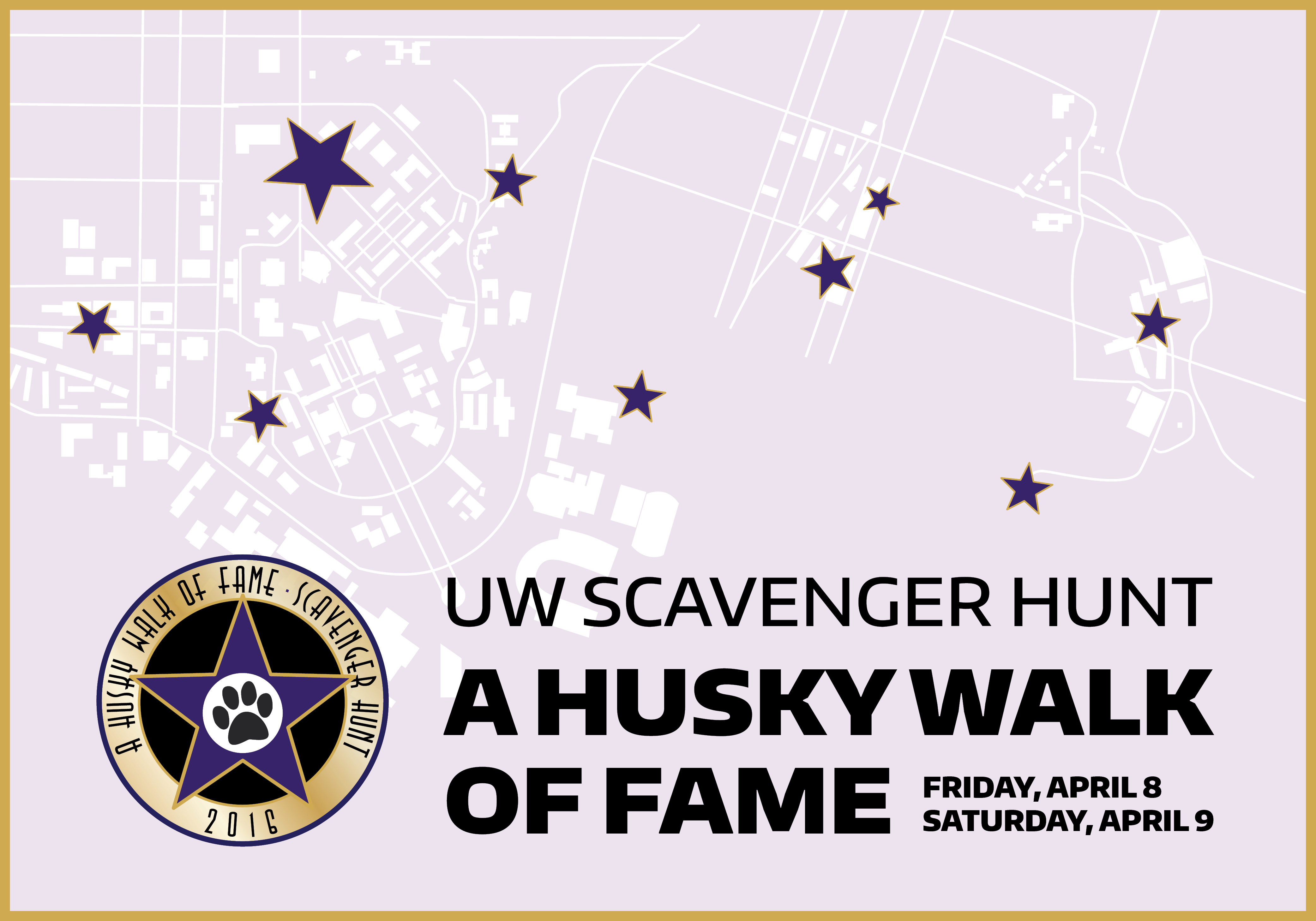 3rd Annual Whole U Scavenger Hunt: Husky Walk of Fame
Many people have passed through the hallowed halls of the University of Washington since it first opened its doors in 1861. Today, we celebrate the accomplishments of those who have done great things thanks in part to their time as Huskies. In that spirit, grab your friends and colleagues and participate in this year's Whole U Scavenger Hunt! Embark on an adventure around campus in the form of UW's very own walk of fame celebrating some of our favorite UW stars!
Friday, April 8
Bothell campus 11:00 a.m.-1:00 p.m.
Seattle campus 9:00 a.m.-3:00 p.m.
Tacoma 11:00 a.m.-1:00 p.m.
Saturday, April 9
Seattle campus 10 a.m.-3 p.m.
You can start from anywhere on campus any time during the above timeframes. Each location will highlight the stories and accomplishments of acclaimed alumni and faculty with a clue for you and your team to solve. For those hunting on the Seattle campus, arrive at the final destination between 11 a.m. and noon on Friday to meet Harry the Husky! And all campuses will give out prizes once you complete the Hunt.
Here's how the event works…
Who Can Play? You can hunt on your own, with your colleagues, or with your family. The only requirement is that you must use your UW email address in order to register. Either have everyone on your team register online OR register yourself and add guests.
How Does It Work?
On the day of the Hunt, The Whole U will send an email to everyone registered.
Create an account with GroundSpeak prior to the Hunt and access it on a smartphone to start the event.
Your Hunt starts with the location that is closest to you so you can begin the hunt anywhere on campus.
As you find each location and uncover the clues, you will receive the coordinates for the next closest location. At each new location, you will watch a short video on your phone that represents those locations. Based on the information from the clip, you will answer a question and unlock the clue.
Once you have completed all locations, the final destination will be unveiled and will be the celebration point where you will sign the banner, take photos, and earn your prize!
This year we've also added a Twitter Hunt with bonus locations and prizes. Follow along on Twitter the day of the Hunt and see if you can be one of the lucky few to solve extra clues and secure special prizes from Husky Baseball, the University Book Store, React Mobile, Husky Grind, and Evergreens Salads!
So grab your friends, family, and colleagues, put on your walking shoes, and get ready to Hunt! Register now to receive detailed instructions just before the event. As another bonus, this year the Husky Walk of Fame is part of the first ever Parent & Family Weekend, so campus is bound to be bustling with excitement. See you there!