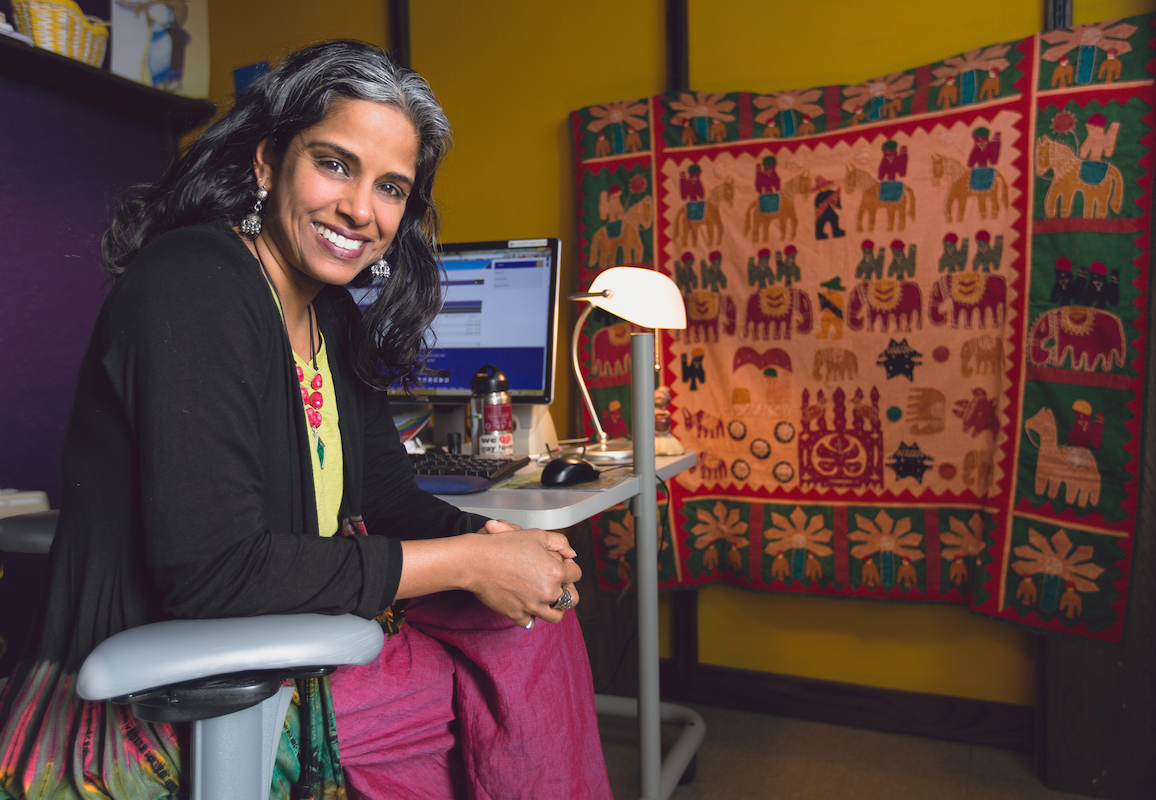 Faculty Friday: Anu Taranath
At a big university like UW Seattle, political correctness can cut both ways.
Some feel that classrooms are safer when offensive language and fringe ideas are driven out. Others think that eliminating these voices, as hurtful as they can be, restricts the learning process.
Senior Lecturer Anu Taranath says it all depends on whose stories we focus on. In her Comparative History of Ideas class Re-Thinking Diversity, students hash out these ideas of power and privilege.
"My goal is to cast as wide a net as possible," said Taranath, who has a joint appointment in CHID and the Department of English. "Do you feel odd, weird, and awkward talking about issues of race, and sexuality and gender, and power, and privilege? Do you dread what might ensue if you actually say what's on your mind? Then welcome. Let's feel odd and weird together."
Taranath said it's natural to be uncomfortable when talking about injustice and difficult social issues. Shame and guilt are widespread among her students, regardless of which side of an issue they're on.
"Can we get a bit more comfy talking about uncomfy things?" Taranath asked. "All of us are affected by injustices. All of us need to participate in the conversation to heal ourselves and our communities."
For many of these students, caring about an issue starts and ends with having a gut reaction of "That's bad." Taranath challenges them to go from "That's bad" to "Now what?" — but to do so in a positive and thoughtful way.
Students use literature as a springboard for discussing these sensitive social issues. Taranath believes fictional stories can help us "pivot," a word she uses to describe shifting your point of view, even momentarily, to see how society treats someone else.
"Fictional characters help my students deepen their empathy — to know that their lives and the way they see things might not be how everybody sees things," Taranath said. "That's a huge realization to understand that your story is just one of many."
The literature Taranath teaches with helps students unpack a range of questions: Is society working for everybody? If it's not, then who is it working for? Who is it working against? What kind of stories do we hear about the ways in which society works? Who tells these stories, and what are the politics of telling opposing stories?
"Once you start asking three or four questions, suddenly you're asking 30, 40, 80 questions," Taranath said. "And while that's pretty exciting, it can also be unsettling."
Along the way, students might feel that their world views are under attack or their identities are threatened. There's a pain that comes with rethinking what you've always taken for granted.
"Learning is always about unlearning," Taranath said. "The more questions you ask, the more you are learning, but you're also having to unlearn what you thought you knew and why."
This experience might be awkward for students from historically privileged groups, but they're not alone: Everyone unlearns from their own angle, Taranath said, so everyone in the class feels a certain level of discomfort.
"All of us are raised with narratives that work for some people and don't work for others," she said. "The more you start seeing how power and privilege work in society, the more you can pivot and start seeing your community, your family, and your world from different perspectives."
---
Taranath has a B.A. from the University of California, Riverside and an M.A. and Ph.D. from the University of California, San Diego. She's been at the UW since 2001. Find out more about her here.