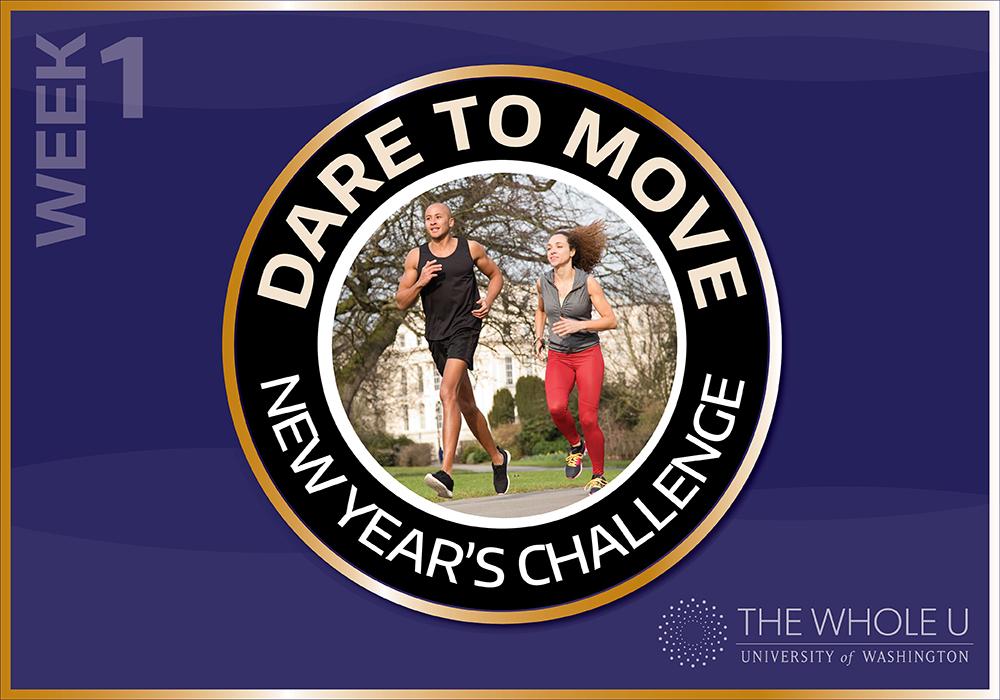 Happy New Year and welcome to week one of the Dare to Do New Year's Challenge. If you haven't already registered, sign up here. It's free and a great way to put your new year's resolutions and goals into action!
This week's focus is on moving more. Did you know it is recommended that you get in at least 30 minutes of moderate exercise five days a week, or that you should strive to be physically active between 60-90 minutes a day? According to the CDC, less than half (48%) of all adults meet the recommended amount of exercise. Inactive adults have a higher risk for early death, heart disease, stroke, type 2 diabetes, depression, and some cancers.
So pause right now and ask yourself (and answer honestly): Do you get the above activity in your day or week currently? If not, why? A few reasons come to mind:
Society has made it very easy to get through our day on our butts. We have drive-through food, pharmacy, banks, and school pick-up, and long commutes sitting on a bus or in the car.
Exercise time can be associated with feelings of guilt, whether it is seen as taking time from your work or your family.
Some jobs require being on our feet all day long, so the thought of scheduled exercise sounds awful and does not become a priority.
But if we are sedentary, our muscles start to atrophy and everyday activities become hard.
Do any of these scenarios sound familiar?
Out of breath when taking a few flights of stairs
Wake up stiff most days of the week
Moving furniture around throws out your back
Office doors are hard to open
One push-up or sit-up seems intimidating
Lifting your kids in and out of the car is hard
Bowling makes you sore the next day
If you can relate, it's time to start a regular exercise routine and begin moving more throughout your day.
Here are some helpful steps to get you to the recommended guidelines this year!
Step One: Wake Up Routine
Perform the following movements first thing in the morning every single day – (10-minute routine)
Shoulders rolls, 10 times each way
Arm circles, 10 times each way
15 push-ups (wall, modified, or regular)
15 squats
15 head, shoulders, knees, and, toes (yes, I am serious)
Step Two: Make a Plan
Take the time to create your personalized 4-week progressive exercise plan that includes daily exercise goals (start with wherever you are, even if it is 10 minutes a day, and progress 5 -10 minutes a week) and your 4-week movement plan. For those who are already avid exercisers, focus on your daily movement plan. How do you plan to move more each day? Once you complete the workout, mark a big X over the square!
A plan would look like this: (this is just an example, not a prescription)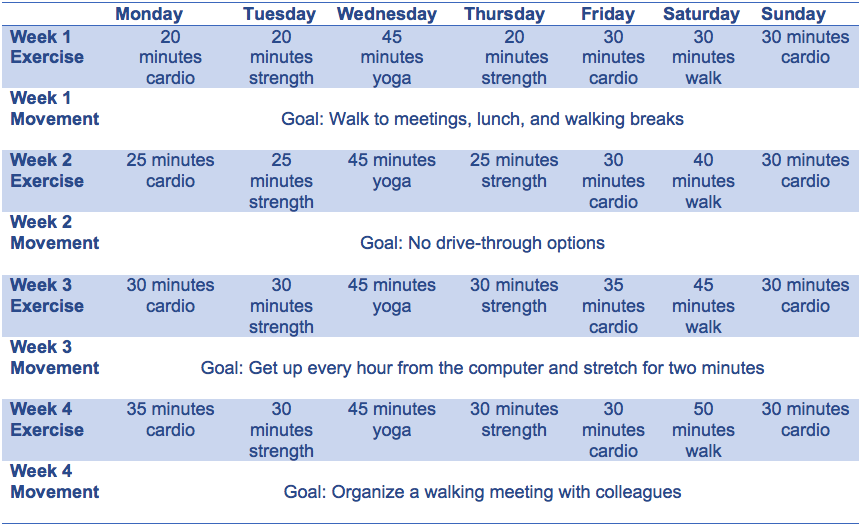 Step Three: Motivation and Accountability
What's your baseline? How fit are you? Take the time this week to perform any or all of the following fitness tests:
Warm up with five minutes of light cardio and stretching. Here are three fitness tests from the American Council on Exercise for you to see where you are and help set new fitness goals. Remember, you have to start somewhere.
Upper Body Strength: How many push-ups can you do without taking a break?
Push Up Test norms for MEN (regular push-ups)

Push Up Test norms for WOMEN (modified push-ups on knees)

Lower Body Strength: How many squats (bending to 90 degrees) can you do without taking a break?
Squat Test norms for MEN

Squat Test norms for WOMEN

Cardiovascular Fitness: How fast can you complete a mile? (walking)
Mile Test norms for MEN

Mile Test norms for WOMEN

This test should be performed every month to keep you on target towards your goal.
Apps anyone? Research says that keeping track of your exercise can improve your success rate. Check out the top 25 fitness apps in 2016 here.
Have a buddy? Find someone at work or in your neighborhood that has a similar goal. Create a plan together and meet up a few times a week or connect virtually to hold each other accountable. Also, join the private Be Active Facebook page for motivation and accountability.
Have you joined a gym or club? The Whole has a Fitness Discount Network with over 40 options to choose from. Joining a gym is a GREAT way to get focused and settle into a routine.
I am an avid marathoner racing at least two marathons a year. I love to run but every year I am reminded that running and strength training isn't enough anymore. My goal this year is to perform the wake up routine every morning as soon as I wake up (even before my first cup of coffee), to walk my kids to school at least three days a week, and to get up from my computer every hour for just two minutes and stretch.
No matter how much we are moving currently, we can always move more. Our health is our biggest wealth.
On your marks, get set, go out and move today!