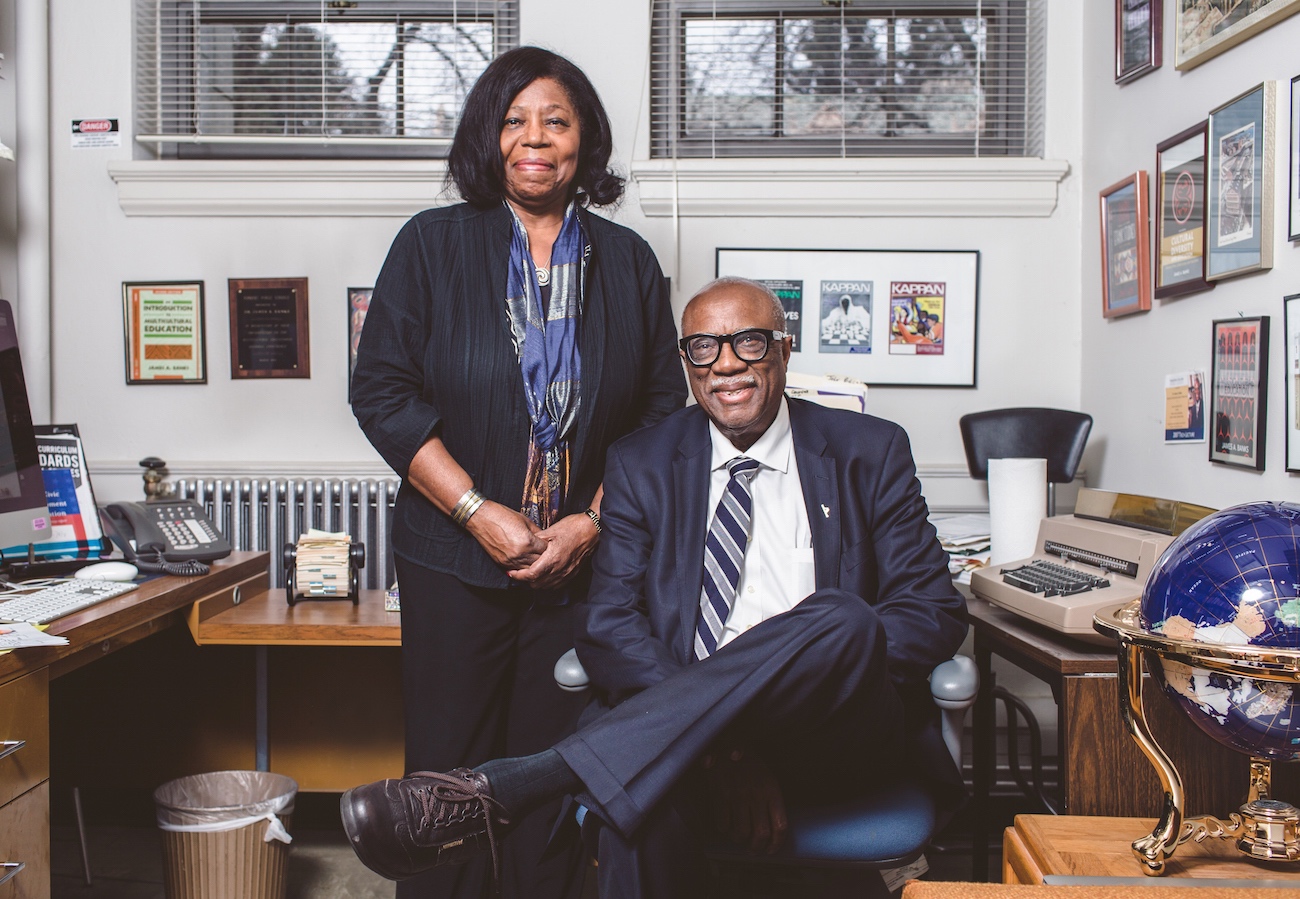 Faculty Friday: James and Cherry Banks
They met because of a book.
It was 1968, and they were students at Michigan State University. Cherry McGee was searching for a copy of the Kerner Report, a recently published government study. Her friend suggested that a fellow named James Banks might have it. After all, James had his own personal library in 242 Owen Hall. If anybody had a copy, the friend said, it would be him.
Written by a federal commission on civil disorder, the Kerner Report analyzed a series of race riots that had swept the nation in 1967. "Our nation is moving toward two societies," the commission wrote in their report, "one black, one white — separate and unequal."
Sure enough, James had it on his bookshelf. That was no coincidence: The former 5th-grade teacher had enrolled in graduate school to research the budding field of black studies. He lent the book to Cherry, a grad student hoping to cite it in a paper, then asked her on a date shortly after. Nine months later they were James and Cherry Banks.
In the half-century since, the couple has been at the forefront of multicultural education in America, co-authoring five books and dozens of articles on the subject. James founded the UW Center for Multicultural Education in 1992, while Cherry, a faculty associate at the center, helped launch UW Bothell's education program the same year.
***
They arrived in Washington in 1969, when James became the first black professor in the UW College of Education.
"Everybody of color during that era was the first," he recalled. "This was the era when predominantly white institutions began to hire a noticeable number of people of color."
For James, who grew up in the segregated South, academic research and personal experience had always been intertwined. The second-grader who walked five miles to an all-black school was now integrating higher education in the Pacific Northwest. "I was pursuing my own journey and my own dream," he said, "trying to figure out what had happened in my experience and the experience of my people."
His first book, March Toward Freedom: A History of Black Americans, fell into the field of black studies. Through the years, that field expanded to be known as ethnic studies, then to multiethnic education, and eventually to multicultural education.
James, now referred to as the Father of Multicultural Education, had a hand on the wheel at each turn, and the road wasn't always paved smoothly — or paved at all. At first, he struggled to find a publisher for his foundational 1975 book Teaching Strategies for Ethnic Studies, which is now in its 8th edition. "They didn't think there was a need or an audience," Cherry recalled.
Twenty years later, when the couple published their Handbook of Research on Multicultural Education in 1995, the field was still fragile. "That book put the knowledge base out there," Cherry said, and it defined what the underpinning research would be. By the time they released a second edition, in 2004, multicultural education had established itself in schools and universities across America.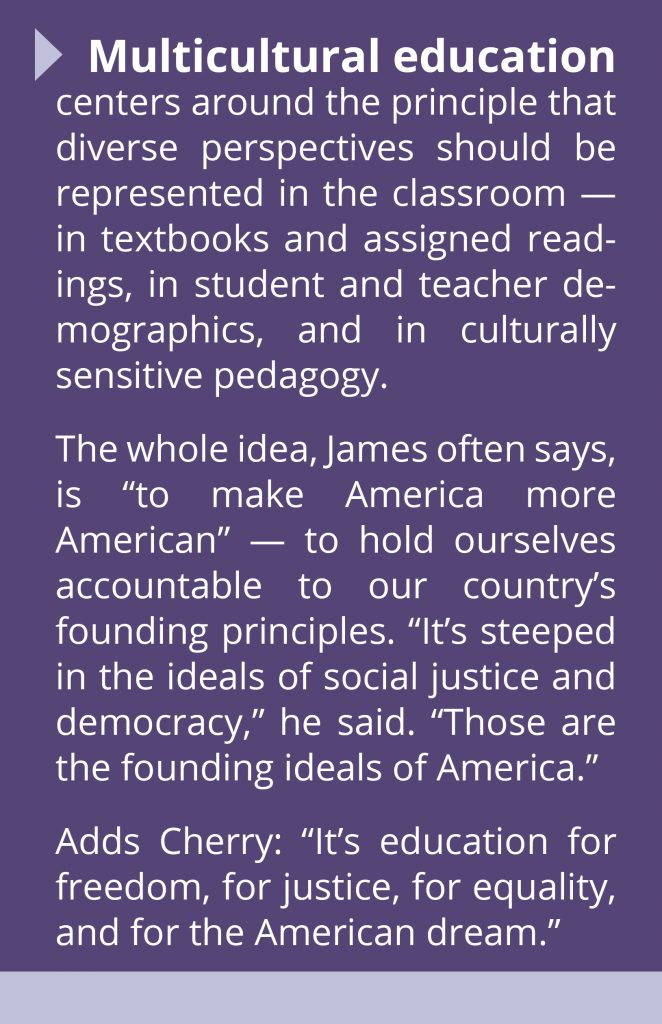 And yet, challenges endure. Some states, notably Arizona, have resisted including other cultures in their curriculum, and K-12 textbooks often neglect narratives of people of color. There also remains a stubborn resistance to the basic ideals of multiculturalism; James suggested the presidential election as one reminder of that.
"There are some candidates talking about, 'Let's get America back,'" he said. "But we can't go backward. We have to think about how we can reinvent and reconceptualize America for the future."
As the U.S. Supreme Court deliberates Fisher v. University of Texas, a case that could dismantle affirmative action in higher education, there is renewed debate over the value of diversity in the classroom.
"What unique perspective does a minority student bring to a physics class?" Chief Justice John Roberts asked during oral arguments in December. For James and Cherry, the answer is straightforward: learning alongside classmates from other backgrounds is the blueprint for a good education — regardless of the subject.
"If we don't educate students within a diverse environment, we don't help them develop the skills and knowledge and confidence they need to function in a society that's very diverse," James said. "It's really an imperative for educating citizens."
***
Cherry teaches future K-12 educators in UW Bothell's School of Educational Studies. She founded the program with two others, Jane VanGalen and Pat Phelan, in 1992. They drafted guidelines from scratch, penned new syllabi every quarter — built the plane as they flew it, they would joke.
"We were doing something very new," she said. "We took advantage of all of the things that were happening across the country, and thought about how we could put those things to work in a new program."
She was the first African-American faculty member at UW Bothell — a parallel to her husband's arrival to academia 23 years earlier. Over time, UW Bothell's faculty became more diverse, and James is now joined by other black lecturers and professors in the College of Education.
Still, the UW has room to improve with respect to diversity of both students and faculty. African Americans, who make up 8% of the Seattle population, account for only 3.5% of UW Seattle students and 1.7% of faculty members (including only 1.4% of new hires in 2015).
"When we see those kinds of statistics, it should be a statement that allows for people to step back and think about what is happening in our society," Cherry said. "Because we're clearly missing a lot of great potential out there."
James agreed: "It's not enough, and I think our president realizes that," he said of Ana Mari Cauce, who serves as a faculty member at the Center for Multicultural Education. "But it's also at the dean level, the faculty level. You need many different players to make it happen."
Cherry thinks the Bothell campus can provide insight and leadership on the issue. The smaller, more flexible learning environment has become one of the most ethnically diverse campuses in the nation.
But diversity in higher ed isn't something colleges and universities can fix by themselves. Many students of color stumble in K-12 classrooms, Cherry noted, despite research that shows high levels of enthusiasm when they enter grade school.
"Something happens as they stay in school — that enthusiasm gets tamped down," she said. "We need to look at what's happening in communities that limit opportunities for students in K-12."
Cherry exudes optimism while talking about these challenges, no matter how bleak they may seem. She credits that positivity to her grandmother, a lifelong member of the NAACP who let her ­­sit in on meetings as a child.
"I come from a background where I see possibilities where perhaps others don't," she said. "I tend to think about how far we've come — not to say we've come far enough — but I look at that journey and I think there's hope, that there's possibility for going further."
***
When asked what it's been like to conduct his life's work with his life partner, James' answer was — unsurprisingly — an academic one: He cited John Hope Franklin, a trailblazing black historian who researched, among a lifetime of other topics, married scholars who worked together.
"He found their work was enriched and deepened by the exchange and the insight," James said. "I think this reflects Cherry and I. It makes your work more potent and more powerful."
Cherry also pointed to researchers: Kenneth and Mamie Clark, the married African-American psychologists whose famous doll test illustrated the toll that segregation took on black children in the South.
"That was my image of a good marriage and a good life," Cherry said about the Clarks, whose research ended up in the Supreme Court case Brown v. Board of Education. "These two people, both committed to similar values, had been able to make a significant contribution to society through their scholarship."
---
James has an A.A. from Chicago City College, a B.E. from Chicago Teachers College (now Chicago State University), and an M.A. and Ph.D. from Michigan State University. Cherry has a B.S. from Michigan State University and an M.A. and Ph.D. from Seattle University. They've been married for 47 years.