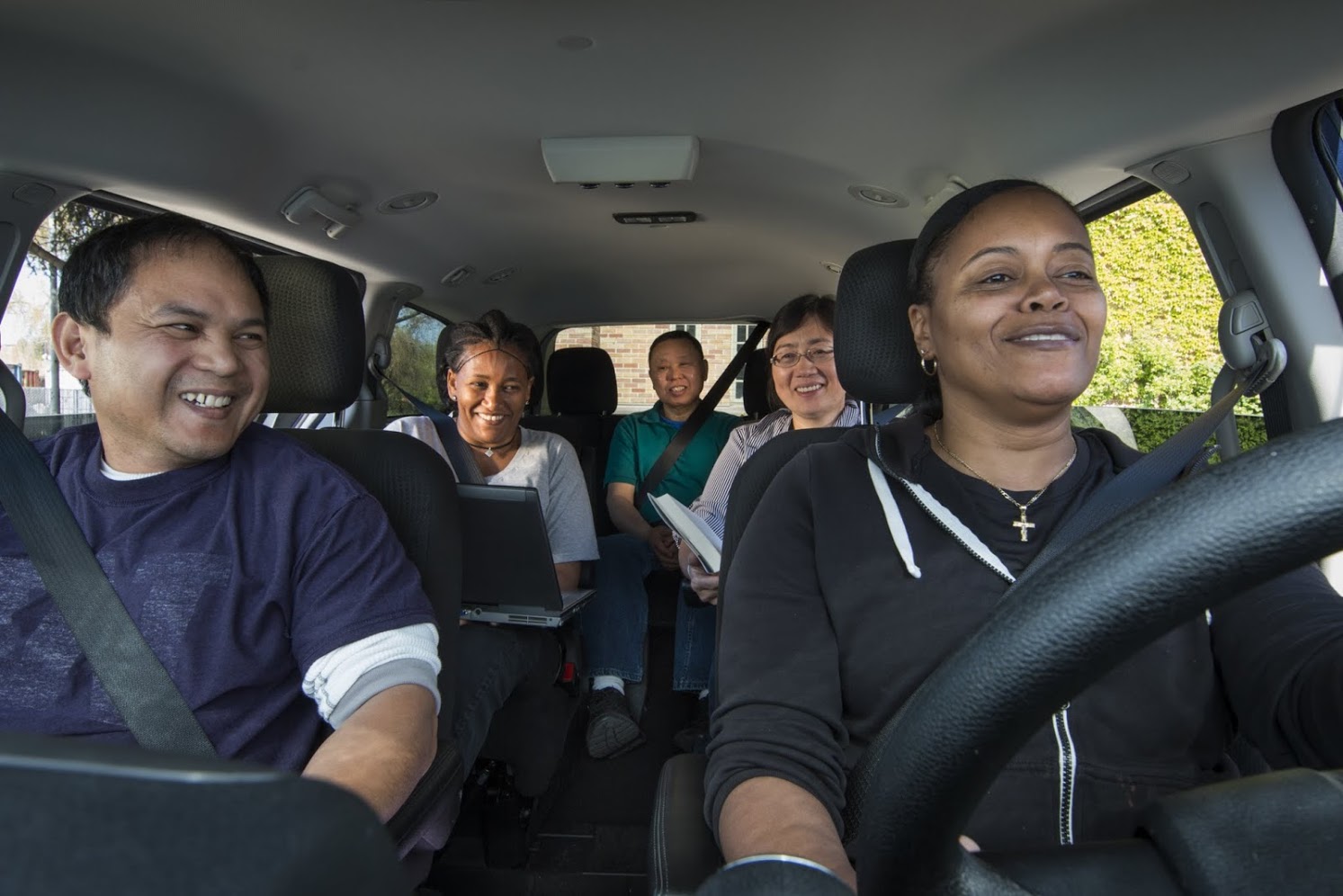 Going My Way? Let's Share the Ride!
Consider this: Approximately 59,000 people commute to UW on any given day. There's a very good chance that one of them is going your way.
UW commuters share nearly 5,000 trips to campus every day. That's about 7% of UW students, faculty and staff. These commuters have found that they can enjoy some excellent benefits when they share the ride:
Save money on gas, parking, tolls, insurance, and vehicle maintenance
Commute more efficiently with HOV lanes, priority ferry loading, and parking
Tailor a flexible commute by riding when you want to ride
Make the daily commute "your" time and use it to do what you want to do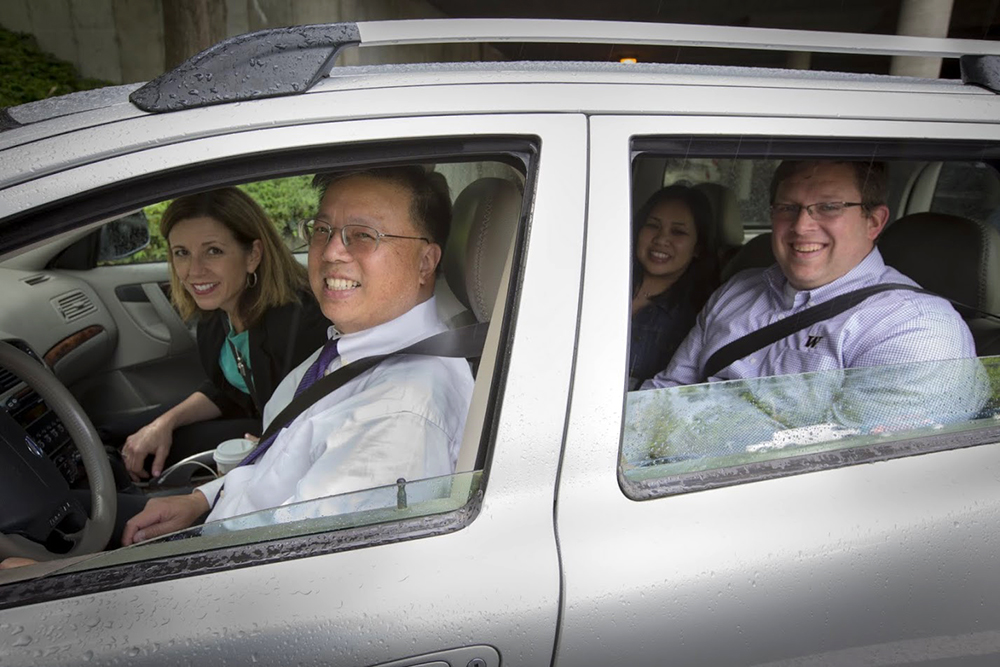 Have you ever considered sharing the ride? This February, give carpooling or vanpooling a try and experience how sharing the ride can help you create a commute that you love. Here are seven things you can try out during our Going My Way campaign:
Get inspired by reading the fascinating stories of other faculty and staff who found a great commute by sharing the ride, such as this one featuring three cities in one commute.
Check out UW's nifty Commuter Calculator to figure out how much you could save by sharing the ride.
U-PASS members, ask a friend to share the ride, then get a daily carpool parking permit at one of our gatehouses, and split the $7.50 rate (or add a third and split the discounted rate of $5).
Contact UW's own Commute Concierge for one-on-one, personalized trip planning assistance and get help starting a carpool or vanpool or finding more people to join your carpool or vanpool.
Visit RideshareOnline (the regional rideshare network) to find out how many people are already going your way. Better yet, take two minutes to start your own RideshareOnline account, and invite other commuters to join you. Commute Concierge can help you get started.
Check out Zimride (UW's private rideshare network) to find out who's looking for a partner to commute to campus or share the ride for a one-time trip like going to Portland for a weekend getaway. Even better, take two minutes to start your own Zimride account and invite other travelers to join you. Commute Concierge can help you get started.
"Test-ride" vanpooling. The transit agencies are always happy to let potential riders try vanpooling for a day or two, no questions asked, no commitment needed. Commute Concierge can help you find the right vanpool group. If you like vanpooling, post a Riders Wanted sign in your department and see if you have enough people to start a vanpool. You can also invite people via Rideshareonline and Zimride. Or if you'd like to recruit riders in your home neighborhood, consider UW's enhanced ridematch service. Commute Concierge can help with all your vanpool needs.
So, what are your options for sharing the ride to campus?
Carpool
Faculty and staff who carpool live more than one mile from campus. They typically ride with at least one other person, but sometimes with two or three to really share the savings: the average UW carpooler saves approximately $2,360 each year by splitting their commute costs! Plus, they get these other great benefits:
Three-person carpoolers can get discounted daily carpool parking permits
Splitting the cost of a carpool permit cuts the cost of parking in half, or better, compared to buying an SOV permit alone
Purchasing a quarterly/annual carpool parking permit comes with a complimentary U-PASS
Preferential carpool parking is offered in many of our most popular parking lots (and the new UW Carpool Club to increase the amount of preferential carpool parking available to Huskies who share the ride).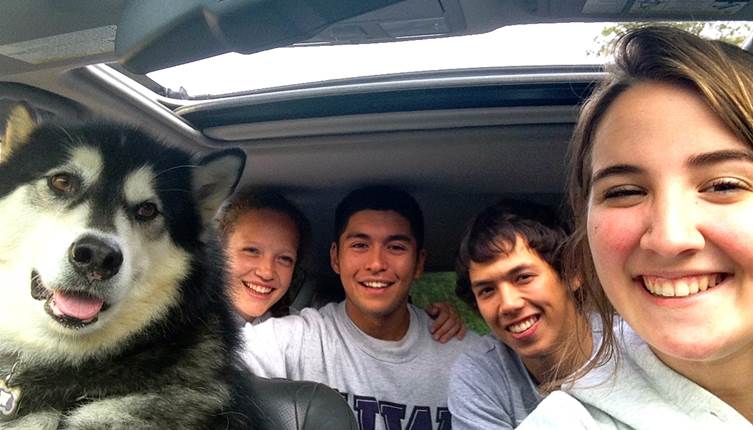 Vanpool
Vanpoolers live at least three miles away from campus, travel in groups of five to 15 people, and commute together in a van that is owned, maintained, and insured by one of the area's transit agencies. The average UW vanpooler saves a whopping $4,350 each year compared to driving alone! As part of its vanpool program, UW also:
Provides free parking on campus to vanpools
Underwrites vanpool fares up to $80 per month for U-PASS members
Offers a complimentary U-PASS to the driver and bookkeeper
Other benefits of sharing a ride
It's flexible! Huskies can share the ride just a few days per week or whenever their schedule allows… even just one-way (to or from campus). Plus, it's relaxing and fun! Many of our commuters start just to save time and money, but then keep doing it because they enjoy the company of their fellow travelers. But don't just take my word for it…
"I love that I get to start my day off chatting with my best friend on our carpool commute to campus – it's so much more relaxing than gritting my teeth through traffic." – Andrea

"I have the best carpool partner in the world… When I'm not the driver, I can kick back with my coffee and play DJ with the stereo." – Sara

"My vanpool is a prized facet of my social life… We talk about our families, play scrabble, teach each other things we'd never imagined, and make each other laugh." – Elena

"I used to drive alone, but now I vanpool because it offers me a better, shorter commute. It's quicker and easier to get from Point A to Point B with the HOV lane." – Tracy
I think Leonard Nimoy said it best: "The more we share the more we have."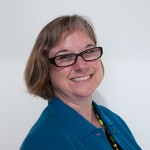 Tam Kutzmark is a shared use mobility specialist for UW Transportation Services. She lives in Fremont with her husband Cary, their son Jon Copernicus, and Bette the Cat. She enjoys exploring the Northwest, writing, reading, small space design, theater and jazz, and will go to great lengths for a really good piece of cheese.