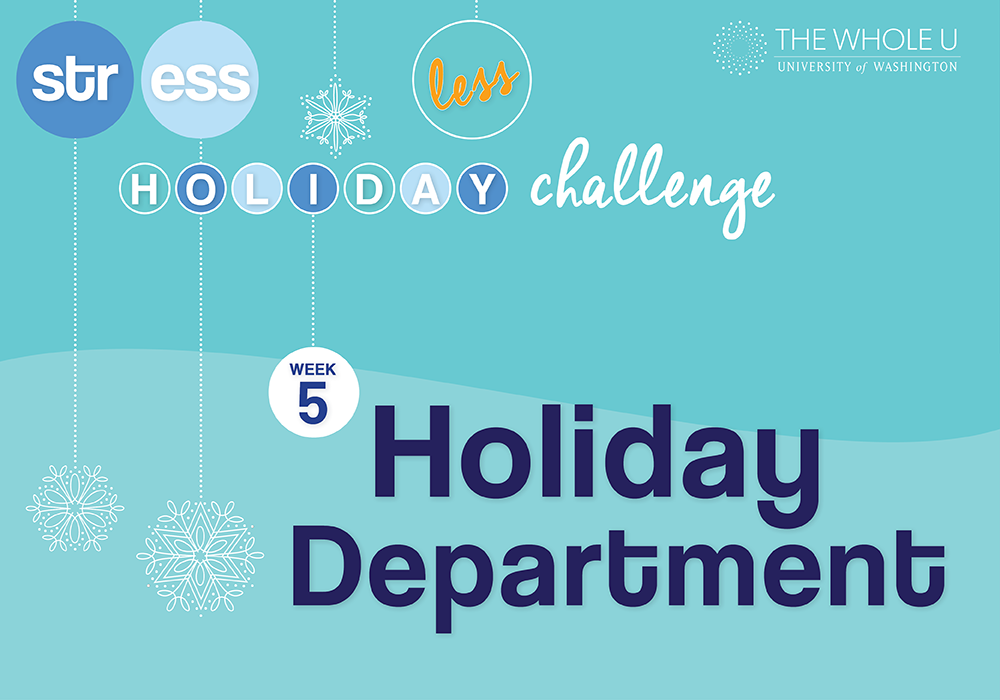 Bringing Holiday Fun to Your Department
Feeling stressed and rundown? Eat for better energy, exercise regularly, find time for relaxation…and don't forget to laugh more. In fact, laughter has been proven to be an effective method of coping with stress. According to the Mayo Clinic, laugher has many health benefits:
Laughter relaxes the whole body. A good, hearty laugh relieves physical tension and stress, leaving your muscles relaxed for up to 45 minutes afterwards.
Laughter boosts the immune system. Laughter decreases stress hormones and increases immune cells and infection-fighting antibodies, thus improving your resistance to disease.
Laughter triggers the release of endorphins, the body's natural feel-good chemicals. Endorphins promote an overall sense of well-being and can even temporarily relieve pain.
Laughter protects the heart. Laughter improves the function of blood vessels and increases blood flow, which can help protect you against a heart attack and other cardiovascular problems.
So anyone who is looking to reduce stress should make laughing a priority. What better time than the holidays to have a little fun? And how about starting at the UW?
Here are a few ideas to spark laughter at work during the holidays:
Host an Ugly Sweater Contest
Select a day for your department members to wear their favorite holiday ugly sweater. Vote on who you think has the ugliest sweater and crown a winner. This contest will surely spice up the day. Make sure to take plenty of photos!
Start a Decoration Contest
Spruce things up by having everyone decorate their desk or work area. Schedule a tour and have people vote on their favorite. Alternatively you could put together a panel of judges.
Schedule a Potluck Lunch with Games
Post a sign-up list online or in a central location so everyone bring a variety of foods to share. Make sure to include some friendly competition with games like "Name That Tune" using Christmas songs, holiday movie trivia, or Christmas Carol charades.
Schedule a Week of Secret Santa
Have anyone who wants to participate submit their names. Place the names of those involved into a hat and have each participant draw, in secret, the name of the person for whom they'll buy a gift. For an entire week everyone will leave little presents for the person they picked without letting them know it came from them. On the last day, you give a bigger present. Set a budget for an entire week — $15 is a good amount.
Finding surprises in mailboxes or on conference desks or even finding your  desk festooned with ornaments throughout a whole week will surely bring smiles to the gift recipient. Make sure you keep the Secret Santa's identity under wraps!
Schedule Fun Activities
Skip the usual holiday party this year and schedule a fun activity with your coworkers instead. Take advantage of discounts available to UW faculty and staff. A few examples? Golfing at the UW IMA Golf Driving Range, bowling at the HUB Games Bowling Alley, or a fun show at Teatro Zinzanni. Check out our discount page for more ideas!
So, have some fun, laugh a lot, and keep the stress away this December. Do you have any other ideas to incorporate more fun and play into your routine? Share them in the comments!