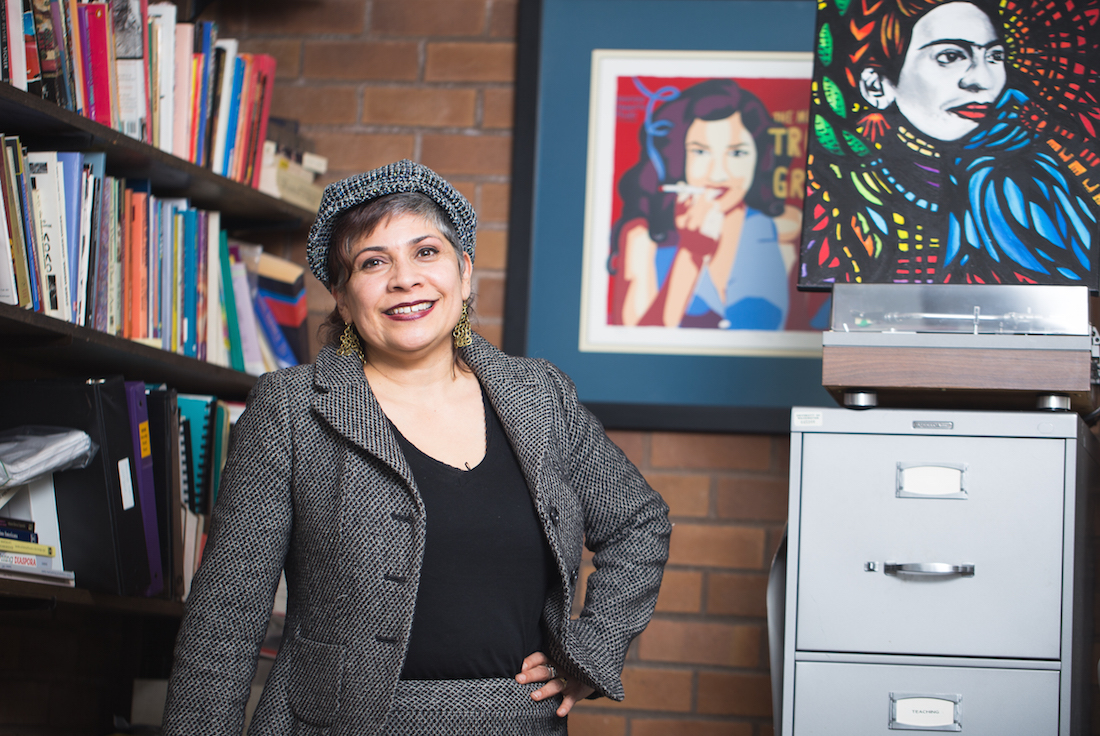 Faculty Friday: Michelle Habell-Pallán
Listen up: Women rock, and they've been rocking for a very long time.
That's what you'll learn from Michelle Habell-Pallán, an associate professor in the Department of Gender, Women & Sexuality Studies. She teaches a class about the female side of American music, from early rock 'n' roll to punk and hip hop.
The class is based on the Women Who Rock Oral History Archive, which Habell-Pallán runs with Associate Professor Sonnet Retman and the help of graduate students, including Monica De La Torre and Angelica Macklin.
"It's one of the only archives in the United States that collects the oral history of women with relation to music — whether as producers, activists, or advocates," Habell-Pallán said.
Despite their prominence in popular music today, female musicians have been largely overshadowed by their male counterparts in traditional narratives about the history of rock n' roll.
"If the histories reproduce the same male artists all the time, then there's very little room in the narrative to bring in women who have been there on the side," Habell-Pallán said.
Rolling Stone, for example, routinely excludes female musicians from its all-time lists. Women are represented in only 10 of the magazine's 100 Greatest Artist slots, and while Aretha Franklin tops the magazine's list of 100 Greatest Singers, the following 15 are all men.
Habell-Pallán hopes to even out this distorted history by exposing students to overlooked icons. The course begins with a look at Sister Rosetta Tharpe, a gospel singer and electric guitar player known as the Godmother of Rock 'n' Roll.
"She was one of the first artists to move the guitar from the sacred setting to the secular setting with huge success," Habell-Pallán said. "And she was the first to have a stadium concert — at Griffith Stadium in D.C. in 1951."
Sister Rosetta Tharpe also happened to be an African American during segregation. "When you put a black woman at the center of the rock narrative in the United States, that changes the story. What if we start with Sister Rosetta Tharpe, instead of the usual suspects?"
Students also learn about Alice Bag, a Chicana singer who paved the way for a generation of punk rockers. They meet Medusa, dubbed the Godmother of West Coast Hip Hop, who mentored young artists like Zack de la Rocha of the rap-rock band Rage Against the Machine. They see the work of Tacoma-based Jini Dellaccio, a legendary rock photographer who pioneered the field while in her 40s.
And so it goes for every major stage of music: Women have been there — interested, talented, innovative — despite an infrastructure that didn't always support them, and to some degree still doesn't.
They're not the only ones passed over by mainstream rock mythology. The genre is typically seen as a melding of white and black culture — country and western on one side, jazz and blues on the other — but Habell-Pallán says Latin rhythms were also foundational to the rock sound. What's more, Latino musicians like Ritchie Valens, of "La Bamba" fame, were innovators of the genre.
Popular music may seem undeserving of such scrutiny, but for Habell-Pallán, the medium is more than meets the ear.
"There's an archaeology in pop music. When we break it down, it tells us about the social relations in U.S. society, the histories of U.S. society," she said. "It tells us why the narratives we have about American culture are not complete."
---
Habell-Pallán has a B.A. from California State University and an M.A. and Ph.D. from the University of California. For the past five years, she and her colleagues have hosted the Women Who Rock (un)conference.