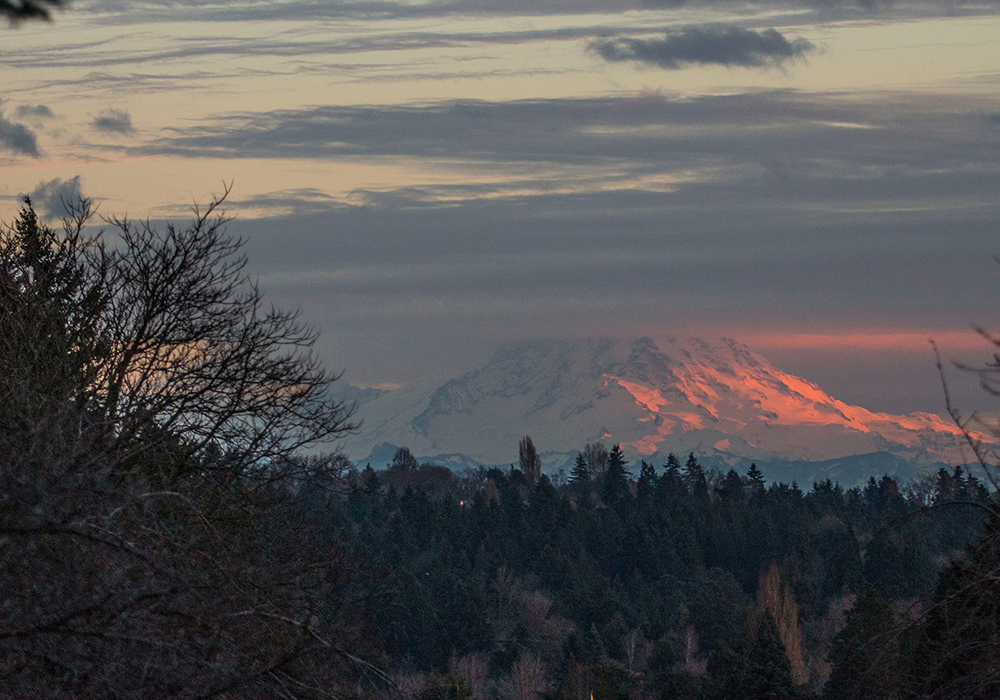 Take a Hike with Craig Romano
Just by talking with Craig Romano, the bestselling author who has written 10 hiking guides and co-written four others, you instantly want to go into the wild and take a hike. His passion for what he does shines through and leaves you ready to explore. Craig is an avid hiker, runner, paddler, and cyclist. He is the co-creator of Hikeoftheweek.com and is currently working on 100 Classic Hikes: Washington (2016), Urban Trails: Bremerton (2016), and Day Hiking Olympic Peninsula 2nd Edition (2016). He also contributes hiking, skiing, running, biking, and historical content to Visit Rainier.com.
A former UW student who wrote for The Daily, he was inspired at a very young age. He fell in love with the natural world as he grew up in rural New Hampshire. A former Boy Scout, backcountry ranger in the White Mountain National Forest, and a ski bum in Vermont, he has travelled from Alaska to Argentina, Sicily to South Korea, seeking wild and spectacular landscapes. Craig still ranks Washington State the most beautiful. I follow Craig on Facebook and his photos are absolutely breathtaking.
If you want to have the opportunity to meet Craig and learn about the best hikes in Washington, register for his upcoming seminar on Wednesday, December 9 at the HUB from noon – 1pm. Register here.
I spoke with the UW alum for more details.
What drives you?
I am a type A personality. It's in my Italian East Coast blood. I have never been one to sit around. I am highly motivated, disciplined, and I strive for perfection. It can be exhausting—but oh so exhilarating and rewarding. I love producing the absolute best, most detailed and accurate guides out there. I do this for my fellow hikers and readers—they keep me motivated. I love sharing my love of the outdoors and a healthy lifestyle with others.
What did you like most about being a student at the UW?
I loved the whole atmosphere of the University. Despite being surrounded by the city, the University was a little island with gorgeous classical architecture, and beautiful landscaping that captured the natural beauty of the region. Great professors, great events, and a great little newspaper called The Daily where I wrote a column for three years. When I look back at my time at the U, it is my time with The Daily that I remember most fondly. I made some good friends—many who went on to successful writing careers.
What inspired you to write guides? Was there an "ah ha!" moment?
No ah ha moments, but a cumulative series of events that led me down the path to guidebook writing. I have been writing since I was a teenager—had a bicycling column in my hometown newspaper in New Hampshire. And I've been hiking since I was a kid. I loved reading guidebooks and using them to get out to explore some great areas. Eventually I wanted to write my own. I pitched my first book idea to The Mountaineers Books in 2004 and the rest is history. Books number 15 and 16 will be out next year.
What keeps you wanting to explore even more?
I have an insatiable wanderlust. I bicycled around America when I was 18 years old. The next year I did it again. By the time I was 21 I had bicycled 49 states and all 10 Canadian provinces. There's no trail I don't want to hike. And I see the beauty everywhere. I've hiked in New Jersey and Mississippi. Just drop me off in a natural area. I've hiked quite a bit in Europe and South America too—and a little bit of Asia. Too many trails—I wish I had 5 lifetimes.
How else do you keep fit? What does your exercise routine look like?
I am an avid runner as well as hiker. I run or hike six days a week. I do light weight work and eat a balanced diet. Running keeps me fit for hiking and conversely. I have had decades of building up endurance so doing 20 mile hikes on a regular basis is part of my routine.
How often do you hike in a month?
I hike and run more than 2,000 miles a year. Typically May to October are my busiest months and it is not unusual for me to put in 80-100 mile weeks. November to April I spend more time in front of the computer and doing presentations. I usually try to train for a couple of marathons during this time to keep me in hiking shape come late spring.
Thanks to Craig for taking the time to speak with me! He's an expert who is knowledgeable yet inspirational, even for people who don't know how to hike yet. Don't miss it!