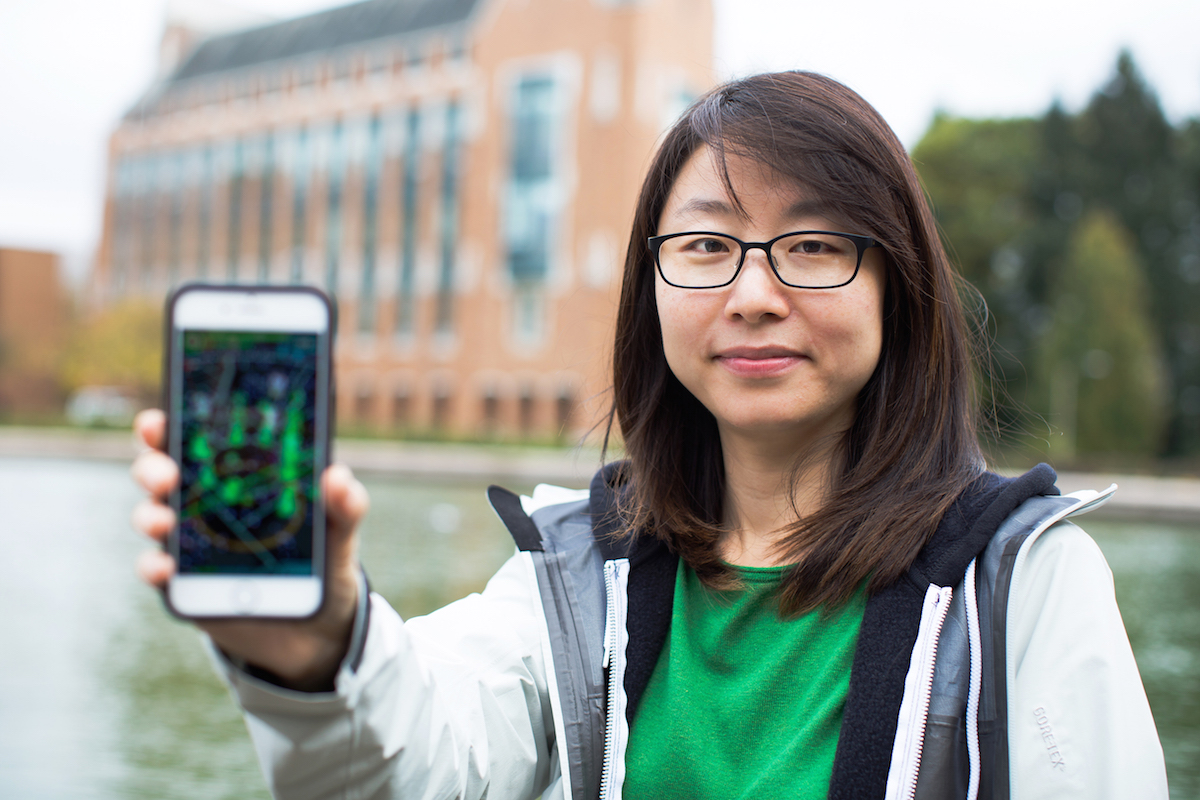 Faculty Friday: Jin Ha Lee
What if a video game could make you healthier and more outdoorsy?
Millions of people are playing one that does just that, and hundreds of them are on our campus. It's called Ingress.
"The point of this game is that it actually gets you out of where you are and makes you walk around," said Assistant Professor Jin Ha Lee, chair of the Information School's Master of Library and Information Science program. "There are places I've went that I had never been to in the six years I've worked here."
Developed at Google and played on mobile devices, Ingress is an augmented reality game. "That means it's based on the real world," Lee said. That means it's based on Google Maps.
"This is where we are," she said as she held up her phone, pointing to a dark gray box representing Mary Gates Hall. Her fingers skipped across the screen: "Here's the fountain."
All over the map, clouds of green and blue gas floated through the air. The colors symbolize two sides in a secret war. The green team, known as the Enlightenment, try to harness the power of "exotic matter" (the gasses). The blue team, the Resistance, tries to stop the green team.
On the UW campus, the blue dominates. Lee plays for the green team. "The person who introduced me to the game was on that side," she said. "And we are badly outnumbered, which makes it kind of fun."
Lee, who researches video games at the iSchool, has played Ingress with students during walking meetings and on the way to lunch. According to the game's manufacturer, Ingress players have hiked the distance between the earth and the sun.
But it's more than just logging steps. "It makes you more aware of where you are and what your community is like," Lee said.
This contradicts classic gamer stereotypes. You don't play Ingress in a living room with closed blinds and empty Mountain Dew cans. Instead of finding a week-old pizza box, Lee discovered a new park when her daughter was in a swimming class.
Got an Apple or Android device? Pick a team and become an agent. Your mission, if you choose to accept it, is simple: Explore the world around you to find more Portals. Hack them to build up your resources. Capture them for your faction.
Portals are the places where exotic matter oozes from. They're located all around campus — often near green spaces, scenic views, cool artwork, and historical sites. When you reach one, fire off a resonator to take it over. If it's already captured by the other team, destroy it. Along the way, hack and collect items.
If you're playing on the UW campus, you'll inevitably find fellow payers: just look for pedestrians with their heads buried in their phones. OK, it's not that simple. You'll need to piece it together. If you capture a portal and it gets captured back right away, chances are there's an enemy agent lurking.
Ingress isn't the first game that challenges players to move as they venture into the virtual. Since 2007, the Nintendo Wii has offered gamers a chance to swing tennis rackets, box, and do Pilates.
"Wii Fit is great and I loved playing it when it first came out," Lee said, "but sometimes it's like, 'I'm still at home.' Ingress is a different feeling of wellness. I'm out of my office and taking a walk and meeting new people."
Nintendo has since hopped into the augmented reality arena, announcing plans to release Pokémon Go, a mobile phone game that lets users capture Pokémon in the real world.
Even if you're not interested in hacking portals or bagging Pokémon, augmented reality is a way to, as your Ingress mission states, explore the world around you.
---
Lee has a B.A. from Ewha Womans University in Korea and an M.S. and Ph.D. from the University of Illinois at Urbana-Champaign.