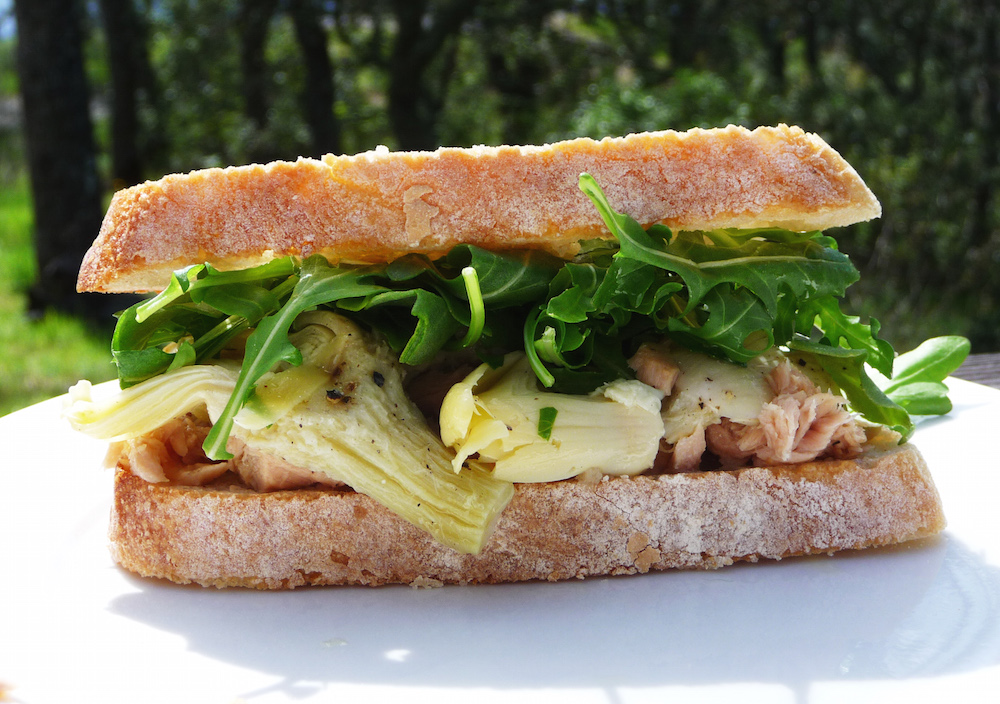 They make their appearance on many restaurant menus; they have their own TV show, and they're celebrated on their own day on November 3…I'm talking about sandwiches! This versatile, portable, and easy-to-make lunch favorite can be a balanced meal, because on top of carbs they can include proteins, veggies, dairy, and sometimes even fruit.
In honor of National Sandwich Day we've put together some fun facts and a few recipes for you to enjoy. And because today is sandwich day, we invite you bite into your favorite sandwich!
Fun Facts
Where do sandwiches get their name?
The sandwich is named after John Montagu, the 4th Earl of Sandwich. Legend has it that in 1762, during a 24-hour gambling game, he asked for meat to be served between slices of bread. This way he could eat with one hand, leaving the other free to continue the game.
What's the most popular sandwich in America?
According to menu research firm Dataessential, the most popular choice of sandwich among Americans is turkey, followed by ham. Peanut butter and jelly came in fifth. It had to be a top contender, considering that on average, we each will have eaten about 1,500 PB&Js by the time we graduate from high school!
How many sandwiches do Americans eat every day?
Americans eat more than 300 million sandwiches every day – a pretty large amount considering there are slightly more than 300 million Americans.
How much did the most expensive sandwich ever sell for?
The most expensive sandwich ever sold was a grilled toast sandwich that seemed to have an image of the Virgin Mary on it. It sold for $28,000 in 2004.
Where does the term "sub sandwich" come from?
According to the legend, during World War II, the Benedetto Capaldo's Italian deli in New London, Connecticut, got an order for 500 hero sandwiches from a local Navy submarine base.  From that day forward, the employees of the deli started referring to hero sandwiches as a "subs" and that name stuck.
Recipes
We asked our Facebook page and Eating Well group to share their favorite recipes. Here are four for you to enjoy…
Tuna and artichokes sandwich
By me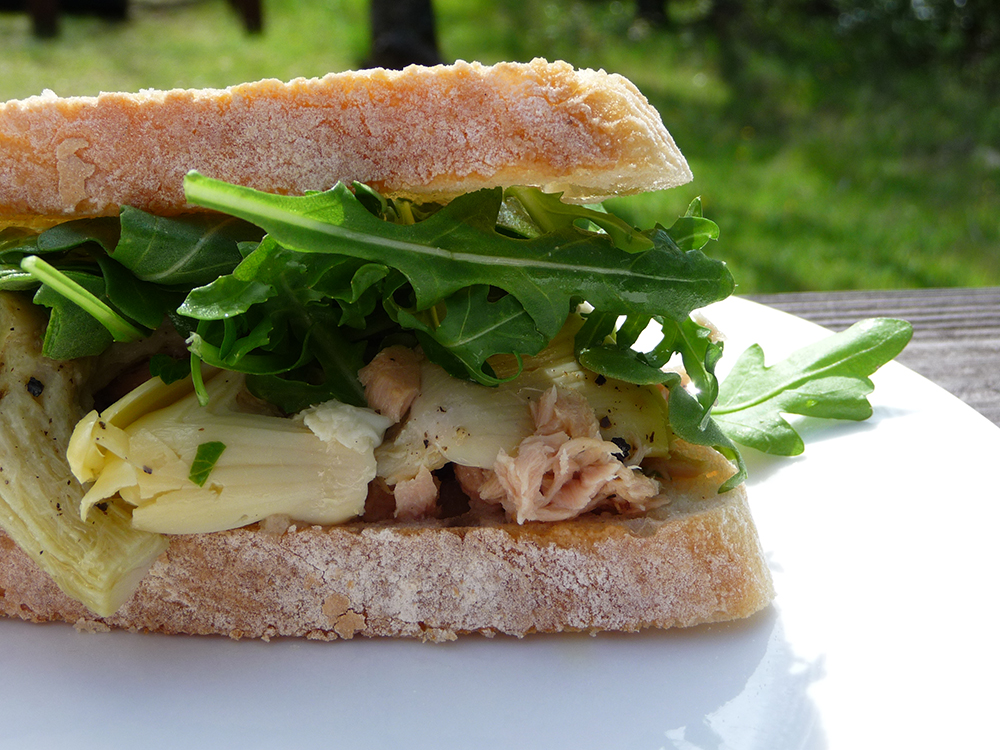 2 slices of rustic bread
2 oz. of tuna, canned in olive oil
2 oz. quartered marinated artichoke hearts
Optional – 1 handful baby arugula
Spoon tuna on 1 slice of bread. Add artichokes and arugula and add second slice of bread. Enjoy!
Spinach & Strawberry Grilled White Cheddar Sandwich With Balsamic Glaze
Recipe by Stephanie McCarthy Seo, Finance Liaison Analyst, UW Educational Outreach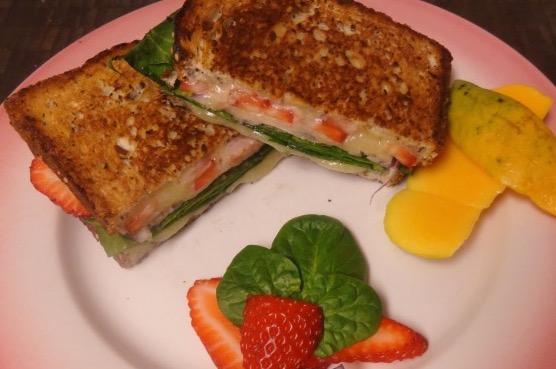 2 multi-grain or multi-seed Bread
2 strawberries, sliced
2 teaspoons almonds, sliced
2 thin slices red onion
1 handful fresh baby spinach
2 slices white Cheddar cheese
2 teaspoons butter
1 teaspoon balsamic vinegar
On a clean surface, lay bread slices and top each with a slice of cheddar cheese. Place strawberries on the cheese, sprinkle almonds on top, then sliced red onion. Finish with baby spinach and top with the other slices of cheese and bread. Heat a griddle to medium high, then brush with butter and toast until each side starts to brown. Remove sandwich, brush with butter once more and add a 1/2 tsp of balsamic vinegar to the pan. Place one side of the sandwich back on the pan, then after 5 seconds, flip and toast the other side in the balsamic glaze. 
Italian Ham Sandwich
Recipe by Executive Chef Jon Maley, UW Club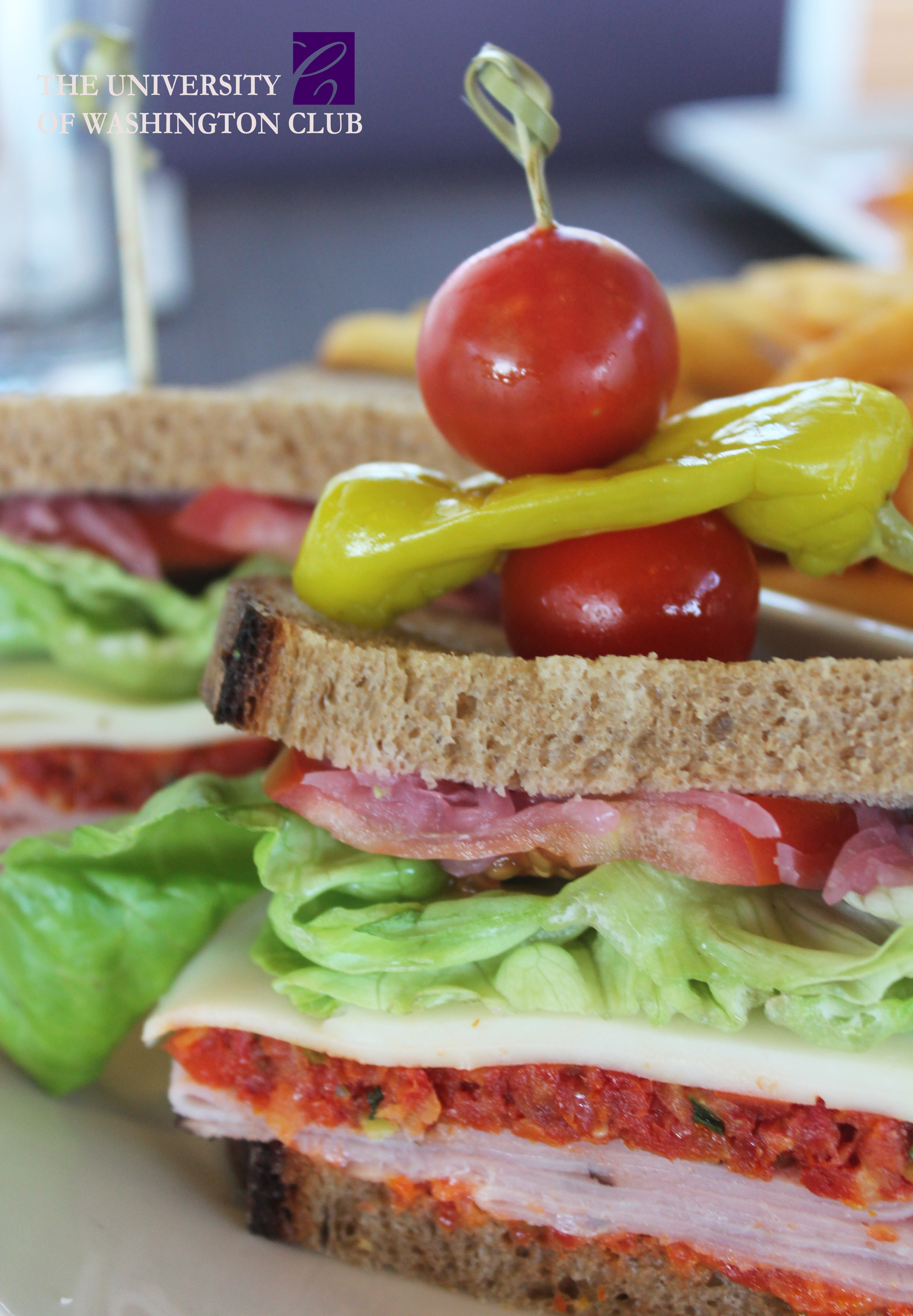 2 oz. black forest ham
1 oz. fennel salami
1 oz. provolone cheese
1 oz. prosciutto
2 leaves of butter lettuce
2 slices of tomatoes
1 oz. red onion (grilled or raw – your choice!)
1 oz. sundried tomato and pepperoncini ragout (see below for recipe)
1 oz. seasoned mayo
2 slices rustic bread of your choice
Sundried Tomato and Pepperoncini Ragout
3 ripe tomatoes
1 shallot
2 pepperoncini, diced
4 leaves basil
¼ oz. champagne vinegar
salt and pepper to taste
4 sundried tomato halves
Slice the 3 ripe tomatoes and keep two slices for the sandwich. Deseed the remainder and cut into small-diced pieces. Finely chop sundried tomato halves, dice shallot, and add to sundried tomatoes. Chop basil and add the tomato mix. Drop pepperoncini and incorporate it into the tomato mix. Season with champagne vinegar and lightly season with salt and pepper.
Build your Sandwich:
Spread seasoned mayo on both slices of bread. On one slice of bread, alternate layers of sundried tomato and pepperoncini ragout, ham, salami, cheese, salad leaves, tomatoes, and onions. Top sandwich with the remaining slice of bread and enjoy!
Summer Sammie
Recipe by Carmen Español, Assistant to the Director – Major Projects,
Capital Projects Office
rustic bread
grilled or roasted eggplant slices
provolone, or your favorite white cheese
ripe tomato, sliced
butter lettuce, washed, dried and torn into large pieces
garlic basil mayo
Thickly slice eggplant, salt and let sit for half hour then rinse and pat dry.  Brush with olive oil and salt & pepper to taste then grill or roast until cooked. Set aside. To make garlic basil mayo, finely chop some garlic and chop the basil in thin slices, add to mayonnaise and a slight squeeze of lemon, stir until combined.
Slice your bread in thick slices and grill on both sides [or toast] light to medium.  For extra flavor, cut a clove of garlic in half and rub on one side of each slice of bread after grilling/toasting. Slather mayo on each slice of bread, on the rubbed garlic side.
On one slice of bread, place your butter lettuce and tomato slices. On the other slice of bread, place your grilled eggplant and then your sliced cheese. Place it under the broiler for a few minutes, until the cheese is melted and bubbly and a little golden. Put the two halves together, slice in half and enjoy!
I can't wait to try these new recipes! What sandwich will you enjoy today?
Sources: