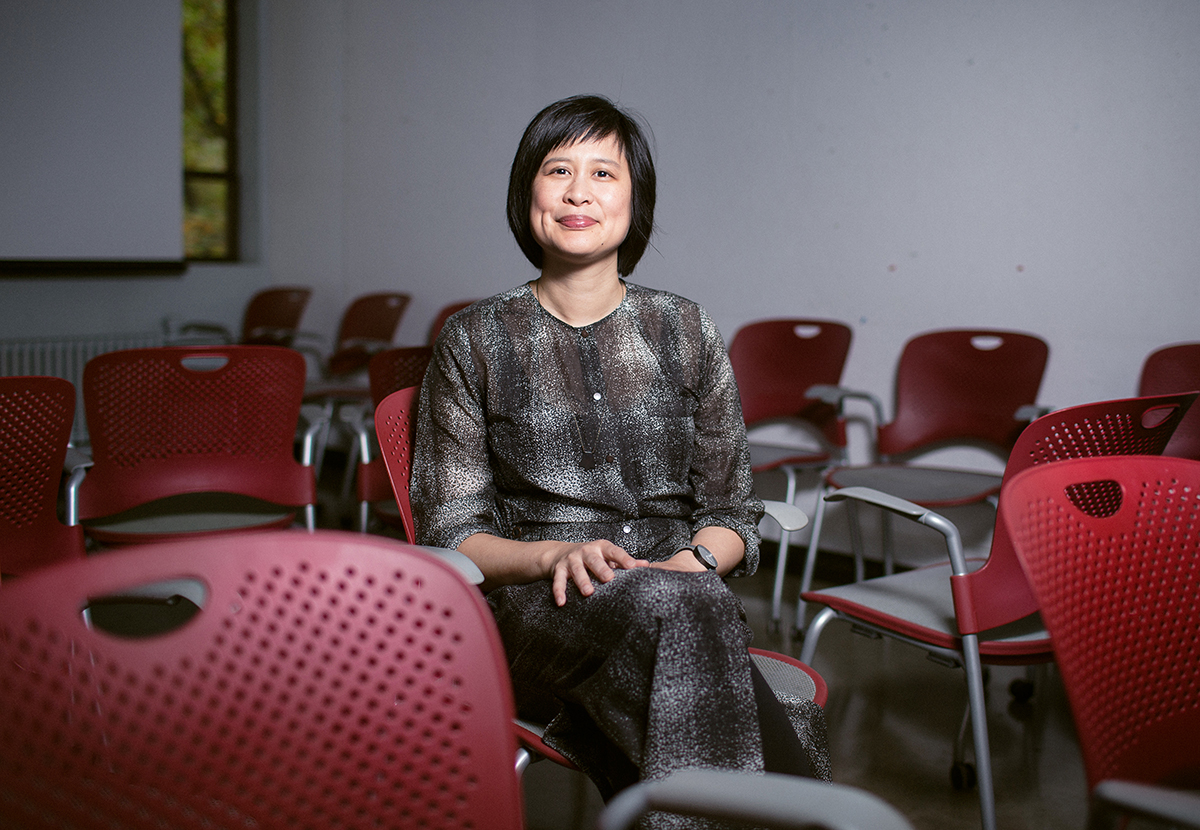 Faculty Friday: Karen Cheng
For design professor Karen Cheng, art is equal parts creativity and critical thinking.
"Mostly, I solve problems," said Cheng, who teaches in the School of Art + Art History + Design. "There's a famous designer who said he thought of himself as a doctor who needs patients — the sicker the better. I feel that way, too."
Since 2010, she's worked on UW Medicine's Code Blue forms, which are filled out when someone has a heart attack in the hospital, and she currently has a grant from the Royalty Research Fund to help people sort their garbage better on the UW campus.
"When you have trash, you just want to get rid of it," Cheng said. "We're making an interactive garbage can."
The project is a collaboration with Associate Professor Kristine Matthews, based on ideas from students in the Master of Human-Computer Interaction and Design program. "When you put something in it, it's going to give you a message like, 'If everybody recycled like you, we'd save this much money,'" Cheng said.
She also collaborates with scientists to design the graphics that go at the beginning of their papers. These figures give the reader a quick glimpse of what's to come.
"There are these halo effects: If you have a nice figure, people will think the paper will be better, that the science is more rigorous, and that the people are more intelligent," Cheng said.
She compares it to the perception that people who are more attractive are often believed to be smarter, or how products can fly off the shelves quicker if their packaging is attractive.
If you'd like Cheng's help on a project, stop by the Design Help Desk, which she runs with engineering professor Marco Rolandi. "It's like a writing center, but for design," Cheng said. The service is open to all UW students, faculty, and staff who have design questions with a project they're working on.
Case Study: Notting Hill DVD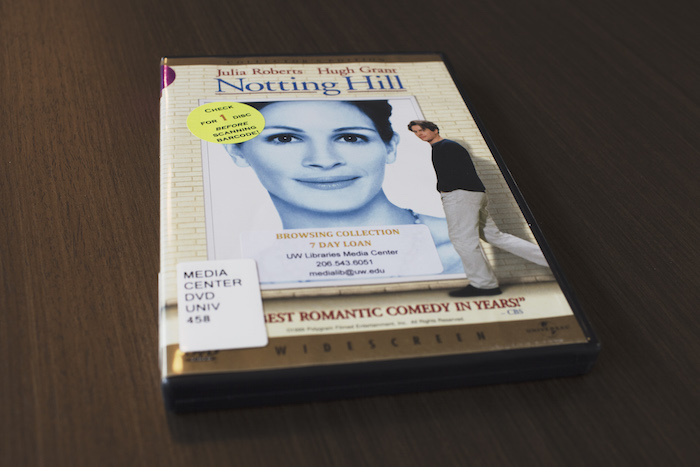 To simulate a design problem, I brought Cheng a copy of the 1999 romantic comedy Notting Hill, which I had rented from Suzzallo Library. The film stars Hugh Grant as a bookshop owner in London and Julia Roberts as an international movie star.
"Let's say I'm working on this DVD cover," I said. "How would we begin if I brought you it to you?"
The first thing, Cheng said, is that there needs to be a mutual understanding of the problem.
"What's the most important thing that the cover needs to communicate?" Cheng asked. "Is the real sell Julia Roberts? Or is what's charming about the movie that it's a romantic comedy?"
In other words: who's the audience, and what are you trying to tell them?
If I was working at the library, Cheng would ask me if this is a popular film that everyone is going to be looking for. Perhaps it will be part of a collection of romantic comedies that we put out on Fridays, or maybe a special display on Julia Roberts.
More than likely, I would come to Cheng with a specific concern, such as, "This DVD doesn't get checked out very much and I want to find out why."
Maybe it's because Julia Roberts' face is so blue, Cheng suggested. It's meant to look like she's on a movie screen, but that might not be clear to everybody who sees it. Or maybe it's the placement of the library stickers — or "violators" as Cheng called them — which could be obscuring the selling point (there are two on top of Julia Roberts).
Whatever the project may be, Cheng said her interaction with people usually unfolds in a similar way.
"They lean in to me and tell me about their problem, and I'll ask questions," she said. "Then I'll provide a response, and at that point they get a little sad and move back."
Getting critiqued can be intimidating. Don't let that scare you out of going to the Design Help Center. Cheng is unfiltered and honest, but she won't make you shed any tears. I can't say the same about Notting Hill.
---
Cheng has a B.S. from Penn State University and an M.A. from the University of Cincinnati College of Design, Art, Architecture and Planning. She designed the "Change" elevators in Paccar Hall along with Kristine Matthews (watch a video here).