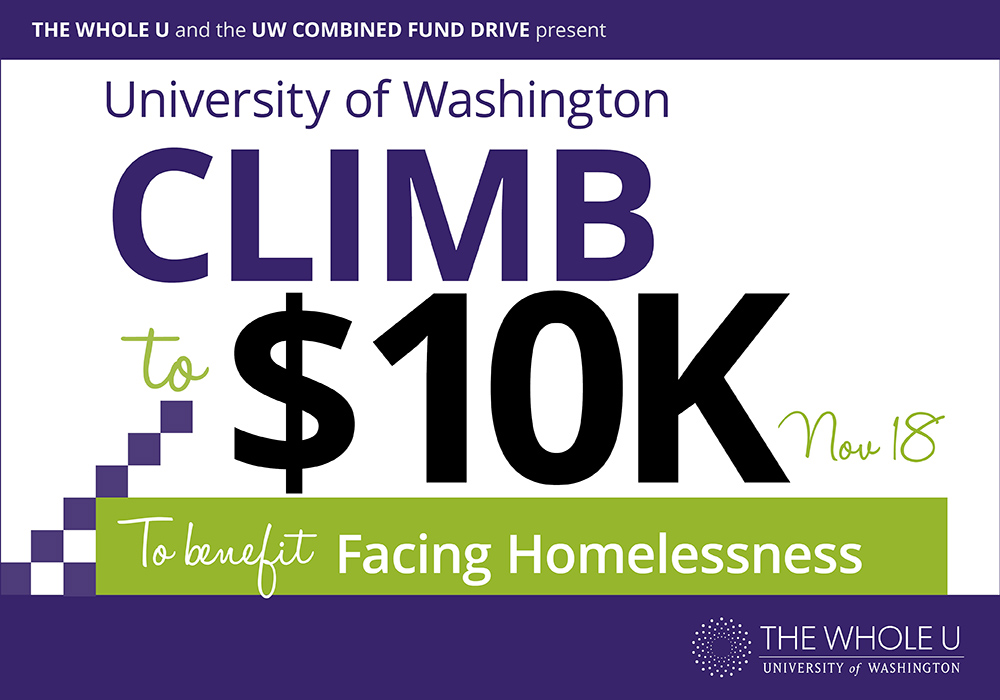 3 Campuses. 6 Locations. Climb to $10K!
When you watch Rex Hohlbein's TEDx talk, you see him speak calmly yet forcefully on his humanizing mission. You hear him tell the origin story of his nonprofit, Facing Homelessness, and you learn how he uses Facebook for the greater good.
Rex's trajectory has been from successful Seattle architect to committed advocate for those who live on the street. A community has formed around him. Kids bring in coins they've saved for months, families deliver food, and neighbors donate supplies. He introduces us to faces and stories, sets up crowdfunding for urgent needs, and mobilizes remarkable support. He takes a clear stand, and he stands on the side of compassion. At UW, we too take a stand on helping those in need.
Together we're raising $10,000 for Facing Homelessness on Wednesday November 18. We've partnered with the UW Combined Fund Drive for the UW Climb to $10K for Facing Homelessness stair climb. There will be six locations:
UW Tower
UW Bothell
UW Tacoma
South Lake Union
UW Medical Center
Harborview
All you need to do is pledge the $10 suggested donation and climb stairs. Or, simply donate. We'll make it fun, too – we'll be on the stairs giving out prizes as we climb to our goal. As you climb, you'll learn some of the stories of those less fortunate. Bring your co-workers, come solo, and register today, even if you are pledging but not climbing – all are welcome.
You'll find an added incentive on the pledge page – you can ask your friends and family to sponsor you. Think of your $10 as just a start to our community's gift to the many citizens in need in our region.
When we get past our negative stereotypes about those on the street and replace them with a generosity of spirit, the community brightens. Let's multiply our $10 with compassion and community spirit: register now and I'll see you on the steps on November 18!