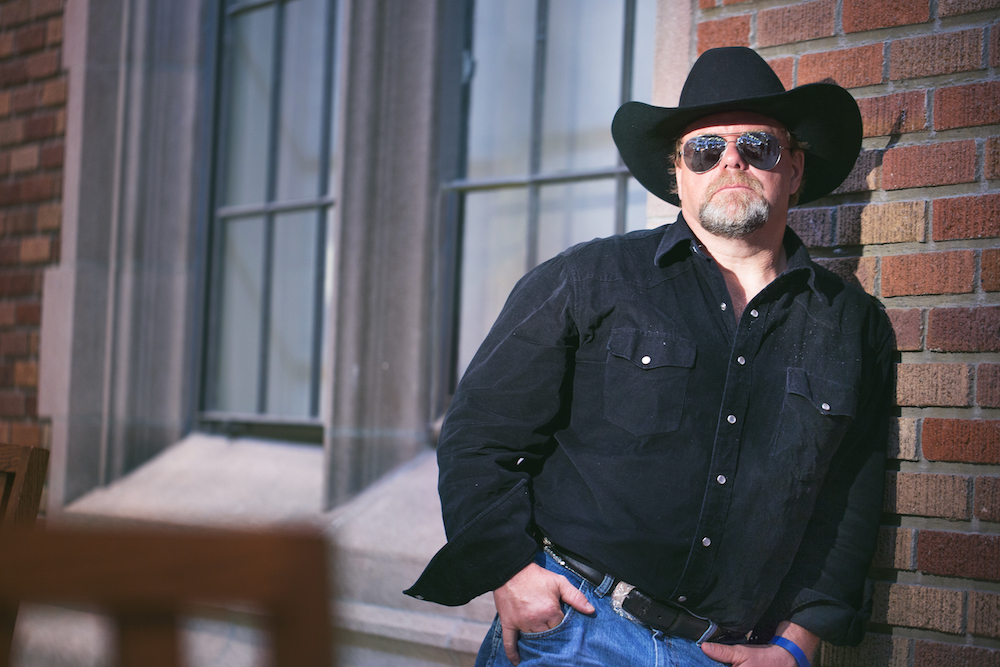 Faculty Friday: Anthony Gill
The school year doesn't start until the end of September, but class is already in session for Anthony Gill.
For the past five years, the political science professor has taught in the Early Fall Start program, which lets incoming freshmen earn five credits before their first quarter. Gill's course is called Introduction to Political Economy.
"We teach basic economic reasoning for political scientists," he said. "And we play a lot of games and have a lot of fun doing it."
As far as looks go, Gill probably isn't what new college students are expecting. Sunglasses, cowboy hat, shiny belt buckle — that ain't your typical professor garb. "My wife says it makes me look like Hank Williams, Jr.," he said.
While teaching about the invention of the cash register — which was first used in a saloon in the 1870s — he set the scene by bringing in bottles of liquor (the contents had been swapped out for a non-alcoholic stand-in). "I tell the students, 'Not all your professors will be like this.'"
For a 22-year veteran of the UW, Gill is relatively humble about his place in academia.
"I don't land rovers on the moon or cure cancer," he said. "I do something called the political economy of religion. It's using tools of economic reasoning to understand how churchgoers, church leaders, and religious institutions behave in the religious marketplace."
"Religious marketplace" might sound like an oxymoron. Marketplaces are for Starbucks, Microsoft, and Boeing — but churches?
"The basic idea behind economics is making choices under scarcity — making the most beneficial decision with the least amount of cost," Gill said. "And churches have to do this, too."
They have to decide whether donations will go to youth ministry, missionary efforts, or new infrastructure. And churchgoers have to decide how much they'll donate, and whether they'll go to church at all.
Gill's current research digs into how the government regulates land use for religious institutions.
"I'm finding that because churches pay less in taxes than an Albertsons or a Costco, government officials are more reluctant to give them permissions to use certain land, especially in high-valued areas," he said.
It's not uncommon for churches to be denied permits, Gill says, or for the permits they receive to be far from populated areas. "Just moving five miles down the road can be a hassle. We know that when there's an inch of snow on the ground in Seattle on a Sunday morning, nobody shows up to church."
That's the political economy of religion: a government can influence the decisions of a churchgoer (or a would-be churchgoer), and as a result can affect how religious the population is.
Gill explores these ideas and more in a weekly podcast called Research on Religion (it's sponsored by Baylor University, where Gill is a distinguished senior fellow). He started the show in 2010 as a way to make scholarship accessible to a wider audience.
"Sometimes, academics write articles that are interesting but that land in very esoteric journals that nobody subscribes to," Gill said. "You'd be surprised how few people subscribe to the Journal for the Scientific Study of Religion."
Oh — one more thing. "You should mention that I'm a Husky football season ticket holder," Gill said. "Long enough for one or two Rose Bowls."
---
Gill has a B.A. from Marquette University and an M.A. and Ph.D. from the University of California, Los Angeles.