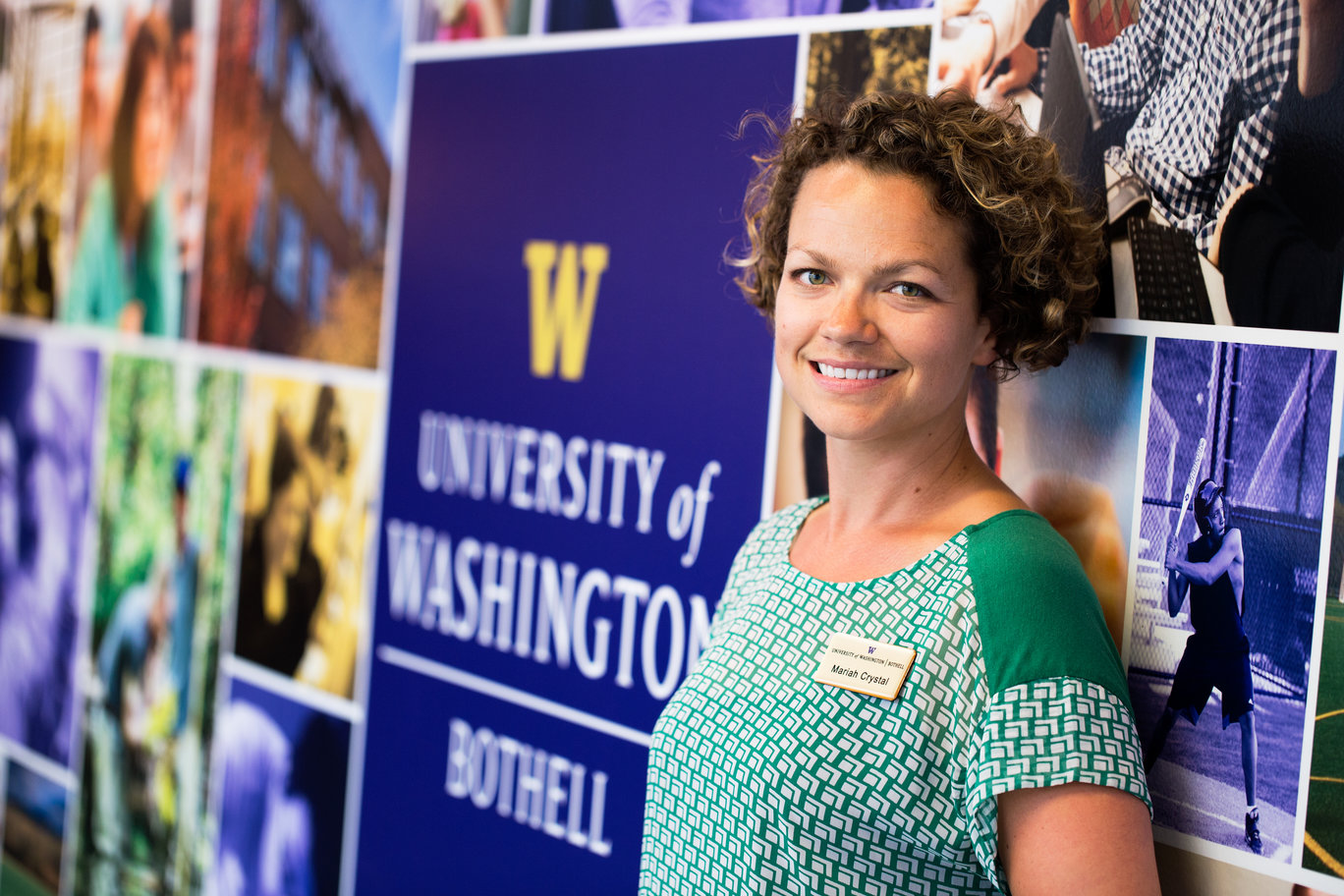 Ambassador Spotlight: Mariah Crystal
We talked with Whole U Ambassador Mariah Crystal, an international admissions advisor/recruiter at UW Bothell, about serving in the Peace Corps and why she wanted to be part of our program when she returned.
What brought you to the UW?
I began studying at the University of Washington Bothell in 2007, and graduated from the Master of Arts in Policy Studies. I loved the program and shortly thereafter I was recruited into a position in Admissions to help to build the international programs. In 2012, I left to join the Peace Corps. I came back in the fall of 2014. I've been back for about nine months.
Where did you do your Peace Corps service?
I was serving in Namibia in southern Africa. I was teaching English and basic community skills, and I did a lot of volunteer projects in the community, as well. My main projects were a women's group and also a soup kitchen and a garden project for people living with HIV and AIDs. Those were mainly led by my Namibian counterpart, because I'm very much a believer in locally led development.
You worked at UW Bothell before and after the Peace Corps. How did your service change you?
The thing with the Peace Corps is that it really changes you personally, as well as economically and professionally. Most volunteers are placed in a very resource-scarce setting. You experience up close and personal what poverty looks like. Some of my students couldn't eat, and a lot of people were affected by HIV and AIDs. But what was astounding was the resilience they showed.
I want to continue to be of service — to serve students and connect them with resources. I have a very deep appreciation for what we have at the UW and in the United States. It was such a life-changing experience, and very much something I think my studies at UW Bothell prepared me for. I came into it with a really different perspective having already studied a Master's degree and worked with a lot of different mentors at the UW.
What does a typical day look like for you?
It really varies. I'm a recruiter, so I work with prospective international students. UW Bothell is in a really unique position to grow and expand, and it's a really good home for international students. I do a lot of different marketing and recruitment events — from international student recruitment fairs, to classroom visits at community colleges and high schools, to meeting with prospective students and parents. I've always enjoyed working with international students because they bring a piece of their culture to you.
Why did you want to be an Ambassador for The Whole U?
I've always been a person who loves fitness and sports and being active, so it's kind of an intuitive match. The more of a work-life balance that you have, and the stronger your sense of self and your sense of joy in life and your sense that your employer cares about you — I think it makes people much better employees and better people.
What's your favorite way to stay active?
I really love dance. I do something called Nia, which is dance arts and martial arts and healing arts. I love Zumba and yoga. And lately I've been cycling to work.
What's your favorite healthy dish?
I'm vegetarian, so I would say a mozzarella caprese salad or a veggie burger. I grew up vegetarian, and my mom made tofu lasagna and guests have not known it was vegetarian. I think you can really make amazing vegetarian dishes that are incredible whether you're vegetarian or not. My favorite restaurant in Seattle is Cafe Flora, because they have all-natural, all-organic food and it's all vegetarian.
If you had to perform in the Ovations faculty and staff talent show, what would you do?
I think I would do spoken word or poetry or storytelling, and it would be about Namibia and the Peace Corps and my people there. With the Peace Corps you feel like you have so many stories in your heart that you want to tell, but you always have the sense that no words can do it justice.
Thank you to Mariah for serving as an Ambassador. Find your Whole U Ambassador here.