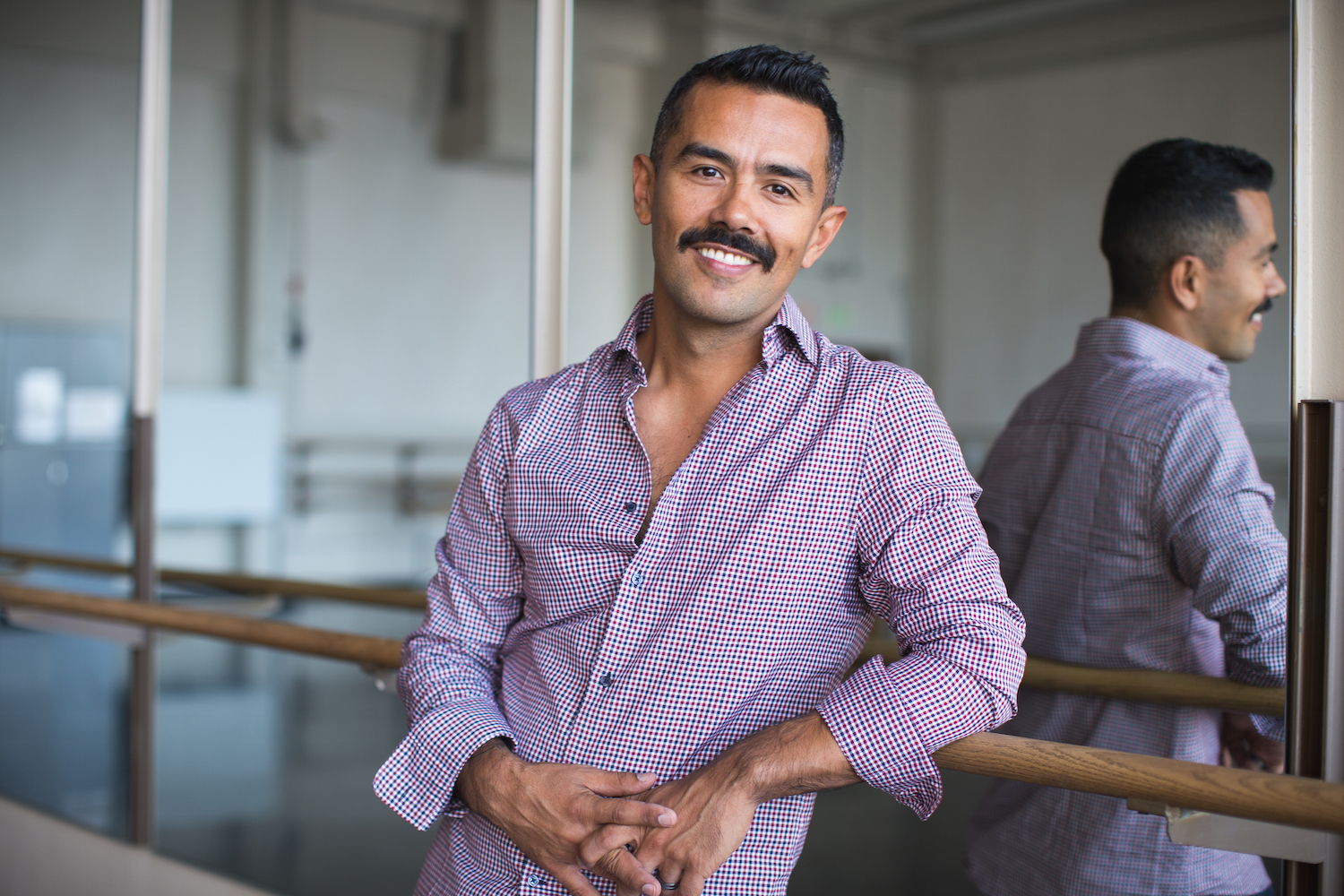 Faculty Friday: Wilson Mendieta
After two decades as a performer and five years of studying and teaching dance, Wilson Mendieta is moving into the director's chair.
This fall, the triple-threat UW lecturer will take over the Musical Theater Program, which trains undergrads to sing, dance, and act. Faculty members come from the School of Drama, School of Music, and Dance Program.
Mendieta has been a central figure in the program since its launch in 2013, teaching modern dance, ballet, jazz technique, choreography, and a capstone course.
Students learn how to excel in three individual areas of performance, and then how to tie those skills together on the stage.
"How to act and sing at the same time, how to dance and sing at the same time," Mendieta said. "It's a completely different way of utilizing your instrument."
On the stage, your instrument is your body, and a separate set of skills is required to keep that instrument properly tuned.
Then you have to get into character.
"The musical theater dancer needs to learn how to be people of all times and periods," Mendieta said. "Because of that, they're required to have an awareness of history and the specific styles that dominated specific periods."
People in the 1920s danced very differently from people in the 1990s. You have to be able to boogie both ways. And many more.
Mendieta's own history in musical theater goes back to performing in high school productions. After earning undergrad degrees in acting and dance, he worked as a concert dancer in New York City. It was rewarding work, but the actor in him wanted more.
"I was missing speech," he said. "I was using my body as an instrument — as a dancer — but very rarely was I required to speak or to open my mouth."
He moved on to musical theater, which integrated his training as an actor and a dancer. He did Broadway shows, national tours, commercials, choreography, and voiceover work.
Twenty years as a working performer in New York left Mendieta craving a career change. Friends who graduated from UW's M.F.A. in dance pitched the program to him. "I auditioned, and next thing you know I was an M.F.A. candidate here," he said.
Maintaining a career as a performer had made Mendieta into a businessman. To enhance up those skills, he took an executive leadership class from the Evans School, and he eventually earned a certificate in nonprofit management on the side.
The Musical Theater Program is imbued with Mendieta's respect for the business side of show business. Students looking to land jobs need to know more than how to act, sing, and dance. They need to learn about auditions, contracts, and unions; to develop soft business skills like collaboration, time management, and delivering a product on a deadline; and to receive honest career evaluation — such as, what kind of roles can I realistically play? — from teachers, mentors, friends, and peers.
But there's only so much that can be taught. Like everyone in college, students in the Musical Theater Program use their time in school to find out who they are as individuals. And that discovery will be their most valuable tool.
"You have to bring yourself to the product," Mendieta said. "There's going to be actors and singers and dancers who are way better than you, but nobody has your point of view."
---
Mendieta has a B.F.A. in acting and a B.A. minor in dance from Montclair State University and an M.F.A. in dance from the University of Washington. Click here to watch a video about the Musical Theater Program.