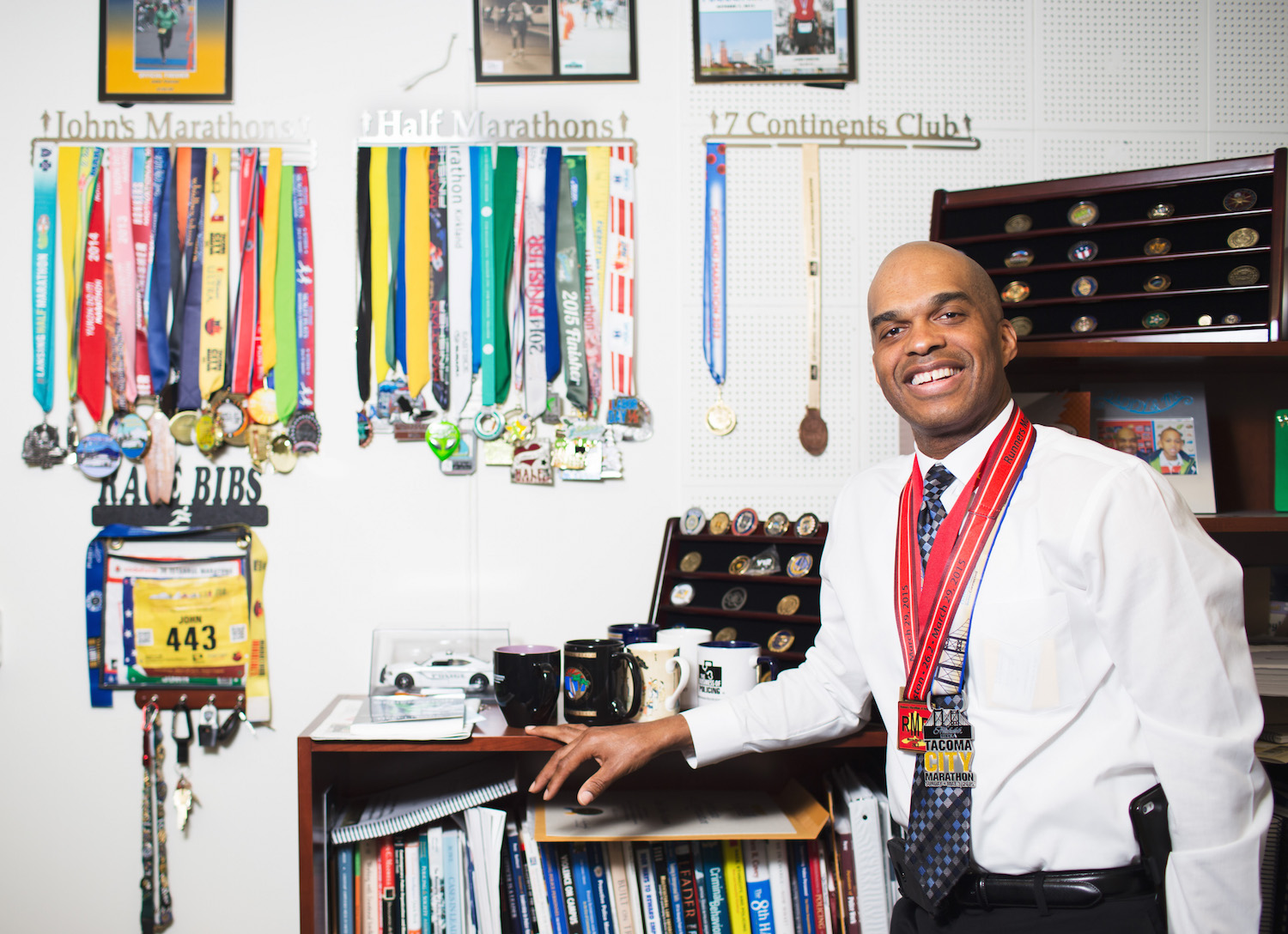 Marathon Man: UWPD Chief Hooked on Running
If you think you can outrun the law, you might want to think again.
John Vinson, the chief of the UW Police Department, finished 15 marathons last year. He's on pace to do 20 more this year.
"When I'm running on a regular basis and pushing myself beyond where I think I can go, I just feel good about life," Chief Vinson said. "It keeps me physically fit, emotionally positive, and allows me to come into work excited every day."
Swing by his office for proof. You'll find a smiling chief and a wall of fitness bling. "John's Marathons," says a metal hook overflowing with medals. Even more hang on a neighboring hook dedicated to half-marathons (he runs those, too). Then there's a third, relatively empty hook labeled "7 Continents Club." You can guess what that means.
"Last year I did two continents," he said. "This year I'll be running outside of Munich, Germany, and then going down to Sydney, Australia. The hope is to run Antarctica in 2018."
Chief Vinson wasn't always a runner. It wasn't until September of 2011 that he did his first half-marathon.
"I was feeling a little extra weight around the belly, the clothes were fitting a little tight," he said.
He did some sessions with a personal trainer and decided to give running a shot. He signed up for the You Go Girl! half-marathon in Tacoma. He didn't do too well, he says, but he finished.
"When it's your first race, it's your best," he said. "I wasn't trying to break any records, I was just trying to get out there and be healthy."
He kept at it, completing six half-marathons through the first part of 2012. That fall he ran his first full marathon in Portland.
"I crossed the finish line and was like, 'That sucked, I'll never do that again,'" he said. "But I just couldn't stop. I got to 2013 and it was on. I did five full marathons and six halves."
The next year he upped the stakes, planning to run 14 full marathons in 2014. Instead, he ran 15. Plus eight half-marathons.
"Everybody who knows me knows that once I set a goal, it's on," Chief Vinson said.
He's exceeding his own expectations again this year. He set a goal for 15 full marathons in 2015, but he's already got 18 on his calendar.
"I'm trying to go for 20," he said, noting that he'd run two marathons in the past two weekends and was scheduled for a third the upcoming Saturday.
He now runs marathons so regularly that he no longer needs to practice. When he travels for business, he looks to see if there are any races near the hotel he's staying at. "Inevitably, there's always a marathon," he said.
Attending a conference in Beijing, for example, allowed him to run a marathon along the top of the Great Wall of China in 2014. He ran another one in Istanbul, Turkey.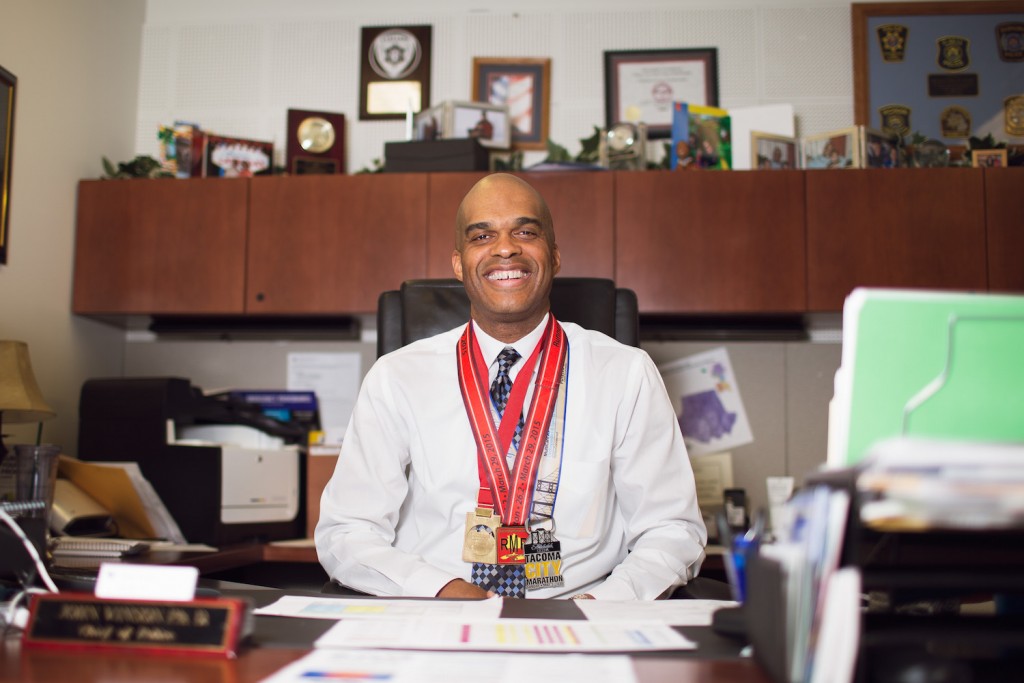 There's one big irony to all of this.
"I have to be honest, I don't like running," Chief Vinson said. "It's so time-consuming. But I tell you, once you get on the course and you're talking to people, and you have people cheering you on, you're like, 'I can do this.'"
It's become his stress reliever. He says it unleashes the chains on his mind.
"It allows me to always keep things in a positive perspective. It allows me not to let the small things get to me," he said. "In this line of work, if you don't focus on the positive, it will eat you alive."
Before coming to UWPD, Chief Vinson worked for city and county police units. He also spent eight years in the police department at Central Michigan University, earning both a master's and a Ph.D. in public administration along the way.
Originally from the Detroit area, he has 13 siblings, including an older brother who was a cop for 21 years. But that's not why he got into policing. He says it had more to do with witnessing some bad behavior from local officers when he was growing up.
"I can remember the day. I was 16 years old and I was standing by the side of the road," Chief Vinson recalled. "I said, 'You know what? I'm gonna become a police officer. And more importantly, I'm gonna go all the way to the top. Because it's clear to me that there is a system out here that can only be changed if you're on the inside.'"
His aspirations have remained the same since then: build positive relationships with the community, support the good officers, and work to improve the officers who aren't treating people well. The bottom line, he says, is that "we are here to serve the community."
Perhaps it's that commitment to the idea of community that keeps Vinson coming back to running. He says the atmosphere of a marathon is overwhelmingly positive: the people are friendly, and it's not competitive for the most part. He mentioned seeing an 80-year-old man who walked the entire 26.2 miles of a recent race. That meant getting there two hours early and staying two hours late.
"Guess what? I've seen him at six or seven other marathons," Chief Vinson said. "Running is for everybody. It's not about if, it's when."