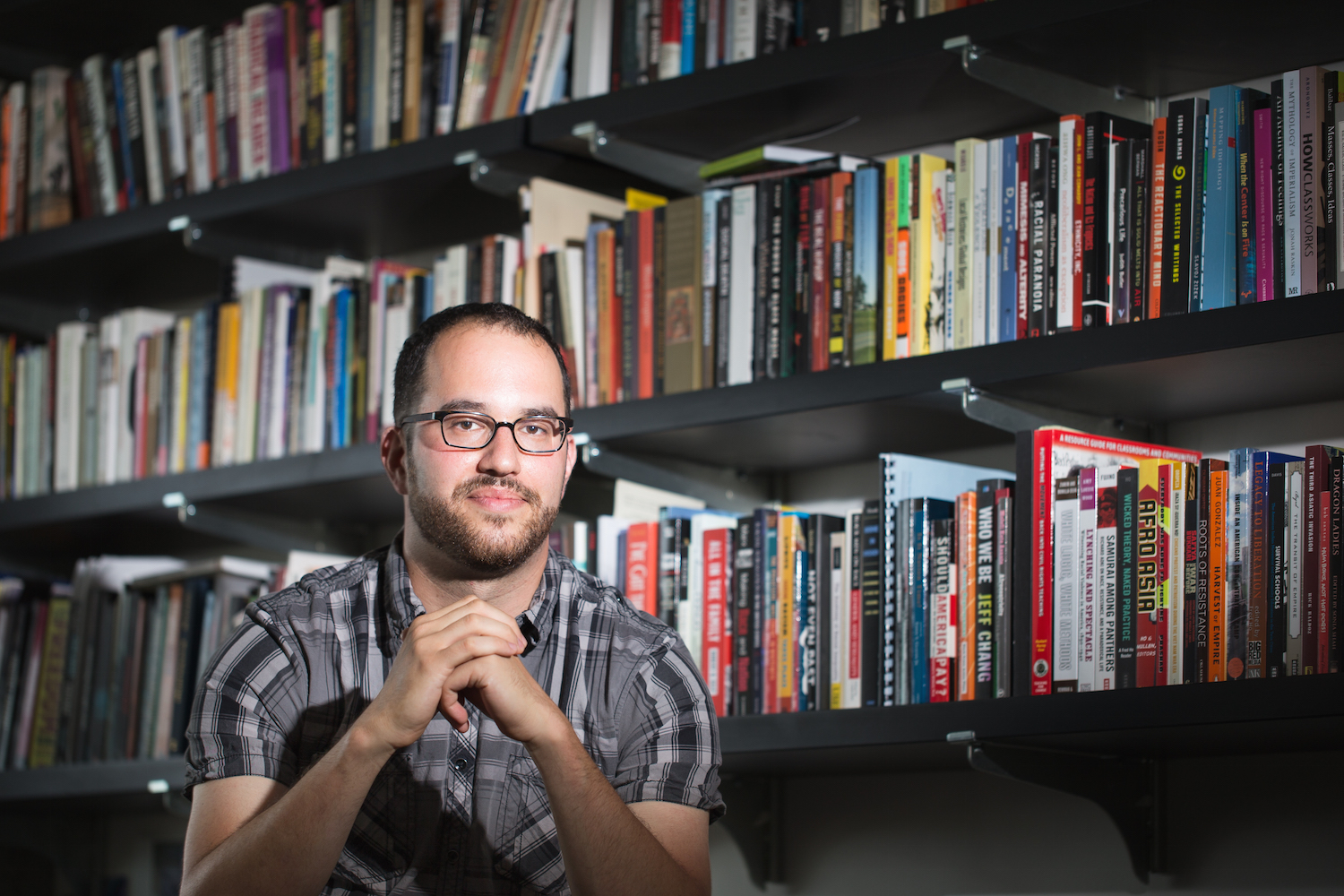 Faculty Friday: Dan Berger
Cell phones and dashboard cameras capture shootings and chokeholds.
Jumbled storylines lead to suspensions and resignations.
Protestors clash with police.
The world watches.
But what about all the people who get quietly handcuffed, charged with a crime, and sent away to prison? How do their conditions fit into a larger movement like Black Lives Matter?
"The shocking deaths we've seen on camera are matched by the slow death that we see in prison," said Dan Berger, an assistant professor in UW Bothell's School of Interdisciplinary Arts and Sciences. "You can kill someone quickly with a gun, or you can kill them slowly with a life sentence."
In both cases, Berger said, it's the same communities that are subject to violence. America's prisons housed about 200,000 people in 1970, a majority of whom were white. Today, after forty years of mass incarceration, the prison population has climbed to 2.3 million, and nearly 60 percent of people behind bars are black or Latino.
Berger, a fourth-year professor, turned his dissertation into the 2014 book Captive Nation: Black Prison Organizing in the Civil Rights Era, which explores how people in prison were involved in the Civil Rights and Black Power movements. He says today's prisoners are also political actors.
"Even when people are disenfranchised, they still have ideas about the world," he said. "They're still subject to political decisions that get made. They still have a voice and are working collectively to exercise that voice."
What makes a prisoner political? First, they organize. At the Monroe Correctional Complex, for example, inmates have formed groups like the Concerned Lifer's Organization and the Black Prisoners' Caucus. They lobby the legislature to reform the sentencing process, to bring back parole (which the state abandoned in 1984), and to expand access to education.
"People who are incarcerated come almost exclusively from communities that were underserved by educational and other institutions prior to their incarceration," Berger said.
The nonprofit University Beyond Bars helps Monroe's prisoners earn college credits and degrees. It was the first program to offer classes at the prison after the state legislature banned all public funds from going to inmate education (a similar ban exists for federal money, but in July the Obama administration announced plans to bypass it and fund inmate education). Another program, The Freedom Education Project, offers classes at the women's prison in Purdy.
Then there are forms of protest. Immigrant detainees at the Northwest Detention Center in Tacoma participated in three hunger strikes in 2014. They wanted healthier food and to be paid more than $1 an hour for working.
And that's just on the inside. Former prisoners often remain active in the movement, and family members of prisoners often advocate on their behalf.
They've been gaining allies lately. The soaring costs and racial disparity of mass incarceration have people on both sides of the political aisle rethinking America's prison system.
"Just as the buildup of mass incarceration was a bipartisan affair, now the concern over mass incarceration seems to be bipartisan," Berger said.
Time will tell whether exposure to police brutality will make people question what goes on behind the closed doors of correctional facilities. Berger sees them as intertwined.
"We have the spectacle, and we have the invisible. They're linked," he said. "They both merit our attention and concern."
---
Berger has a B.A. and B.S. from the University of Florida and a Ph.D. from the University of Pennsylvania. Captive Nation won the 2015 James A. Rawley Prize by the Organization of American Historians, deeming it the year's best book about race relations in the U.S.