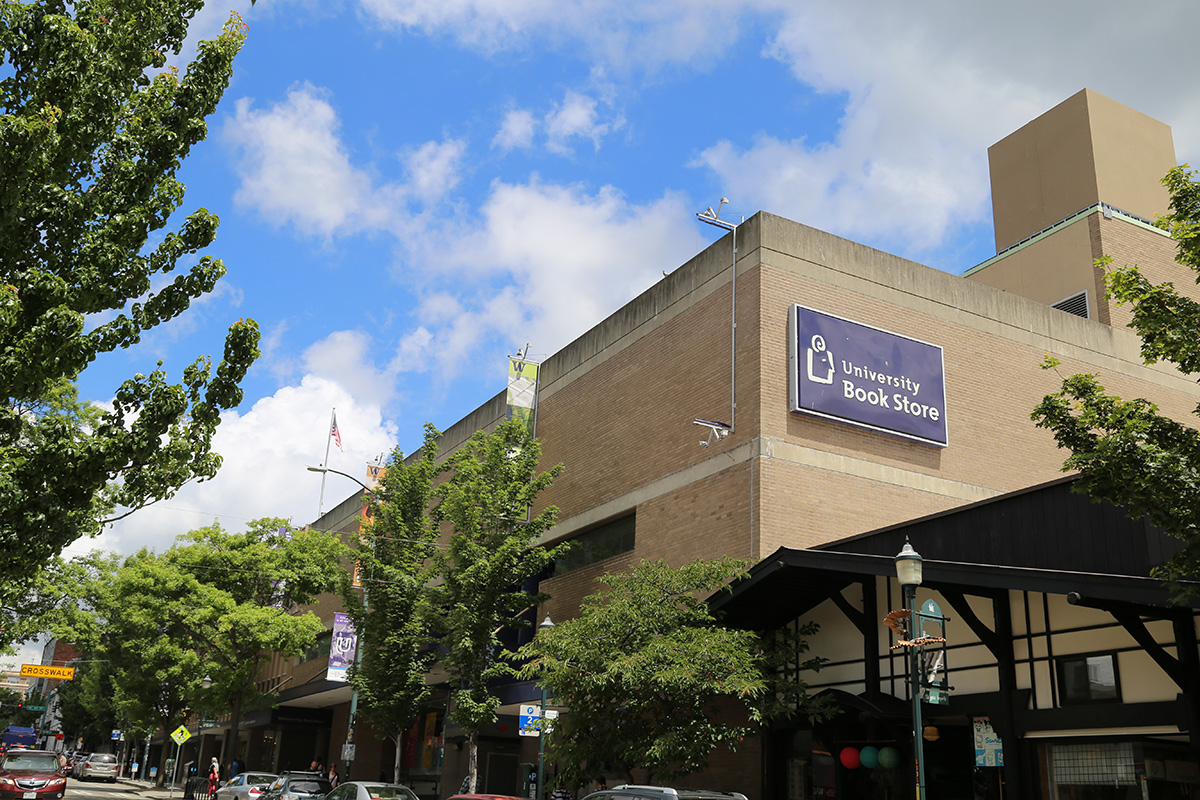 Get Your Customer Rebate from the University Book Store!
When the University Book Store first opened in 1900, it was located in a coat closet in Denny Hall. Two entrepreneurial University of Washington students took it upon themselves to open and manage a small student store, with no idea how large the store would one day become. During the first year, when finances were bad and bankruptcy was on the horizon, two UW professors, noting the importance of a student store, extended the gift of 100 dollars to pay off the store's debt. To this day, that 100 dollars is the only outside capital invested in the store. Thanks to those two faculty members, the Book Store's future was saved. In 1927, after a brief stint in the basement of Meany Hall, the store was moved to University Way. The new location on the "Ave" increased clientele and improved business immensely, allowing the store to return its first cash rebate to UW students. Today, over 85 years later, the UW Customer Rebate (UWCR) continues to be a defining aspect of the bookstore's operating philosophy.
The 10% rebate, issued as store credit, can be redeemed at any University Book Store location and even online. All University of Washington students, faculty, and staff are eligible for the rebate—all you need is a Husky Card! When making a purchase at the Book Store, simply present your Husky Card to the cashier—from there, your purchase history will be recorded.
To receive the rebate each September, make sure you have a UWCR account. (Students have to renew their account every year. Faculty and staff accounts rolls over, but be sure to update your personal information if it's changed.) If you've never set up an account before, save the receipt the next time you make a purchase from the Book Store. The PIN on the bottom acts as an access code to create your UWCR account. Rebates are issued in September via email.
It's not too late to create your account for the 2014-2015 school year. In fact, the last day to sign up is next Tuesday, June 30. And, as long as you've been presenting your Husky ID or number while making purchases, all of your past purchases from July 1, 2014 to now will count toward your rebate.
The University Book Store is unparalleled when compared to other collegiate book stores. It is consistently a leader in sales and is ranked third in total sales volume. It is one of very few stores that is organized as an independent, tax-paying corporation with direct student involvement on the board of directors. Plus, it is one of the only student stores in the country that returns rebates to its faculty, staff, and student customers. Go Dawgs!
Have more questions about the UWCR? Check out the Book Store's FAQs. If you want to learn more about the University Book Store's history, click here!