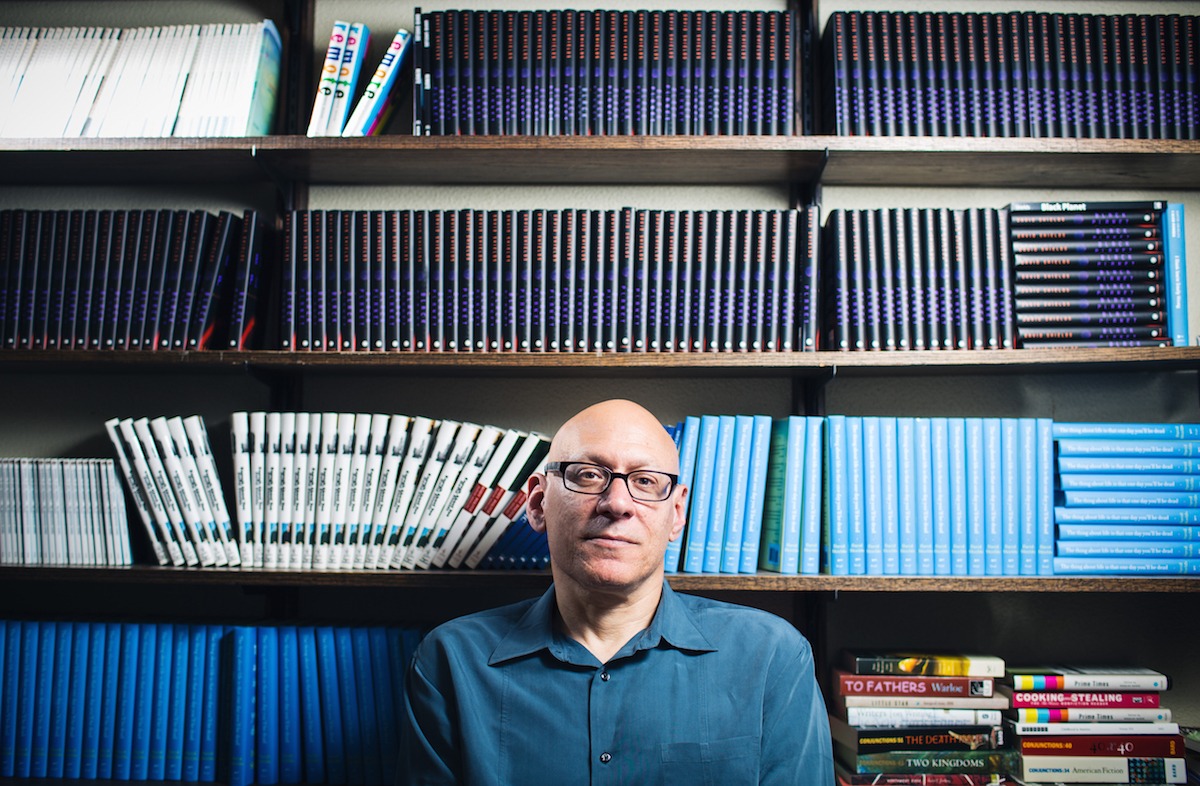 Faculty Friday: David Shields
It's been a while since David Shields followed the NBA.
The UW English professor and bestselling author took a sabbatical to cover the Seattle SuperSonics for a season in 1994. The result was Black Planet, a book that probes into race relations and professional sports. Seattle has since lost its team, and Shields his interest in the game.
But he can't resist tuning in for this year's NBA Finals, as LeBron James and the Cleveland Cavaliers spar with Steph Curry and the Golden State Warriors. "Thrilling theater," Shields calls it.
Unlike most viewers, though, he's concerned less about who wins and more about the juxtaposition of the star players' bodies: one a 6-foot-8 colossus, the other nifty and nimble.
"LeBron embodies an ancient mode of masculinity, and Steph Curry is the new womanly man," Shields said.
For 30 years Shields has dissected sports in this fashion (sociology meets mythology), penning memoirs and essays about Seattle's athletes and team owners — from Ichiro Suzuki to Howard Schultz.
"I try to use sports as a reflecting pool to get at American culture and human nature," he said. "I see it as a good way to expose my own nerve endings, American culture's confusion on race, and indelible truths about human nature. That all might sound very highfalutin, but sports can actually get you there."
Still, sports is only one of many interests for Shields. His 18 books explore human communication and miscommunication, morality and mortality, celebrity, race, J.D. Salinger, and war photography. A recent project, I Think You're Totally Wrong: A Quarrel, is a series of debates between Shields and Caleb Powell, a former student, about the lived life versus the examined life. Powell graduated from UW in 1990, but the two have kept in touch over the years. Kind of.
"He kept emailing me and kept writing negative reviews of my work," Shields said. "I said, 'We've got to either kill each other or collaborate.'"
They drove to the Cascade Mountains and stayed in a cabin for four days, exchanging views on marriage, family, politics, and art. Their arguments became a book, and that book became a movie, thanks to another student of Shields: actor James Franco, whom Shields taught in the low-residency M.F.A. program at Warren Wilson College in North Carolina. Franco wanted to adapt the concept for the screen, so Shields and Powell revisited their quarrel in Los Angeles.
This type of collaboration is nothing new for Shields. He co-edited Life Is Short—Art Is Shorter with a former student, Elizabeth Cooperman, and his books Reality Hunger and Remote originated in graduate seminars. "The teaching feeds me," he said.
Up next is a second film project with Franco. They're adapting Black Planet into Return to Black Planet: The Dream of a Unified Field Theory (of Love), in which Shields will explore race, sex, tribalism, African American-Jewish relations, and, of course, the SuperSonics. He might not follow basketball anymore, but that won't stop him from talking about it.
---
Shields has a B.A. from Brown University and an M.F.A. from the University of Iowa. Black Planet was a finalist for the National Book Critics Circle. His most recent book, That Thing You Do With Your Mouth: The Sexual Autobiography of Samantha Matthews, as told to David Shields, is out this week.