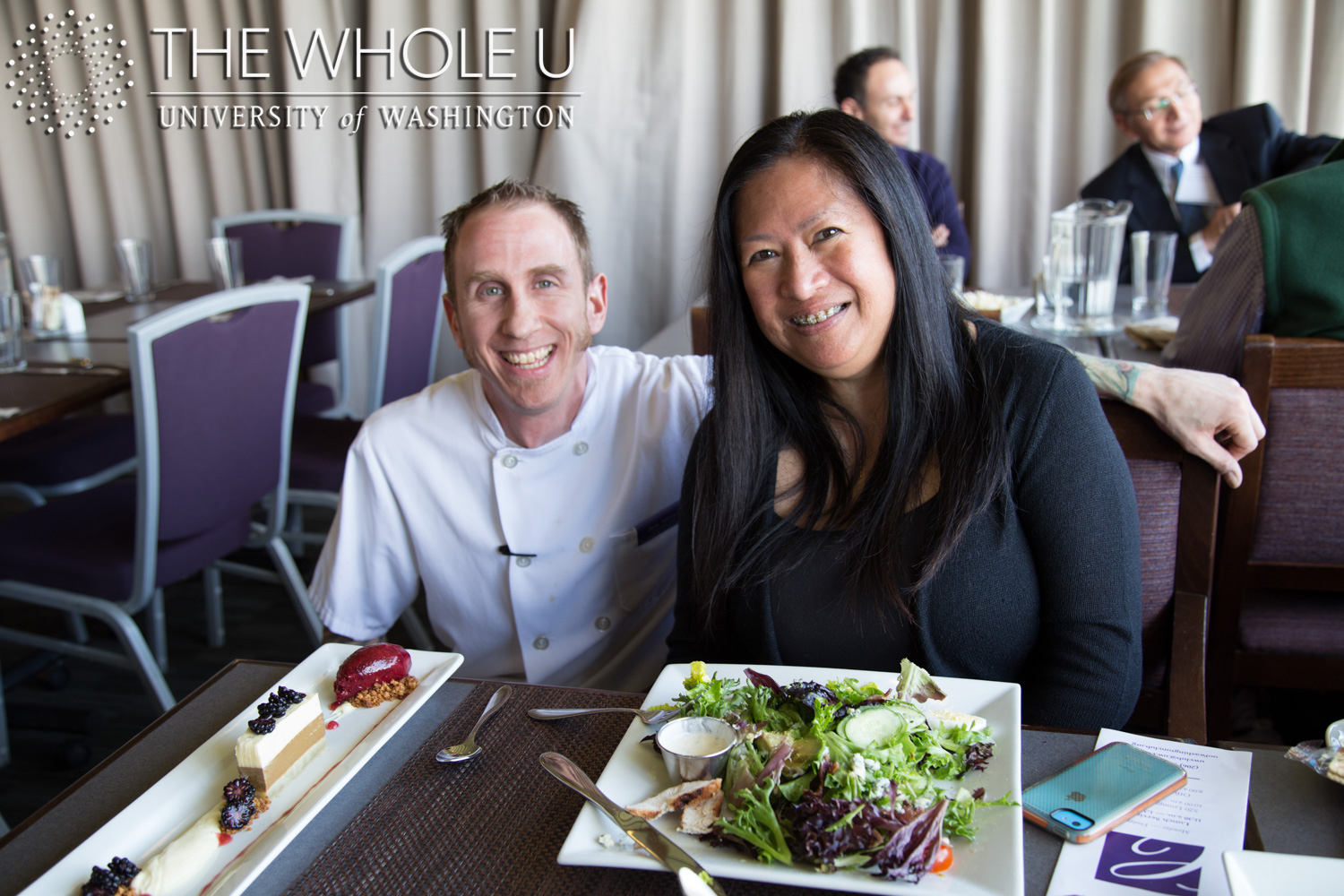 For the Love of Food: Contest Winner & Upcoming Events
In March, we celebrated National Nutrition Month with a 21-day Culinary Countdown, sharing recipes and inviting people to make at least one homemade meal a day. We created an Eating Well Facebook Group to keep us inspired during the challenge and to share recipes, photos, and cooking tips (I loved seeing what everybody was cooking!)
Along the way, we collected the best recipes that staff and faculty had to offer so that Jon Maley, UW Club's executive chef, could select one to be featured on his menu as a weekly special in April. The winning recipe was "That Soup" by Carmen Español from the UW Capital Projects Office. I talked with Carmen about the important role food has in her life.
How did you learn how to cook?
At the elbow of my Lola (grandmother) and my family. From the time I was 5, I had to do a lot of kitchen grunt work like peeling shrimp, prepping green beans by pulling off the ends and "strings," and grating fresh coconut on a very sharp little tool which no modern-day parent would ever let their child use!
I loved sitting at the table with my Lola and hearing stories about our family, learning her techniques, and receiving little treats she made… an extra bonus! I enjoyed taste-testing alongside my grandmother so I would know how something was supposed to taste, how to cut and prep items, how to tell if products were fresh or if something was "ready," and how to serve it. I learned a lot about cooking but also about our family and life. There was certain feeling of community and wisdom at the kitchen table and I loved that.
What do you love about food/cooking?
In my family, cooking a meal allows you to show your love by what food you choose for the person. I connect to my mother and grandmother, who are no longer with us, by making some of their signature dishes for my extended family. They like that I continue our family's traditions and always appreciate that someone still takes the time to prepare something you can't find in a restaurant. I also like to cook for friends and include them in the process.
I also have fond memories of cooking all over the world with friends while traveling. In Spain on the Camino, we used our creativity to cook with what we could find and shared simple meals with fellow pilgrims along the 500-mile pilgrimage route. In Beirut, we found wonderful herbs and grains in the markets and made meals amongst Christians and Muslims. In Cairo, I met a Nigerian, who introduced me to red palm oil in a wonderful potluck cooking session. In France, we shopped and discovered all the small boulangeries, fromageries, patisseries, and restaurants and ogled at all the lovely food. I love that anywhere you go, whether it be in Seattle or abroad, you can find good food somewhere!
What is your favorite dish to cook?
Ha! I go through phases. My current favorite is a quick Avgolemono soup because it's fast, simple, and includes only four ingredients (which I typically have: chicken stock, rice, lemon, and eggs) and very little prep, but it's delicious and satisfying.
When I'm feeling nostalgic for my family, my Filipino go-to dish is Mechado, a savory beef stew. If I'm sick, Arroz Caldo, a chicken rice porridge studded with ginger and garlic. When I want to cook food for a group of friends, I love to make either Mexican Posole using a recipe passed down to me by an elder (Doña Ma. Carmen Delgado) or Vietnamese Bun. Both are fun because of all the condiments that go on the side.
But I love, love, love, Italian food: risotto, polenta, and pasta dishes are so versatile. I'm especially fond of cooking a lamb neck stew with polenta — so delicious! And since I don't eat a lot of lamb, it's always a special treat.
Thank you for sharing your thoughts with us, Carmen!
March Culinary countdown might be over, but let's keep on cooking, sharing, and enjoying good food. Whenever I need some inspiration in the kitchen, I open up our Eating Well Facebook page, look at the amazing recipes people share, and pick one for the day. I've made some pretty wonderful meals so far, thanks to the group members! Join the group if you'd like some inspiration, too. Also, be sure not to miss these upcoming Whole U events:
Cooking Demo with Chef Andrea – Cooking with Zoodles
Thursday, May 28
5:15 to 6:00 p.m.
Lander Hall, Local Point Chef's Table
Register here.
Edible Gardening with Tyson Kemper at UW Bothell
Tuesday, June 23
noon to 1:00 p.m.
UW Bothell Husky Hall, Room 1160
Register here.
We hope to see you there!