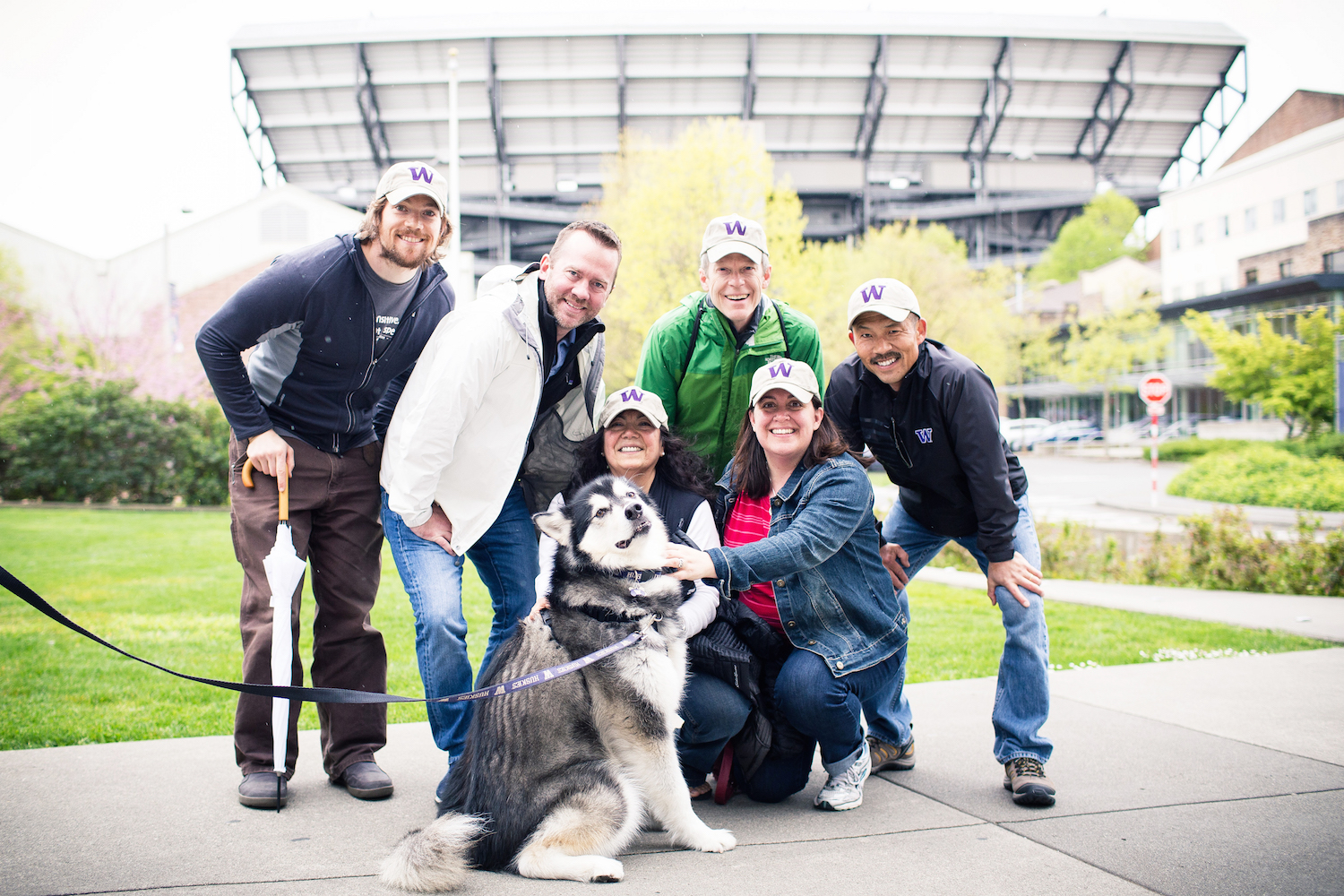 UW Community Races Through Time in 2015 Scavenger Hunt
The Whole U Scavenger Hunt is my favorite event. Not only does it create an opportunity to learn about the UW campuses in an active way, but it also fosters team bonding and fun family experiences by bringing the whole community together. Of course it is not all fun and games, this year's hunt was also a competition. Congratulations to the fastest teams to cross their respective finish lines:
Seattle (short course)
Team Name: SPH Folks
Participants: Jessica Citronberg (graduate student, Epidemiology), Bradley Wagenaar (research coordinator, Global Health/Health Alliance International), Willa Brenowitz (pre doc research associate, National Alzheimer's Coordinating Center)
Seattle (long course)
Team Name: In Agreement
Participants: Linda Bui (program assistant, CoMotion), Jasmine Campbell (grant & contract administrator, Office of Sponsored Programs), Adelia Yee (senior grant & contract administrator, Office of Sponsored Programs) Ariadna Santander (agreements officer, CoMotion)
Bothell
Team Name: Password is TACO
Participants: From the School of STEM, Ellis Zhuang (program assistant), Tina Wong (counselor), Megan Jewell (graduate advisor) Chinami Wirth (program assistant), Andrew Carle (student assistant)
Tacoma
Team Name: Institute of Technology
Participants: From the Institute of Technology, Curtis Black (graduate program advisor) Dana Son (program coordinator), Michael McMillan (program coordinator)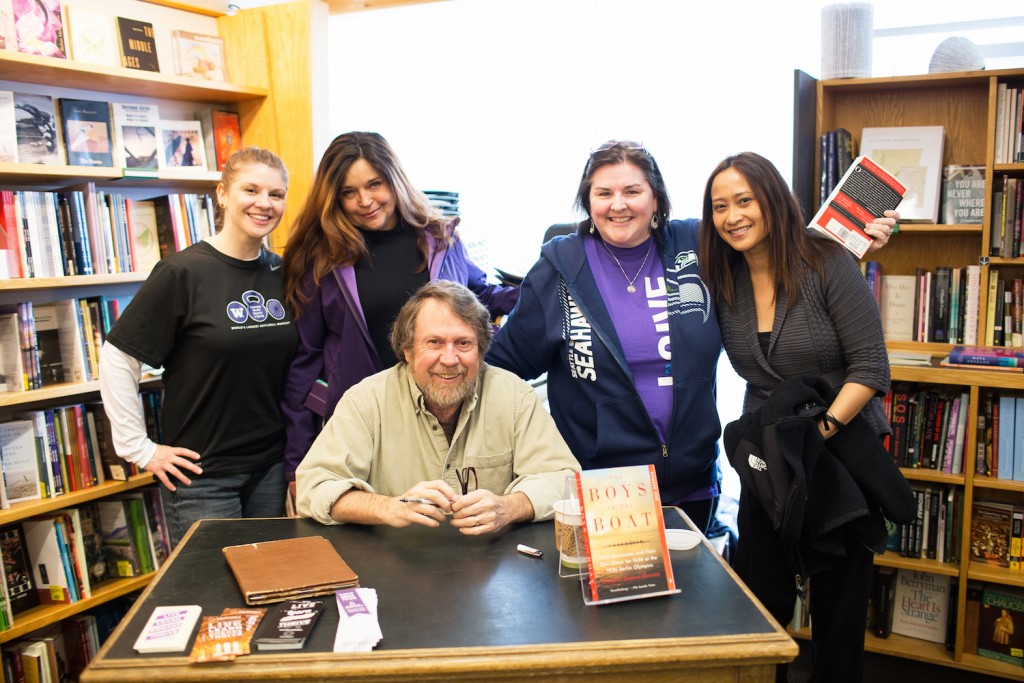 Over the course of the race, I got to see many UW teams, families, book clubs, and students. One of my favorite moments of the day was meeting Professor Rozanne Brame and her 16 ESL students at the finish line. The class had read Boys in the Boat together and were thrilled to meet author Daniel James Brown.
To see more photos from the hunt, hop over to our Facebook gallery.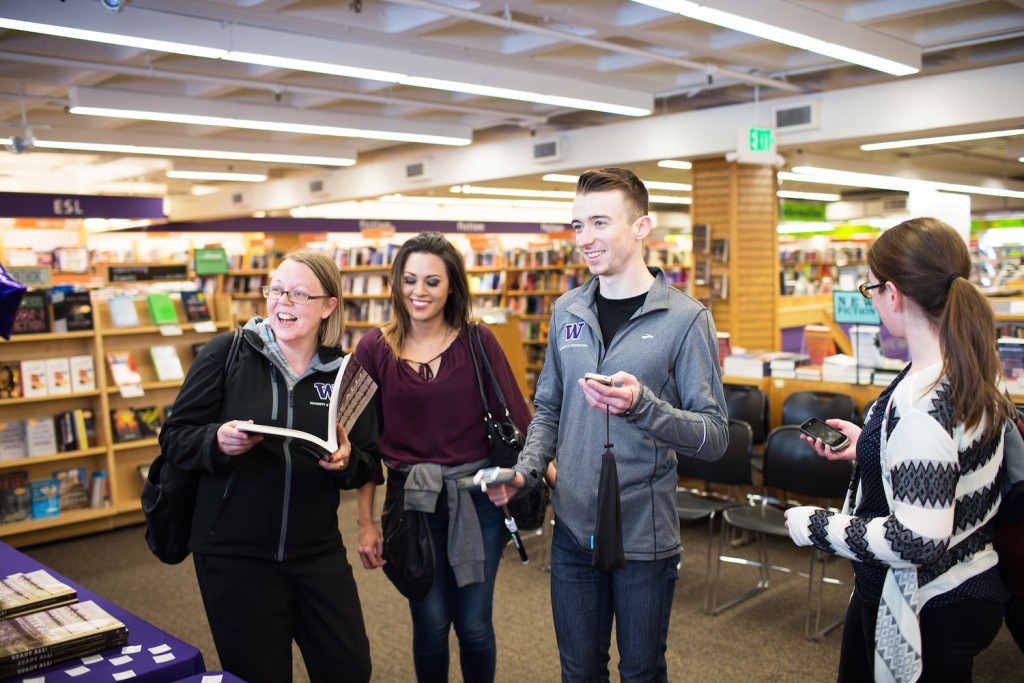 The scavenger hunt was not the only thing happening on April 23. It also happened to be Take Our Daughters and Sons to Work Day, and to celebrate The Whole U coordinated many tours on campus for kids and their parents who work at the UW. Over 200 participants enjoyed Husky Stadium, UW Sports Medicine, UW Police Station, and UW Planetarium. Seven-year-old Tommy Mahon, participated in the Scavenger Hunt and took many of the tours. When I met him he told me he was excited to write a story about the day. I can't wait to read it!
It takes a village to host multiple events on the same day and we owe many thanks to Groundspeak, who partnered with The Whole U to create the Scavenger Hunts, and author Daniel James Brown who inspired our theme. We could not have pulled it off with out our Whole U Ambassadors and our amazing campus partners: UW Athletics, UW Bookstore, UW Police, UW Sports Medicine, UW Planetarium, and everyone's favorite photo pals Dubs & Harry the Husky.
We look forward to your feedback below.