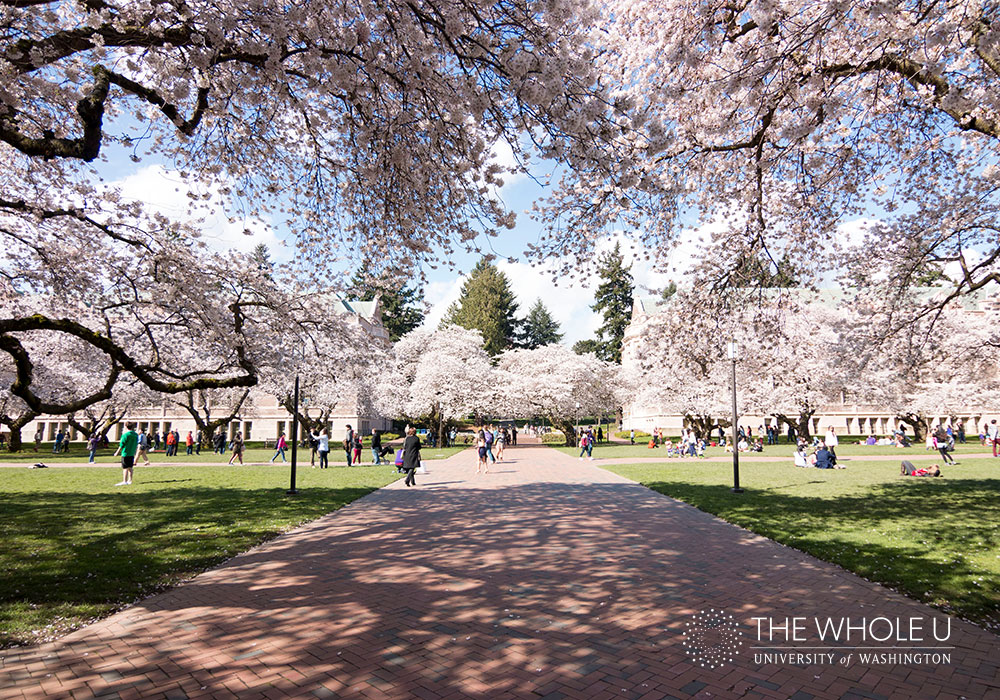 The UW is one of the most beautiful places to work. Period. Take advantage of our surroundings on Friday, April 3 for National Walk at Work Day. There will be guided walks at noon at Bothell, Tacoma, Harborview, and the Seattle campus. It's the perfect opportunity to learn a little something while enjoying the company of your colleagues. If noon doesn't work for you, you can commit to walking on your own schedule of course. Register here to make this Friday special!
On Tuesday, April 7 Dr. Thomas Walsh will host a special seminar dedicated to men's health. Dr. Walsh will share no-nonsense tips for staying healthy during each decade of your life. You'll also receive a checklist to take to your next doctor's appointment. Partners and guests of any gender are welcome at this event, which is in Haggett Hall at 5 p.m. Sign up here.
Next up is an event for all cyclists and bike lovers! Prepare for the upcoming beautiful spring days by ensuring your bike fits you properly with Sarah Hanna and Brenda McKenzie, physical therapists from Hall Health. You'll also hear about upcoming group rides from the founders of the UWMC Cycling Club, Dr. Larry Dean and Chris McKenzie. Plus, Recycled Cycles has donated two $50 gift cards for us to give away at the event! It's all at the HUB at noon on Wednesday, April 8. Register here.
Don't forget that Earth Day is in April! Celebrate by learning how to avoid bringing harmful chemicals into your home. Washington Toxics Coalition will share alternatives that are safer for you and the planet. A big thank you to the Combined Fund Drive for partnering with us for this special seminar. It will be held at the HUB at noon on Tuesday, April 21. Secure your spot now.
If you're in Bothell, join us at the North Creek Event Center at noon on Tuesday, April 21 for a disaster preparedness seminar. Darren Branum, emergency preparedness manager, will explain how to get ready for an earthquake, flood, or fire. As a trained firefighter, EMT, and emergency dispatcher, Darren is exactly the person you want to get tips from. PrepareSmart will also be there with info on survival kits. Sign up here.
One of our most popular events ever was the Scavenger Hunt, and this year we're going even bigger. Hunt in Bothell, Seattle, or Tacoma on Thursday, April 23 or in Seattle on Saturday, April 25. You will travel back to 1936, the year nine rowers from the University of Washington united as one and unexpectedly brought home Olympic gold. You'll learn surprising facts that will imbue familiar surroundings with new meaning while bonding with your team and getting some fresh air. You can hunt with your colleagues, on your own, or with family members. The author of The Boys in the Boat, the book that chronicles the Olympic journey, will be at the Seattle hunt on Thursday! And, based on feedback from last year's hunt, you have the option to time your adventure. The fastest team on each campus will be awarded a ceremonial wreath like the 1936 Olympians. Learn more and sign up here.
Close out the month with a Cooking Demo featuring Chef Andrea. Learn how to make marinated tofu noodle salad in Lander Hall at 5:15 p.m. on Thursday, April 30. Tofu, carrots, cucumber, scallions, basil, mint, cilantro… this dish is perfect for spring! And, of course, everyone gets to sample the dish after the demonstration. Register here.
So there you have it — seven events to put a spring in your step this April. We are so happy that we can offer a variety of events for UW faculty and staff. What else would you like to see from The Whole U? Let us know in the comments!